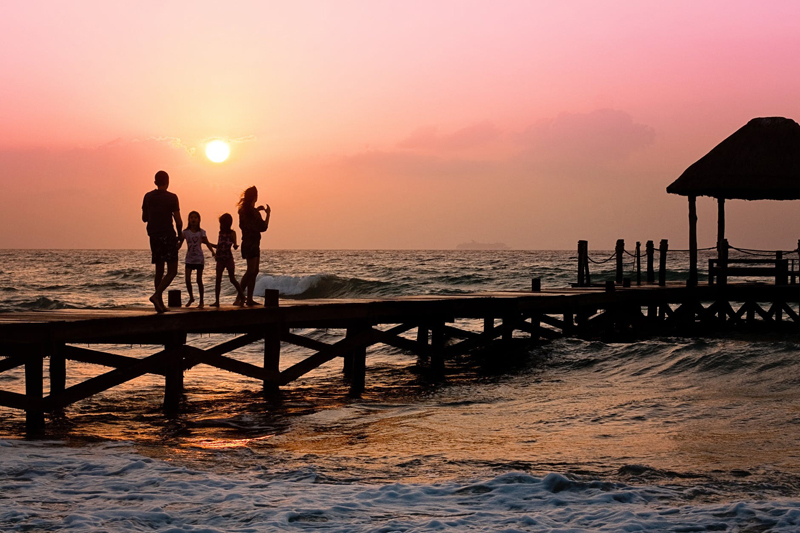 Grandchildren are a blessing. They descend on your house full of enthusiasm and energy. They explore every nook and cranny and then go home with Mom and Dad. The problem is, after they leave every nook and cranny can be filled with clutter from their enthusiasm and energy. What can you do to minimize problems so you can really enjoy their visit?
Grandma's Treasure Chest just may be the answer. It may also help daycare providers, babysitters, even teachers and parents reduce problems in a positive manner.
While visiting with relatives this summer, I watched my sister-in-law, Julie, host a gathering of over thirty family members, with more than half that number being under the age of twelve. (Church members often have big families.) Children and toys filled her yard and her home. I worried that it would take hours to put everything away.
Then, just before the evening ended, Julie called the children to her. Once everything was put away, she promised, they could select an item from her treasure chest.
In five minutes the clutter from five hours of laughter and playing was happily picked up and put away. Her home was returned to normal without bickering, arguing or even protests. Best of all,
all
the children helped, eagerly. Then Julie gathered the children around her in the kitchen and opened her treasure chest. My eyes were just as wide as the children's. Inside this container Julie had stuffed a collection of unwrapped gifts. There were books to read for all ages, coloring books, crayons, pencils, journals, notebooks, sketchbooks, jump ropes, toys, snacks, videos, DVDs and so much more. The children, picking from youngest to oldest, were delighted.
Later I visited with my sister-in-law about her idea. She had been doing it for a couple of years and loved it. It solved so many problems, she said. From messes to fighting to not wanting to share, her treasure chest gave them a tangible reward for good behavior. All she had to do was remind them of the appropriate behavior and Grandma's Treasure Chest. "You couldn't do this every day," she said, "but when they come to my house it works really well."
Julie is right. The idea wouldn't work every day. It would lose it's appeal and get very expensive; but it can work for those of us who have children in our home or care every day. We could set up a reward system for good behavior, allowing the children to earn a gift from the treasure chest after gaining so many points, achieving a certain number of successes, or at the end of the week if specific expectations were met. The treasure chest could be adapted by parents or caregivers as needed and desired. Want your child to make their bed every morning? Mark their success on a chart and let them pick a gift on Friday if they've done it, say, four out of five mornings. The possibilities are so varied!
To start a treasure chest you need a large container. Julie uses a plastic storage tub with a lid for her treasure chest. She labeled the outside and keeps it stored away in her room. (You will want to make sure it is kept away from curious children.) Julie told me you could use a large wicker basket or decorate a box. The key is not what you use but how you use it.
Fill it with gifts appropriate for a variety of ages. At this family gathering Julie even let the teenagers pick something from the box for their help and they loved it, too!
Keep things inexpensive. "I go to the dollar store for a lot of this," Julie said. She finds toys, fun things for girl's hair, and more. "I'm always looking for inexpensive things to put in the box." Even at the grocery store she finds things to add, especially when favorite snack foods and candy go on sale.
The books, videos and DVDs she picks up at garage sales. "I make sure they're in good condition and look new. The children don't even know."
School supply items, such as colored pencils, crayons, notebooks, sketchbooks, journals, etc., she picks up during the back-to-school sales. "I don't think anything in this box cost me more than a dollar," she laughed. Keeping each item close to that price is one of her goals. It would get too expensive if she didn't set that parameter.
Other inexpensive items you could put in your own treasure chest would include those listed above plus lotions, body sprays, jewelry, wallets, baseball hats (I'm amazed at how many of those I'm given), stickers, bookmarks, stamps and ink pads, even gift certificates (either purchased from a store or made up by you for a dozen cookies, a sleepover, etc.) Shop after-the-holiday, clearance and going-out-of-business sales for fun items, too.
Get creative. You could have as much fun putting together a treasure box as the children have picking from one. And you might find it pays bigger rewards than you invested.


Related Articles
Editor's Picks Articles
Top Ten Articles
Previous Features
Site Map





Content copyright © 2022 by T. Lynn Adams. All rights reserved.
This content was written by T. Lynn Adams. If you wish to use this content in any manner, you need written permission. Contact Jamie Rose for details.