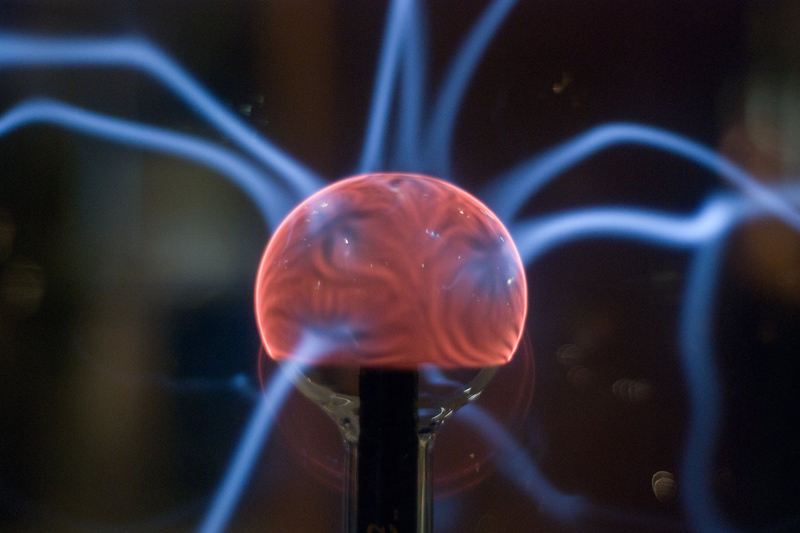 Lewis Carroll's classic tale of a little girl who finds herself in a fantastical landscape has been made, and re-made, in many different ways. This weekend, the SyFy Channel takes a stab at imagining a whimsical but darker story; "Alice" airs Sunday, December 6 and Monday, December 7 from 9-11 p.m.

"The first thing that tickled my fancy," says writer/director Nick Willing, via a recent phone conference, "was the idea of imagining Wonderland as it is today, 150 years on from the original. 'Alice in Wonderland' was written in 1850 or so, a long time ago. And I thought, wouldn't it be delicious to imagine a world, that world as in the way we have evolved and changed, and how it would be today?"

Willing, who recently helmed the SyFy's "Tin Man" from 2007, a similar reconstruction of a beloved world, has done "Alice" before. He was behind the star-studded 1999 NBC-TV movie version. And he says he had some trouble translating it for the screen, because it's not a strong film-oriented story--it's more of a series of vignettes and poetry. But given this opportunity, he wanted the chance to use the ideas from Alice in Wonderland and Alice Though the Looking-Glass to reflect and explore more modern, darker themes.

In the four-hour miniseries, martial arts instructor Alice Hamilton (Scorsone) is a woman with commitment issues, thanks to having been abandoned by her dad at age 10. When her boyfriend Jack (Philip Winchester) proposes and presents her with a family gem, she panics; and Jack is nabbed by a mysterious gang who are after him and his jewel. She pursues him, sees his kidnapping and follows the group of men through a smoky mirrored portal (yes, the looking glass). She finds herself in a strange city full of twisted towers and casinos built from playing cards, where kidnapped people, called Oysters, have their memories erased and are held captive in a casino where everyone wins. There, their emotions are drained and bottled for consumption by the citizens of Wonderland. This helps the Queen of Hearts (Kathy Bates) keep her stranglehold over Wonderland.

Alice's search for Jack introduces her to some familiar citizens of Wonderland, including the resistance fighter Hatter (Andrew-Lee Potts), resistance leader Dodo (Tim Curry) and the White Knight (Matt Frewer). The Queen, however, wants the gem that Jack slipped into Alice's pocket before his abduction; it turns out to be a gem needed to operate the looking glass to suck people in. She has her own set of dangerous characters to let loose, including assassin Mad March (Geoff Redknap) and 10 of Clubs (Zak Santiago), in search of Alice and the jewel. Other Lewis Carroll-inspired characters that appear include the Caterpillar (Harry Dean Stanton), 9 of Clubs (Alessandro Juliani), Carpenter (Timothy Webber), Rat catcher (Alex Diakun), the King of Hearts (Colm Meaney) and Doctors Dee and Dum (Eugene Lipinski).

Caterina Scorsone, who takes on the role of a more adult Alice and in this film actually undergoes her own emotional journey, noted in the conference call that our current world bears some similarities to the fantasy land Alice discovers. "Since 9/11, so much has happened in our world to turn it into this topsy-turvy place that people wouldn't recognize 20 years ago. Politically and economically, so much change has happened in the last little while that I think people are all walking around with wide open eyes like Alice, going 'What on Earth is happening?'"

This is a production that indeed takes on some deep themes. Willing says, "Wonderland is a place where extraordinary and amazing things happen in the original book--but also very dark and frightening things happen, as you know. I think there's something in what Caterina says, that maybe it is not possible to act in ways which may seem strange and insane, but are part of the norm. I do think also, one of the things about our world is that we have advanced technology to such a point where we can get what we want to get when we want to get it. We can get somebody on the phone. We watch a TV program when we want to watch a TV program. And we can enter into worlds of fantasy at the touch of a button. That certainly wasn't possible when Lewis Carroll wrote that book 150 years ago."

He adds, "I think that if it takes the place of deeper, more lasting things that ultimately will give you a greater sense of security and pleasure, instant gratification can be very dangerous if we're simply led by our noses…it's very important, I think, for all of us to find and get what we want for our lives. But it's also important to do it in a way which is informed, and which draws on more lasting things."

These impulses are especially represented, says Willing, in the character of the Queen of Hearts, who simply does what she wants when she wants to do it. He was hoping to tap into the idea of being able to manufacture emotions like a drug. "One of the things I fear may happen to us is that we swap genuine emotions for something that is given to us; that we cry at a television commercial and think that those tears are genuine….One of the things I feel is that we sometimes repress genuine emotions that are too raw and difficult to face, and perhaps too important to us, and replace them with something that is manufactured for the mainstream that seems to be what people consider as being the right thing to deal for the masses."

So, when you tune into "Alice in Wonderland" this weekend, don't expect the Disney-fied version of a favorite story. This miniseries is designed not just to give you exciting visuals that weren't possible 10 years ago with the previous "Alice," like creating the Jabberwocky--it's designed to make you wonder. It's designed to make you explore difficult topics, to ask you to look upon the present and the future and discover whether or not it's a place you want to be. Granted, it plays fast and loose with Carroll's original ideas, and if you're an "Alice" purist you'll want to spend your time rereading the book instead of watching this version. But it also promises to be an original and innovative way of putting a looking-glass onto our society--like all good science fiction and fantasy does.

Scorsone explains, "There are a lot of those messy emotions that we're talking about in this movie. You know, there's anger and there's sadness. People did bad things and have guilt and regrets. So many of those fairy tales have been dignified and sanitized for children. So a lot of the point and the grit and a lot of the point of some of them have been lost."

And the point of the film was not lost on the actors, at least. Scorsone says, "I think the subject matter that we were dealing with…just everyday talking about ideas of repressed emotions and feelings that we don't want to feel and memories that we don't want to have, it agitated and brought up all sorts of really rich emotional experiences for everyone. I definitely think that by the end of working on this film, I had discovered all sorts of things about myself."

Willing says, "It's that comment on the present, on our emotional personality that really excited me about this story. But I don't want to make it sound like it's highbrow. It isn't. It's an incredibly commercial and popular story. It just that it explores themes that we, all of us, in everyday life, have to put up with and bear with and explore ourselves."

The new "Alice" airs on SyFy Channel at 9 p.m. Sunday, December 6 and concludes at 9 p.m. on Monday, December 7. Don't miss it!
You Should Also Read:
SyFy Channel


Related Articles
Editor's Picks Articles
Top Ten Articles
Previous Features
Site Map





Content copyright © 2021 by Helen Angela Lee. All rights reserved.
This content was written by Helen Angela Lee. If you wish to use this content in any manner, you need written permission. Contact Helen Angela Lee for details.