Beer Slang - A Beer Fox Guide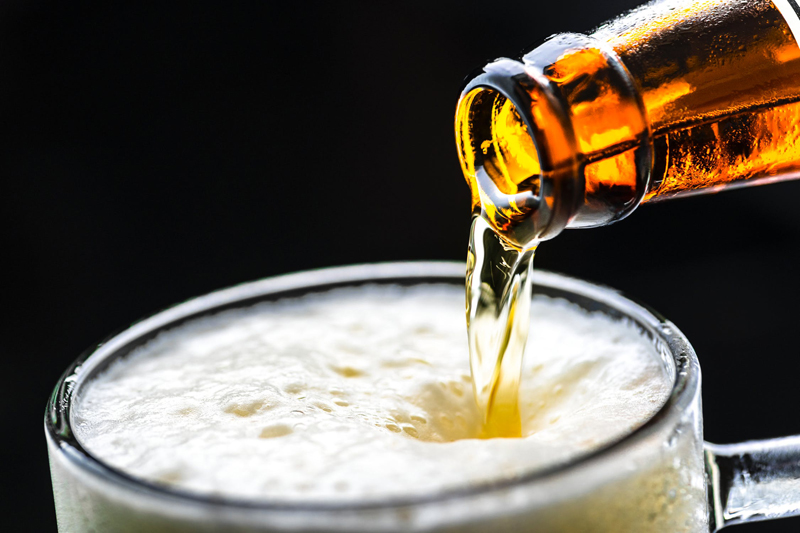 How many ways can you say Beer?
It seems there are a mountain of slang words for beer, along with related terminology:  words for people who imbibe heavily in beer, terms for getting drunk, and cute little phrases for hangovers and the resulting illness from overindulgence.  These words may be found locally within the United States or from the outskirts of the English-speaking world – Australia, New Zealand, Great Britain and beyond.  They are fun, and are living proof that creativity lives in the human spirit.
English to Slang
1860's Slang:
Derogatory word for beer • Grog  
This term was in honor (or dishonor) of Admiral Edward Vernon who wore a grogram cloak, thereby acquiring the nickname "Old Grog."  He went down in history for diluting rum in lime-juice and water, and dispensing it to his sailors.  As a side benefit, the Vitamin C in the lime-juice helped to prevent scurvy.  Throughout the world, his sailors came to be known as "Limeys."
Hard Cider • Apple Lady
Home Brewed or Camp-Brewed Beer • Bust Head | How Come You So | Oh-Be-Joyful | Oil of Gladness |
The Devil • Old Scratch
To vomit • Fire and fall back
Common-Day Slang USA Style:
Ability to believe someone is attractive while you are drinking beer • wearing beer goggles
Beer • brew | Da' Instigator | swill | brew juice | barley juice | barley soda | wallop | suds | brewdog | brew-ha-ha | who hit John | hop juice | liquid sleep | wine's poverty stricken brother | formula for naked frat fun | the key to malty man love | barley in a funnel | post-party cologne | reeb (beer spelled backwards) | steam (Old West Coast term for beer made under primitive conditions) | the remedy for empty bladder syndrome | the blood of the brew dude | the bridge the I crossed to losing my job | gold elixir | brewski | cold water sandwich |
Beer, (small or weak beer) • swipe
Beer, (weak or gassy) • codswallop
Being very drunk • oyshkeschelpt
Bottled beer from a brewpub • growler
Once upon a time, this was a bucket that was filled "to go." Growler was the sound a bucket makes sliding across a bar.
Busch Beer • Beast
Case of Beer • treasure box
Can opener • Church Key (used to open beer before pop-tops were common)
Colt 45 • King Colt
Drunken brawl • donnybrook
Hangover • katzenjammer (literally, this means a "wailing cat") | overhung | seeing pink elephants| having the shakes | head cramp| DT's (delirium tremens are withdrawal symptoms accompanied by shaking and hallucinations) |
Heavy drinker or a drunk •  power drinker | big drunk | sot | tosspot | boozician | lager lout |
Hefeweizen • Zine (Most commonly used for wheat beer, but can be used for any beer type)
Keg, half-keg or quarter-keg of beer • kegger
Keystone Light • Key Light
Natural Ice • Natty Ice
Seedy bar • dive
Six pack of Beer • sixer
Small glass or small bottle of beer • pony
The act of becoming drunk • getting hammered | …wasted | …blasted | …smashed | …plastered | …soused | …pickled | …sloshed | tie a bun on | going on a bender | go on a tear | tie one on | downing a half rack | chugging | going on a hoolihan (houlihan) | being three sheets to the wind |
Vomiting caused by overindulgence • barfing | blowing chunks | tossing cookies | up chucking| puking | Ralphing (from the sound made while vomiting) | yawning | spewing | being folded over | burying my Buick | calling O'Rourke | praying to the porcelain god | yodeling across the porcelain fjord | worshiping at the porcelain altar | riding the porcelain pig | hangin' with Ralph | talking to Ralph on the big white phone | making a pavement puzzle |
Wild party • Wing ding
Beer toast • Here's mud in your eye!
This was a back-handed toast among jockeys.  When the lead horse kicked-up mud into the eye of the follower, it gave the lead an advantage for the win.
"I need a beer" • "izzle fa shizzle to that toombie poppa"
British Slang: 
"proper beer" • bitter |
particularly good beer • dogs bullocks (also the actual name of a beer by Wychwood Brewery) |
drunken party or pub crawl • piss up |
Finnish Slang:  Beer • olvi
Mexican Slang: Beer • chelas | a brick |
New Zealand Slang:  Drink beer rapidly • scull |  sealable insulated box for keeping beer cold • chilly bin |
Spanish Slang:   Beer • brusta
And if you like these, the Aussie's have a fun list, too!
Cheers!

Be Open Beer and Soda Bottle Opener, Stainless Steel

- Dependable bottle opener with clean lines and good looks

Mr. Beer 3-Beer Mix Variety Pack American Series
- Start making beer. Is it authentic? Does it work? It's a basic - it's fast, and its fun. If you find you like it, you can move on to bigger and better brewing. Relax, don't worry. Have a Homebrew.


You Should Also Read:
Belgian Lace & Fluffy Bottoms
Politically Incorrect Beer Titles - A Beer Fox Guide
Personality Profiles for Beer Enthusiasts


Related Articles
Editor's Picks Articles
Top Ten Articles
Previous Features
Site Map





Content copyright © 2022 by Carolyn Smagalski. All rights reserved.
This content was written by Carolyn Smagalski. If you wish to use this content in any manner, you need written permission. Contact Carolyn Smagalski for details.