Vintage. Retro Kitsch. Past days of vamps and vixens!


What man was not intimately familiar with Brigette Bardot's exotic cleavage, Hedy Lamarr's long seductive legs and Marilyn Monroe, as she slinked with sexual lustiness? Betty Boop's animated voice squealed with delight, setting off giddy smiles on the faces of American males. Pinball machines flashed with temptation, and I Love Lucy was as endearing as mom's apple pie. In 1933, the first issue of Esquire magazine summoned the attention of successful men, with top-notch pin-up-girl art by Gil Elvgren and Zoe Mozert. Rhinestone glasses were the cat's meow, and jukeboxes rocked around the clock.

A microcosm of life springs forth from so much nostalgia, an early explosion that set our modern marketing world into grand motion…marketing that touched the beer industry as it seized new life after the "noble experiment" of prohibition. Attitudes were set in stone, brash declarations were made and competition reigned supreme.

In 1948, a Budweiser magazine ad declared Thomas Jefferson "our first spaghetti maker." Bud touted a little known fact: While Jefferson was writing the Declaration of Independence, he was also penning "an excellent cookbook." The point? "Budweiser – It lives with good taste everywhere," declared the ad.

Miller was highly successful in solidifying beer as a man's territory. A 1970 advertorial linked Miller High Life with glossy wood, pretzels and the elitist quarters of the men's smoking club. Thirty-five years later, Miller is working hard to reverse that narrow mindset by introducing light brews and softer, fruitier palates for women.

Pabst linked beer with the finer things in life in its 1946 Butler Ad in which Pabst Blue Ribbon was royally presented on a tray, garnished with a side of food. The Pabst slogan, "Order it with confidence…Serve it with Pride," created a solid link that associated Pabst with its "show-quality" flavor profile.

Some of the most imaginative brewing companies of the day no longer grace the landscape, despite their aspirations to greatness: North American Brewing Company, brewers of Polo Beer, in Brooklyn, New York; Harvard Ale Beer from Lowell, Massachusetts; Oshkosh Brewing in Wisconsin, creators of Chief Oshkosh Beer; and The Dick and Brothers Quincy Brewing Company of Illinois, brewers of Dick's Beer.

Largay Brewing Company of Waterbury, Connecticut, was famous for Red Fox Ale. As a promotion for the popular brew, they designed a "spinner tray" in the 1930's. This unique beer tray was fashioned with the image of the Red Fox and his Ale, and had a little dimple in the center. When balanced and spun on a pointed object, the Red Fox would appear to run around the inside perimeter of the tray – a delightful diversion for loose-and-happy drinkers.

Among the heaviest marketers of the day was Lucky Lager Brewing Company, founded by Baron Paul C. Von Gontard, one of the ambitious grandson's of Adolphus Busch of Anheuser-Busch fame. Originally known as General Brewing, Lucky Lager grabbed an aggressive foothold through Von Gontard's state-of-the-art thinking. He hired Charles Stafford Duncan, a gifted design artist of marketing fame, to design a striking logo, one that would stand the test-of-time and leap into the hearts of beer lovers. This simple logo consisted of a diagonal red cross on a field of orange-yellow, and adorned white delivery trucks, cans and bottles with striking appeal. There may have existed a subliminal connection to the American Red Cross, an organization associated with wiping out tuberculosis, aiding victims of natural disasters like the San Francisco earthquake of 1906, and organizing war relief for thousands of people, globally. Whatever the appeal, their logo campaign attracted beer lovers and money.

Most dramatic was the Lucky Lager display robot, commonly seen in trade shows and at prominent displays in heavily populated areas. This "talking package" was constructed of a barrel body, cans for arms and legs, and large bottles for his head and feet. It also held a beer bottle in one hand, with a microphone and speaker buried inside. As spectators approached the robot, a concealed technician would begin talking to the unsuspecting observers, provoking amazed delight and laughter. Seated between the big, red, Lucky Lager X's, this robot proved to be one of the most successful marketing tools of the era.

Then there was Griesedieck Beer with their big, red…sign!

In today's ad world, the name would be a definite marketing tool, but this was the actual name of Johann Heinrich Griesedieck of Stromberg, Germany. Griesedieck brewed his first batch in 1766, and began a family tradition of brewing that eventually found a home in St. Louis, Missouri. Griesedieck gained a reputation of being one of the most prized beers in the country, along with a superior commitment to innovative technology. Steve DeBellis of the St. Louis Globe-Democrat, writes, "By 1950, annual sales had reached almost a million barrels a year." Despite their huge successes, the death of the last original owner cast family heirs under the mammoth umbrella of federal taxation, forcing them into negotiations for the sale of the business.

After over 40 years of absence, heirs of Johann Griesedieck are lighting the St. Louis beer scene again with the newly resurrected Griesedieck Brothers brand, available on draught in finer pubs and restaurants.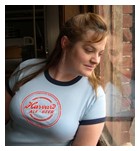 Vintage beer makes great conversation between men and women, especially if you add a visual feature to the mix. Fortunately, Retrodudz has arrived!

Makers of nostalgic-wear, Retrodudz carries quality, new clothing with vintage logos and bottle-cap designs. Flashy screen-prints emblazon t-shirts, hoodies, babydoll/girly shirts, hats and ringer shirts with massive appeal. Embroidered logos, having a more subtle quality, coax conversation in whispers from curious observers. Fabrics are high quality cotton and cotton-blends, durable, color-fast and washable.

The proprietary image on each piece of clothing makes it a unique must-have for lovers of breweriana and beer, both in the domestic USA and internationally. These are a welcome delight as gifts for women and men, and are fully guaranteed. For complete information about available retro dudz, ordering, shipping, and wholesale purchases, see this great collection at:
www.retrodudz.com

Article update: Retrodudz has taken a hiatus and is not currently making these vintage products. If your ambition is high enough, you may be able to locate some of these dudz on Ebay or on Craig's List.

Cheers!