Poor Richard's Ale Cheers Ben Franklin - The Common Man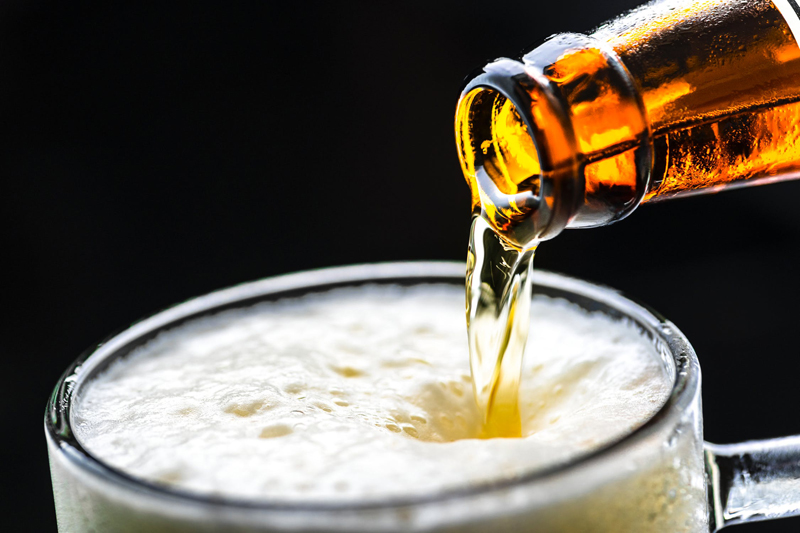 It is rare to read accounts about the human side of Ben Franklin. Commonly, he is touted as being a scientist, diplomat, publisher, writer, and ambassador, while the human factor seems to get lost within his historical prominence. He enjoyed people and vulgarity, believed in physical exercise and vitamin C, carried an abhorrence for social prejudice, and displayed a crazy, innovative character that impulsively made him cut his lenses apart, creating the first bifocals. How nutty is that?

There is no question that he was incredibly complex, like most people. Unlike most people, however, he acted on his ideas, taking risks and often creating conflict in his own personal life. He liked to infuse liveliness into daily life, and openly displayed discontent with the static state of unbending conservatism.

When he was fifteen, Franklin's brother, a printer, founded The New England Courant in Boston, the first newspaper that dabbled beyond the usual, reprinted news from across the pond. This innovative paper carried articles about the city and colonies, as well as features and opinions of a social context. The young Ben desperately wanted to write for the paper, but his brother repeatedly vetoed the idea. With the cunning creativity of a determined spirit, Franklin created Silence Dogood, a fictional character who wrote letters to the paper about love, courtship and education. Voila! Who knew?

In the ensuing years, he created volumes of fictional characters whom would eventually grace the pages of his publications, particularly The Pennsylvania Gazette and Poor Richard's Almanack. Richard Saunders was the fictional "Poor Richard" of Poor Richard's Almanack, an impecunious man who needed money to care for his nagging wife. What man or woman wouldn't sympathize with him? Poor Richard was witty, satirical, and lavish with advice that created novel connectivity with those who became loyal readers.

Franklin's other pseudonyms were found in such profiles as Harry Meanwell, Alice Addertongue, Timothy Turnstone, Caelia Shortface, Anthony Afterwit, Busy Body, Martha Careful, Polly Baker and Benevolus of London. Covertly portrayed as one of these writers, Benjamin could pen scandalous stories about prominent figures, give advice about love and marriage, satirize about social mores, and opine about education and medical treatment or malpractice. Brilliant!

Did you know Franklin, an avid skinny-dipper, invented swim fins? How about the odometer, the fire insurance company, and the first political cartoon? He fathered a daughter and a son, William, whose mother he never married, but sustained a close relationship with his son until the young William reached adulthood. As an adult, William's conservative point-of-view supporting the overbearing English government clashed with Ben's liberal attitude promoting independence for the colonies, developing a rift between the two that never truly mended over time. It is a bit comforting to know that even Franklin's son rebelled against his Dad's opinions!

Franklin's marriage to Deborah Read was a common-law union. Deborah was already married to a man who deserted her, and the two were never legally divorced. She and Ben had two children, and of peculiar note is the fact that Deborah, being married to a man of such intelligence, was herself illiterate. Wouldn't you love to hear what Deborah's mother-in-law might have said about the incompatibility of that union?

There are no supported accounts of extra-marital liaisons between Ben and other women, but it is important to understand that he traveled extensively and, with age, he learned to be discreet in personal matters. After Deborah's death, however, Franklin gained a reputation as an incurable flirt with a charismatic personality who could melt the hearts of the ladies. He loved women, particularly older women, and in one accounting wrote:

"…as in the dark all Cats are grey, the pleasure of corporal enjoyment with an old woman is at least equal, and frequently superior, every knack being by practice capable of improvement." In addition, he adds, "They are so grateful!!!"

He spent much of his time in jocular alliance with the locals and intellectuals of the cities in which he lived, whether it had been Philadelphia, London or the Parisian suburb of Passy in France. Taverns were the largest social halls and gathering places at the time, and it was natural to share food and drink while making social connections in these public places. His most famous alliances were made in Philadelphia at the Crooked Billet Inn, his first watering hole in Philadelphia and the Indian King Tavern, one with a large clientele of intellectuals and prominent figures.

On September 28, 2005, the Brewers' Association held a competition in the Presidential Dining Room at Wynkoop Brewing Company in Denver, Colorado, to select a Commemorative Beer Recipe that would be the supreme embodiment of Ben Franklin's characteristic style as both common man and statesman. Tony Simmons of Brick Oven Brewing in Pagosa Springs, Colorado seized the honors with his rendition of Franklin's favorite brew, Poor Richard's Ale, a deep reddish walnut beer with spiced molasses base, clean and bright characteristics of corn and nuts, and a 6.6% ABV.

This recipe has been disseminated throughout the USA, in anticipation of Franklin's Tercentenary Celebration (300th Anniversary of Franklin's birth) on January 17, 2006. Craft breweries and brewpubs have their taps primed for the launch of Poor Richard's Ale. Formal registrants, listed by state, can be located in the Brewers' Association database. These brewers may be using the original name of Poor Richard's Ale, although some have created original titles such as Poor Richard's Tavern Spruce, the name bestowed upon this famous brew by Yards Brewing Company in Philadelphia, Pennsylvania, Franklin's favorite hometown city.

Wynkoop Brewing Company in Denver, Colorado, is among the first to launch into the celebration, along with such notables as Iron Hill Brewing Company in North Wales, Pennsylvania; 21st Amendment Brewery in San Francisco, California; Midnight Sun in Anchorage, Alaska; Goose Island Beer Company in Chicago, Illinois; and Granite City Food & Brewery in Cedar Rapids, Iowa. Check beertown.org to locate Poor Richard's Ale in your own neck of the woods. If your local brewer is not yet planning to celebrate with the new style, there is still time to lobby your preferences so they can get started. Raise a glass to Franklin, and celebrate life!

Cheers!
 
You Should Also Read:
Poor Richard's Ale 'Saluts' Ben Franklin's 300th Birthday
Beer Commemorates Ben Franklin's 300th Birthday
Did Ben Franklin Wear Beer Goggles ?


Editor's Picks Articles
Top Ten Articles
Previous Features
Site Map





Content copyright © 2018 by Carolyn Smagalski. All rights reserved.
This content was written by Carolyn Smagalski. If you wish to use this content in any manner, you need written permission. Contact Carolyn Smagalski for details.