Super Monkey Ball Banana Blitz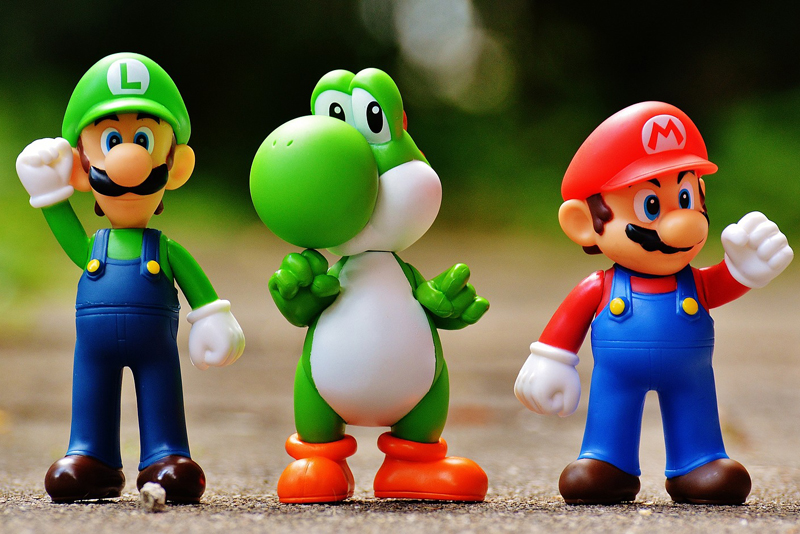 The problem with games like Super Monkey Ball Banana Blitz is that you have rabid fans of the series - some who love them no matter what, and others who hate any slight change, no matter how small.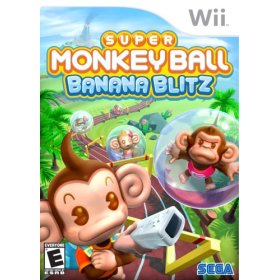 That means that no matter how well or poorly the Wii version was, those who loved the game on previous platforms will either hate it for changing - or love it because it has the same theme.
Let me first say that I love the Super Monkey Ball series in general. I grew up playing the actual marble game - Labyrinth - that this is based on. In the Monkey Ball games, there is a marble (holding a monkey) that rolls around on a surface. You tilt that surface via the controls, to move the marble. Your aim is to gather up bananas, avoid obstacles, stay on course and reach the goal. There are both the main game path, which involves trickier and trickier courses to navigate, as well as mini-games.
With the Super Monkey Ball Banana Blitz version for the Wii, you get an entirely new level of interactivity. In essence it's becoming more "real". In previous versions you pressed buttons to tilt the board - but now you are actually *tilting* the controller. You're in essence playing with a real board, with a real marble. You tilt your controller forward, the marble rolls forward. It is incredibly intuitive.
For some people, like me, this is great. It's no longer a button press "translating" into motion. Your hand is causing the motion. I can hand the controller to anybody that comes into my house, show them the game, and they get it immediately. It's physics, it's beautiful.
While this is great, it also means that it gets challenging for really little kids. They don't have great hand-eye coordination yet. While they might be OK with button pressing, they aren't wonderful at holding a controller steady to guide a marble along a path. They probably aren't playing professional soccer either. I'm not saying this is "bad" - but I'm saying it's something you have to accept. The challenge level of this game is fine for kids in the intro levels, but the later levels are meant to challenge talented gamers. Little kids might feel stumped here. They can always replay those earlier levels to try to get all the points there, and practice their skills until their bodies catch up.
In addition to the main gameplay path, there are 50 mini-games. This is of course a huge number, but as with any new release, some are upset that their previous favorites are altered. That's going to be true with any new game. I have to agree that some mini-games here aren't my favorites. I specifically don't like the games like the "harpoon" games that make me "thrust" my spear into fish. I don't find that thrusting motion with the Wii to be very accurate. On the other hand, I love some of the other games. That's why they give you 50 of them - you'll like some, dislike others. I'm sure other people love the fish game and hate some of my favorites. If you're fond of some of the previous GameCube mini-games, heck, stick the GameCube game into the Wii to play them. The Wii takes the older discs, after all.
In general the graphics are quite nice, bright and colorful. The music also strikes the right note of fun and casual gameplay. The real beauty of this series - and the Wii controllers - is that you can get anybody to walk into your house and within minutes they grasp what is going on and play along. You can't say that for most XBox 360 or PS3 titles, or even for several other of the Wii games we own. I really do give Super Monkey Ball Banana Blitz great kudos for what they have here. If I had any complaint, it's that they might have wanted to add a "super easy" mode so that little kids could play through the entire game even if they lacked coordination. This is one of those super-kid-friendly games and while it could allow adults to cheat, I think the benefit to little tykes to "get through the game" and be happy would be worth it.
Buy Super Monkey Ball Banana Blitz from Amazon.com


Related Articles
Editor's Picks Articles
Top Ten Articles
Previous Features
Site Map





Content copyright © 2022 by Lisa Shea. All rights reserved.
This content was written by Lisa Shea. If you wish to use this content in any manner, you need written permission. Contact Lisa Shea for details.