Cartoonist Book about Golf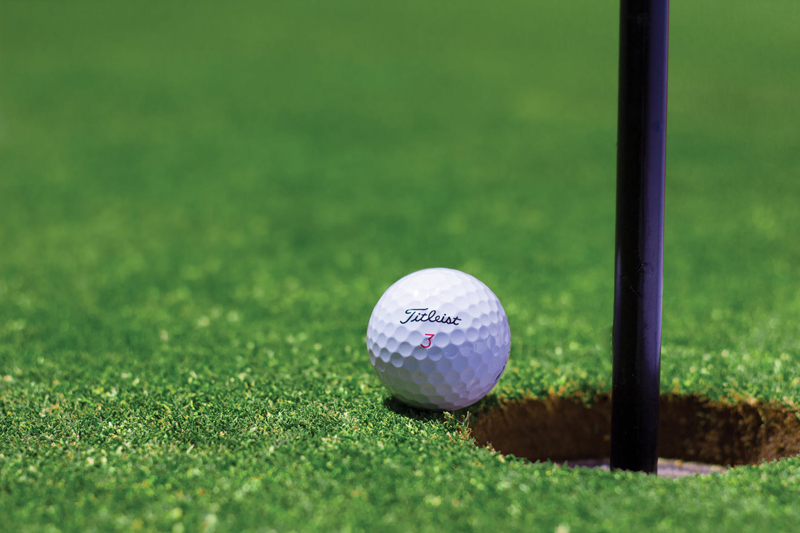 I purchased this cartoon book about Golf called
A Golf Handbook – All I ever learned I forgot by the Third Fairway
by Jeff MacNelly. It was fairly funny and even the forward by Dave Barry was satire. The cartoon on the cover shows a man in clothes to big for him with a face that reminded me of Bill Clinton. Maybe that was meant to be as the book was published in 1997. Along with this cartoon the man was pulling a golf cart filled with all kinds of tools such as ladder, chain saw, rope, shovel plus golf clubs which also reminded me of Bill Clinton playing golf in those days gone by. This cartoon maybe is a self image but it sure has the Clinton chin.
To begin the Dave Barry's forward he admits not being highly skilled at golf as he says in the first sentence, "I Suck" his exact words. He finishes the forward section this way;
"praising Jeff MacNelly as very qualified to write a Golf Handbook so read this book and learn but Dave and Jeff will be waiting for you at the bar".
The author has a short introduction then some news about himself as being a laid back golfer. Since he drew many of his Shoe comic strips about golf, people think he knows a lot about it. He admits he draws better golf than he plays. This page also has a cartoon resembling Clinton carrying his golf bag filled with pencils and paint brushes.
The book is divided into nine chapters as follows:
1. A Short History of Golf
2. Equipment
3. Golf Wear
4. The Swing
5. The Putt
6. The Trouble
7. Rules and Etiquette
8. Practice and Lessons
9. Glossary
Under History the author starts that this game's history is as foggy as the Scotland moors where golf is supposedly started. As the story goes the author thinks the Vikings should be blamed as they were a hard-drinking bunch of guys and it only seems natural that they started this game. He ends by saying that these Viking raids gave Scotland a shot in the arm as they became known as Spring Break. The drawings were pictures of a Viking yelling "Fjore" and a wooden door with a spear holding a note that says "Notice: Replace your Divots!" This all follows with the love of golf following into the new world with the drawing of a Boston harbor showing a sailing ship with the words "The Boston Tee Party". This section end up on the moon as Alan Spepard hits a golf ball on the moon going 2.3 miles which is a record for the longest bunker shot.
When it comes to equipment the author suggests that people play with too many clubs and he suggest a two wood, five iron and the putter that way there is not much effort to decide what to use. The author shows the evolution of the golf ball with drawings that start with an ape skull 1100 A.D. to a white round golf ball in 1990. He also draws the evolution of the tee from Doric to the modern one used today. I suppose this could be funny but not really. Mr. MacNelly does the same with the woods, irons, putters, bags and carts. He ends by saying to look to the future for moveable sidewalks, underground cartways and robotic caddies. They already have the robot electric caddie cart where you just walk beside it as it moves down the fairway. We have one guy on our course that has one and he controls it with a remote.
I did get a few laughs under Rules and Regulation as this can get very sticky as it all depends on who you are playing with. There are so many rules in golf that it is hard to keep up with them. That is why they publish a new Rules and Regulation books every year. When it comes to etiquette as the author states that the clowns he plays with the term "golf etiquette" is an Oxymoron. All along in this book
A Golf Handbook
the author/artist includes some of his comic strip "Shoe" with a golf theme. In the Glossary he explains many expressions and terms used while playing golf that covers five pages. On the back cover is a foursome of old guys on the green trying to putt with a saying at the bottom.
"If golf is not yet a religion, its close…You hear the Lord's name mentioned more often on golf course than in churches."
I will pass it off to one of my golfing friends when they are having an unusual bad game. I enjoyed the many drawings as an accomplished cartoon artist these were well done so it added to the book. You may enjoy this book you can find it at www.Amazon.com there were several listed under the new and used books.


Editor's Picks Articles
Top Ten Articles
Previous Features
Site Map





Content copyright © 2022 by Letta Meinen. All rights reserved.
This content was written by Letta Meinen. If you wish to use this content in any manner, you need written permission. Contact Sandy Eggers for details.