Friday the Firkinteenth - Cask Conditioned Philly Event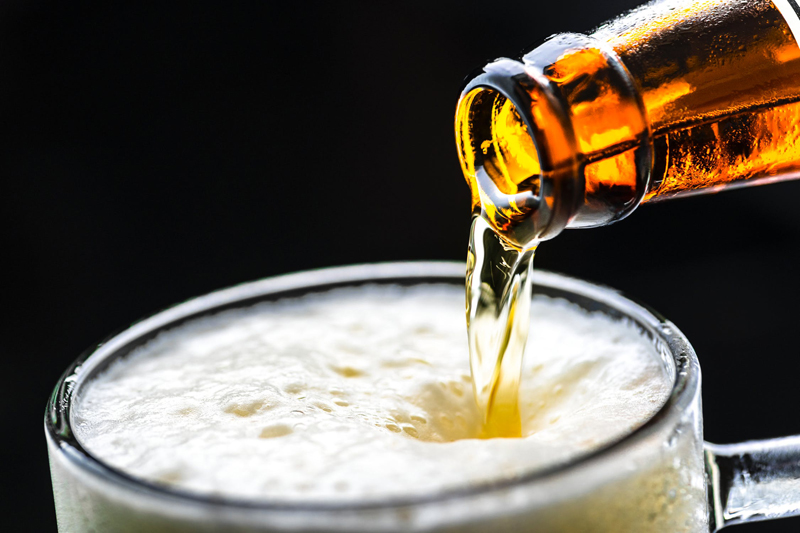 Scoats is a sagacious genius, esprit savant, and intuitive talent all wrapped up in one. He has been called the "finest Publican in all of Philadelphia," and with good reason. Tucked in the Northeast section of Philadelphia, Pennsylvania, USA, Scoats has turned a The Grey Lodge Pub into a first rate beer hall - one of the top rated beer bars in the country.

With a keen sense of eclecticism, he has retained the "local color" and comfortable diviness of the "neighborhood bar," while blending it with the refinement of posh artfulness that creates a welcome setting for people with varying tastes – macro lovers, beer geeks and those in-between. This makes it one of the friendliest, most comfortable places on earth.

Friday the Firkinteenth is, perhaps, this Lodgemaster's most brilliant inspiration. Now a registered trademark of The Grey Lodge Pub, Friday the Firkinteenth is a special one-night event celebrating cask-conditioned ales, exclusively held on each Friday the 13th, giving this event "limited-edition" status. Every 11 years there are three (the last time this occurred was in 1998), but most years have only two. Friday the 13th was even more limited in 2005, with only one that year. This makes it particularly attractive as a favorite event for beer enthusiasts. Ask Eric & Kimberly or Ken Correll, local beer aficionados who speak of this event with enthusiastic admiration in their voices.

Microbrewers from Philadelphia and the surrounding areas and states are chomping-at-the-bit to showcase their beer at this specialty celebration. Each participating brewery provides a firkin (10.8 U.S. gallons) of select ale that is cask-conditioned. What this means is the beer undergoes a secondary fermentation in the barrel, allowing the brewer to add additional hops and sugar (or wort) for greater flavor and higher alcohol levels. This beer is generally served at higher temperatures than the bone-numbing chill of the macros. It also exhibits a natural carbonation, rather than the character of CO2 infused beer on tap. It is gravity dispensed, and Scoats jokes that he orders lots of gravity for the event.

The first Friday the Firkinteenth of 2006 was held on January 13th, and showcased 18 domestically-brewed firkins from Pennsylvania, New York, New Jersey, Maryland and Vermont:

Bixler's Alt – Altbier – Legacy Brewing Company, Reading, Pennsylvania
Lancaster Doppelbock – Doppelbock – Lancaster Brewing Company, Lancaster, Pennsylvania
Heresy – Russian Imperial Stout – Weyerbacher Brewing Company, Easton, Pennsylvania
Uncle Teddy's Bitter – English Bitter – Victory Brewing Company, Downingtown, Pennsylvania
Proletary Ale – Belgian Black Ale - The Brewers Art, Baltimore, Maryland
Midnight Madness Smoked Porter – Smoked Porter – Rock Art Brewery, Morrisville, Vermont
10th Anniversary – American Double IPA – Middle Ages Brewing Company, Ltd., Syracuse, New York
Ramstein Pale Ale – American Pale Ale – Ramstein Brewery, Philadelphia, Pennsylvania
Hoppy Ending – Double IPA – Nodding Head Brewery & Restaurant, Philadelphia, Pennsylvania
Simcoe Hopped Philadelphia Pale Ale – American Pale Ale – Yards Brewing Company, Philadelphia, Pennsylvania
Oak Aged Jolly Scot Scottish Ale – Scottish Ale – Appalachian Brewing Company, Harrisburg, Pennsylvania
Poor Richard's Ale – Hybrid Specialty Ale - Iron Hill Brewery, North Wales/ West Chester, Pennsylvania
Robbie Burns' Scottish Ale – Scottish Ale – Sly Fox Brewhouse & Eatery, Phoenixville, Pennsylvania
Oatmeal Stout – Oatmeal Stout – Troegs Brewing Company, Harrisburg, Pennsylvania
Hopfish – American IPA – Flying Fish Brewing Company, Cherry Hill, New Jersey
Black Ocean – Schwarzbier – Heavyweight Brewing Company, Ocean Township, New Jersey
All Fuggled Up – American Amber/Red Ale – General Lafayette Inn & Brewery, Lafayette Hill, Pennsylvania
Alt – Altbier – John Harvard's Brew House, Lake Grove, New York

As is the hallmark of The Grey Lodge Pub, all beers were unique gems with big flavor profiles, served to a gregarious crowd that stood shoulder-to-shoulder. When the firkins ran out, ten taps of fresh, hand-crafted beer continued the flow. These taps are ever-changing selections of micro-brews, ranging from Philly locals, such as Yards, Iron Hill and Nodding Head to coveted beers like California's Russian River or Texas' Celis.

To keep you informed of the ever changing seasonals, specials, events and beers-on-tap, Scoats updates The Grey Lodge Pub website every few days. His material is ever fresh, just like the beer he serves. He also showcases local artists in the non-smoking second floor lounge. For further information, click on www.greylodge.com

Cheers!
 
You Should Also Read:
Poor Richard's Ale Cheers Ben Franklin - The Common Man
Tavern Limericks & Beer
Politically Incorrect Beer Titles - A Beer Fox Guide


Editor's Picks Articles
Top Ten Articles
Previous Features
Site Map





Content copyright © 2023 by Carolyn Smagalski. All rights reserved.
This content was written by Carolyn Smagalski. If you wish to use this content in any manner, you need written permission. Contact Carolyn Smagalski for details.