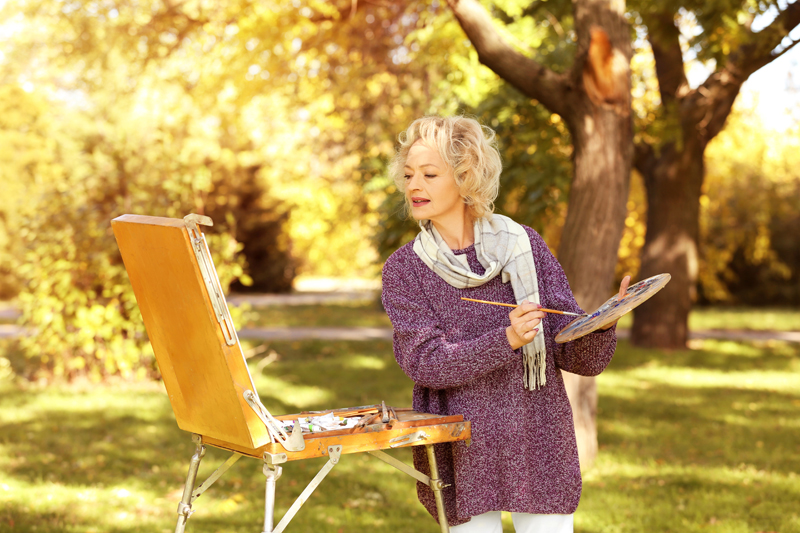 At a birthday luncheon a few months ago, a friend of mine was talking about her plans for her mother Kathleen's 95th birthday. When asked if Kathleen lived with her, she responded, "Oh, no. My mother lives in her own apartment nearby. She moved there fourteen years ago. I keep a close eye on her but she is one independent lady."

Although living alone in this age range is becoming more common because so many of us are living to be in the oldest-old category (95+), it is still unusual to find an individual approaching 100 well enough to be living by themselves.

"I enjoy having my own place and decorating it for holidays and the seasons, especially for Christmas," says Kathleen. "I get a big kick out of doing that." Kathleen was interviewed while having lunch at a Maryland restaurant wearing a sweater set with pants, jaunty tam hat, and bejeweled with a long necklace and rings.

"I was always happy I was born a girl and love fashion. I still enjoy shopping for clothes and jewelry and getting dressed up for all occasions. I recently lost some weight and I'm still working on keeping my body in good shape. I like my yoga class but find it hard to walk because of arthritis in my knees. I used to love walking. My health is really pretty good. Besides the arthritis, I have some hearing loss that happened at age 5, and that's about it. I never smoked and now have a glass of red wine a day. I take vitamins every day too. I have a sweet tooth. I like sherbet but not so big on cake.

"I moved to this area in 2001 but I was born and raised in New York City, and spent many years living in New York with my husband. He died 32 years ago; I was married 39 years at the time. We had a great marriage but liked to have little spats during the week. Thinking back I realize they were never big or important arguments, just silly things. He was a good guy and we had a lot of shared interests. We both loved music, and went to concerts, the opera, the theater, and also liked looking for antiques and decorating our home.

"My one sister is younger (87) and lives in Delaware. We are very good friends. I am blessed to be surrounded by a warm, loving family. I have two children, a son and a daughter. My daughter and son also live in the area. They have given me 6 grandchildren, and 9 great grandchildren, and another one expected in August. I have a lot of love and support coming my way. I also have three brothers, one has died, but two are still with us.

"I am delighted to be around other people but being alone is also enjoyable for me. I developed a nice lifestyle for myself. For a time I had a condo in Sanibel Island, Florida and enjoyed spending winters there. I also had three small dogs that brought me a lot of joy.

I like my own company. I think it's important to rest our brains and ourselves and appreciate the quiet times. I love to read mysteries, but they can't be gruesome -- love listening to all kinds of music including classical and opera, but not hard rock. One of my favorite songs is Strangers in the Night and another is Green Eyes. My husband changed the lyrics from green eyes to blue eyes and would sing it to me. Once in a while I enjoy cooking but I have to be in the mood. I try to follow the Atkins diet and am watching my weight carefully.

"I don't think too much about age and I don't think other people should either. It's only two numbers and we can't do anything about it. Our focus should be on staying healthy and enjoying ourselves. In my case, I love to be at home but also have fun shopping, going out for lunch, going to the theater, and visiting my family when I can. Sometimes I'll travel to New York or to Washington, DC or Annapolis with a family member.

"I tell young people that the most important asset you will ever have is your health. Do everything in moderation. We need good health to age well. Another important thing is to be an optimist in attitude. I am always trying to focus on the bright side and keep a positive attitude. Stop worrying about yesterday. Today is a new day! I also have a sentimental streak and love music, flowers, gardens, all beauty, and happy endings. I know that my faith has helped me through life's downs and supported my positive approach to living.

"It's not that I don't have any pet peeves or don't recognize negative things in life. I tend to champion the underdog. I think prejudice of any kind is stupid, but also think we will always have it, as it is a human failing. I think there are just two kinds of people, good and bad, and not much in between. We miss so much by hating others. I also champion women's rights and have watched our progress since I was a young girl. During World War II women began to see their options since many of us went out and worked during that time.

"Even though my grandmother told me that if a woman tells her age, she'll tell anything, I will tell you that I was born in 1920. It was a different world. I've watched so many good things come into our lives and some not so good. I've watched the contributions of medicine, science, technology and airplane travel add so much to our lives. And I've also watched our privacy eroded by computers and hackers, and travel change again because of terrorism," Kathleen adds.

"So I say now I'm 95! It's time to jive! And I'm mostly Irish, so I will also say to you the one Gaelic phrase I know, Erin go bragh."







Related Articles
Editor's Picks Articles
Top Ten Articles
Previous Features
Site Map





Content copyright © 2023 by Patricia Villani, MPA, PhD. All rights reserved.
This content was written by Patricia Villani, MPA, PhD. If you wish to use this content in any manner, you need written permission. Contact Patricia Villani, MPA, PhD for details.