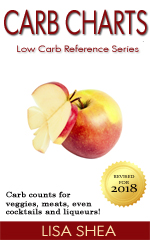 Lettuce is the core of most salads. It is fresh, nutritious, filling, full of water, and helps hold together your other salad items. Try to have two salads a day!
Butterhead Lettuce
Butterhead lettuce is a group that includes Boston and Bibb styles of lettuce. It has loose leaves. A cup has 1g of carbs. You get 78% of your vitamin A.
Iceberg Lettuce
Iceberg lettuce is the first type of lettuce that most people encounter. It is the round ball shaped lettuce that is very crisp and crunchy, and used frequently in salads and on burgers. It's generally pretty cheap. It's only 0.4g of carbs for an entire cup of lettuce, as in not even 1g. Many salads are a serving of iceberg lettuce plus a few tomatoes and cukes, then salad dressing. On the downside, iceberg lettuce has little flavor and not much nutrition. So this is a good way to get you started on salads, if you're not used to them, but try to "move up" from iceberg when you can.
Radiccio Lettuce
This lettuce isn't actually a lettuce, it's a chicory leaf. It's shaped in a ball like an iceberg, but is a reddish-purple color rather than green. It's got a strong bitter-spicy flavor to it and is usually served with fruit salads rather than as a standalone veggie salad. You don't get a lot of nutrition here - for the 2g of carbs per cup, you only get 5% Vitamin C, 1% iron, and not much else.
Red Leaf Lettuce
As you might imagine, this lettuce type has a slightly red tint to its leaves. It's only 1g of carbs per cup and you get 42% of your vitamin A, as well as 2% vitamin C, 2% iron, and 1% calcium.
Romaine Lettuce
Romaine is the dark, "fluffy" lettuce type - less crisp than iceberg, but containing FAR more nutrition. You get 75% your daily serving of Vitamin K with a single cup, along with 30% of your Vitamin A, 22% Vitamin C and much more. It's very good for you. It's only 0.9g of carbs per serving. So a tiny bit more carbs than iceberg - but far better for you health wise. I highly recommend getting a daily romaine salad into your normal eating habits. Romaine is also known as "Cos" lettuce.
Spinach
OK Spinach is different than lettuce, but you can just as easily make a spinach salad and it is FULL of nutrients. It's slightly more carby - about 1.2g per cup. There's a reason that Popeye ate this for super strength. You get 140% of your Vitamin A, 50% of your Vitamin C, 40% of your iron, 12% of your calcium, and much, much more. I would in fact have a regular salad and then a main course of spinach in some form. This stuff is perfect for you.
Swiss Chard
Related to the beet, the swiss chard leaves are nicely nutritious. You get 1g of carbs, 44% of your vitamin A, 18% of your vitamin C, plus 4% iron and 2% calcium. The flavor is similar to spinach.
Vegetable Carb Charts
Low Carb Charts
- Main Listing
Lisa Shea's Library of Low Carb Books
You Should Also Read:
Low Carb Charts - Main Listing


Related Articles
Editor's Picks Articles
Top Ten Articles
Previous Features
Site Map



Follow @LisaLowCarb
Tweet





Content copyright © 2022 by Lisa Shea. All rights reserved.
This content was written by Lisa Shea. If you wish to use this content in any manner, you need written permission. Contact Lisa Shea for details.