Golf - Nintendo Wii Sports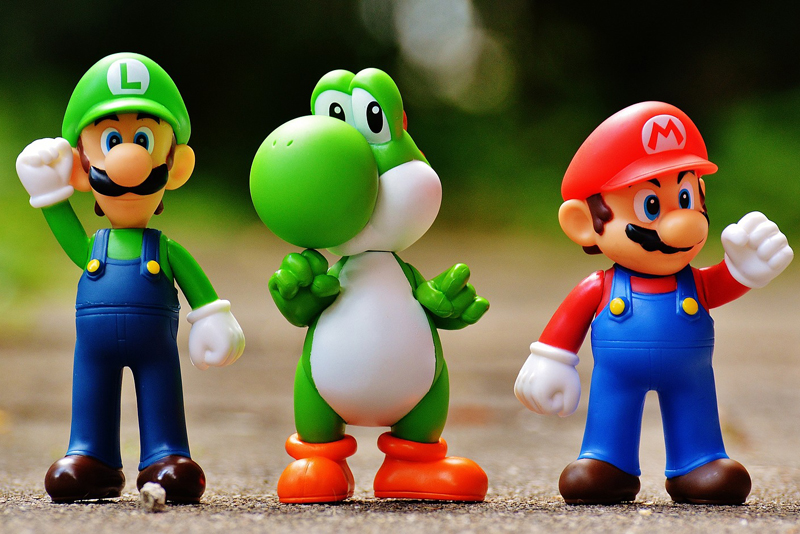 The golf component of the Nintendo Wii Sports Pack offers three levels of difficulty, something none of the other sports games in this set provides.
You get a basic set of clubs to choose from - driver, iron, putter, wedge. You can take as many practice swings as you want, to see how the swing meter fills up and to get your timing right. Then, by pressing A, you move up to the ball for your actual swing.
Your courses are 3 holes for the starter courses, and then 9 holes for a full run. These aren't easy courses! Sometimes they involve islands or very narrow paths with ocean on either side.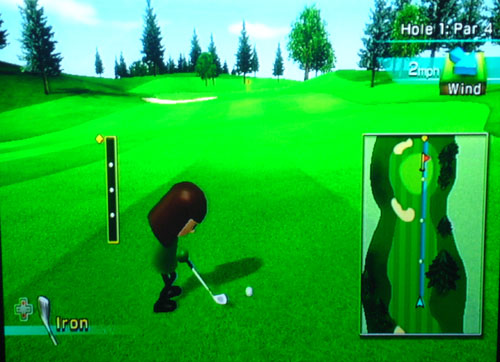 The graphics are reasonably good - the trees have leaves that wave in the wind, the flags flutter. The cross-hatch mowing pattern on the greens help a BIT with determining the curves, but the squares are large enough that sometimes it's a challenge to really know which way the ball will lean. You can see "height colors" by pressing 1, but this isn't as helpful as visuals in other golf games are.
There aren't a lot of complicated button presses involved here. It's all about smooth swings in the direction you want to go. You're not having to react quickly to opponents jabs or balls - you can take your time, really think about the shot, and then smoothly take your swing. For that reason, this is really great for people who want a slower paced game. It's more a thinking game than an action game.
I apologize for the fuzziness of this next picture, but look at the course :)
The game is also very "quiet". There aren't screaming fans or "anger clouds" over peoples heads when things go poorly. It's just you, a sunny day with clouds drifting overhead, the green trees and blue ocean. You can work on your score, trying to get a little better than you were yesterday. When you hit 1,000 points you become a pro, and get your name shown on the record books.
I liked this - it's not complex, but that is part of its charm. It's easy for anyone to pick up, and slow paced so that non-gamers can enjoy it.
Nintendo Wii Sports Game Main Listing


Related Articles
Editor's Picks Articles
Top Ten Articles
Previous Features
Site Map





Content copyright © 2022 by Lisa Shea. All rights reserved.
This content was written by Lisa Shea. If you wish to use this content in any manner, you need written permission. Contact Lisa Shea for details.