Victory Brewing Emerges with Doppelsticke Alt - Ten Years Alt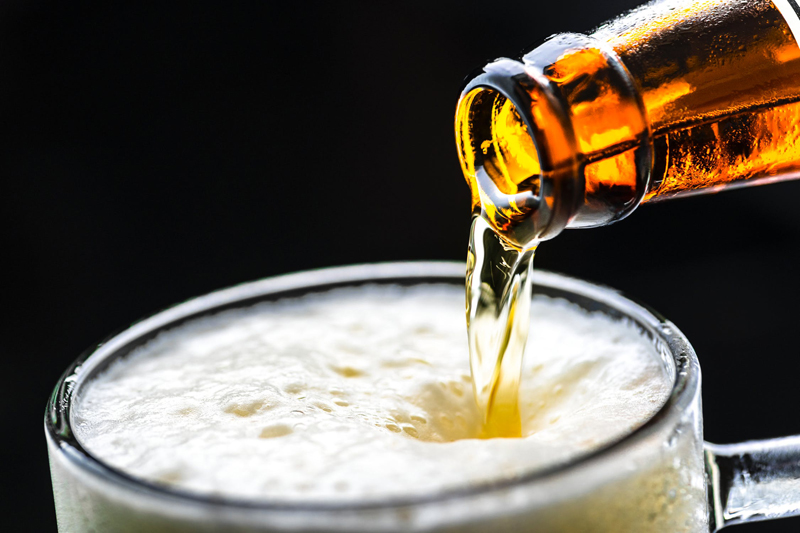 Silently, in the foggy reverie of midnight, secrets stir within your dreams. The vision of a village brewpub just north of the Black Forest of Germany leads you onward, into the mystery of her inner sanctum where a beer designed for special patrons emerges. Winding back through an imaginative journey of ten years, you are welcomed into the center of innovation to join in an interactive taste-challenge that demands attention and rewards your esprit de corps.

This is the world of Ten Years Alt, the iridescent, chestnut-copper doppelsticke alt, brewed to commemorate the tenth anniversary of Victory Brewing, located in the heart of Chester County in Downingtown, Pennsylvania, USA. Ten Years Alt seizes center stage as the first Doppelsticke Alt to be brewed in the United States.  A thick, mousse-like head of eggshell rises up from its gemlike body, sheeting the sides of the glass with delicate lacing. Complex aromas of roasted European malt and nuttiness merge with spicy tones of peppery hops, drawing you into its captivating fortress of pleasure. Smooth and elegant, Ten Years Alt hides an 8.5% abv in the rich interplay of balance, warming gently as it overtakes your spirit.

Based on the "German old style" of brewing, Victory's new doppelsticke alt plays in perfect harmony with the traditional brewing beliefs of owners Bill Covaleski and Ron Barchet. With educational backgrounds that span from Temple University's Tyler School of Art and UCLA's School of Economics to training at Doemans - Grafelfing, Munich and Weihenstephan in Bavaria, Germany, a reverence for brewing has always been the trademark that sets Victory apart as a champion of craft brewing.

This reverence begins with a careful selection of brewing ingredients focused on quality and flavor. Vienna and Pils two-row malts imported from Germany are touched with caramel specialty malt to form the foundation of Victory beers. Their reputation for brewing different styles of beer necessitates the use of 23 different strains of yeast, whole hop flowers used within 24 hours off the vine (immersing hopheads in a tsunami of addictive hop oils), and processes that employ such practices as Old-World decoction mashes and a wet mill system that yields longer shelf-life and stability.

Such dedication to brewing does not go unrecognized. HopDevil Ale has gleaned a bevy of awards for its masterful complexity and assertive punch. In 1999, it was chosen as Malt Advocate's Domestic Beer of the Year. In 2002, the devil was hailed as Champion U.S. Cask-Conditioned Brew at the Great British Beer Festival in the United Kingdom.

Golden Monkey, a bottle-conditioned Belgian-style ale, was the Gold Medal winner at the LA County Fair in 2003. It went on to become the Silver Medal Champion at the International Beer Competition in London, UK in 2004. Victory Lager was hailed Grand Champion Dortmunder/Helles at the U.S. Beer Tasting Championships in 2004.

Grand Champion Pilsner Prima Pils did a peacock prance at the U.S. Beer Tasting Championships three years in a row – 2002, 2003 and 2004. It also captured a Bronze Medal at the European BeerStar Competition in Nuremburg, Germany in 2004, while Whirlwind Witbier, a Belgian-style wit, won honors in 2005 as Best of the Mid-Atlantic/ Southeast.

Not only is Victory Brewing dedicated to creating great beer. They walk hand-in-hand with their loyal customers by brewing new styles that develop sophisticated palates in their patrons over a period of time. In 2002, the V-series of beer emerged, based on "victory and vintage." These unique beers are limited-edition periodic releases, ranging in scope from Belgian strong dark ales and dubbels to the current V-Saison farmhouse ale, brewed with a seductive combination of Czech Saaz, Hallertau, Tettnanger and East Kent Goldings hops.

The Single Hop Varietal Pils Series introduces a single variety of incredibly fresh hops to each batch. Currently, Braumeister Pils focuses on Czech Saaz hops in an unfiltered "Keller" pils for your sophisticated taste buds.

In celebration of ten years of Victory brews, owners Bill Covaleski and Ron Barchet are hosting a Ten Years New Party at the Victory Brewing Restaurant, 420 Acorn Lane, Downingtown, Pennsylvania, USA, on Friday, February 17 and Saturday, February 18, 2006, starting at 5 p.m. each celebratory day. Included in the avalanche of activities are such competitive events as the "Most Loyal Fan Men's Beerathlon" on the 17th and the "Finest Women for Beerathlon" on the 18th. Victory will also present a Tenth Anniversary Dinner hosted by Michael Jackson, world-renowned beer authority and British author, on March 20, 2006 at 6:30 p.m. Reservations are limited for this event and can be secured at https://www.victorybeer.com
Happy Anniversary, Victory Brewing! 

Cheers!
 
You Should Also Read:
Friday the Firkinteenth - Cask Conditioned Philly Event
Is Beer the Secret Spice to Life ?
A Beer Fox Guide to Hops and Beer


Editor's Picks Articles
Top Ten Articles
Previous Features
Site Map





Content copyright © 2021 by Carolyn Smagalski. All rights reserved.
This content was written by Carolyn Smagalski. If you wish to use this content in any manner, you need written permission. Contact Carolyn Smagalski for details.