Gluten Free Beer - Tasting Panel Gives Thumbs Up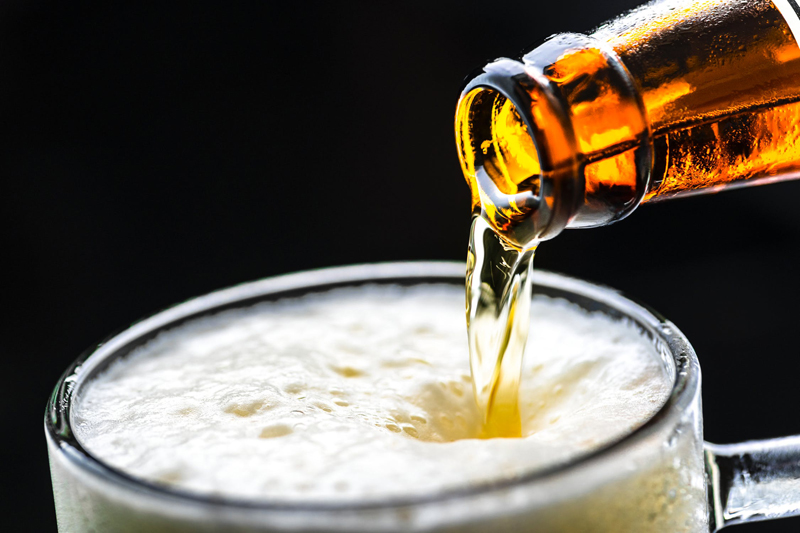 Dr. Steve Ford is awesome! Such is the opinion of hundreds of diagnosed Celiacs who had endured years, or decades, without beer. Ford, in conjunction with Nick Wheat of CAMRA, organized the first-ever International Gluten Free Beer Festival in Chesterfield, UK on February 3rd and 4th, 2006 as part of the Campaign for Real Ale (CAMRA) Chesterfield Festival, "Wessex to Essex."

Eyes, filled with tears of joy, were a commonplace sight. Hardened working men…lovely, young women…research chemists…all Celiacs, many of whom had felt like social outcasts when diagnosed with the disease, were welcomed back to the world of the living – the world of pleasurable celebration with a beer in hand.

This world of Gluten Free beer is one that is in constant motion, evolving as it experiences the art and science of innovation in brewing. Brewers of Gluten Free beer are often Celiacs themselves, or are compassionate spirits who see the expanding need within this segment of the population. The Gluten Free beer market is an open field, not at all restricted to Celiacs alone, but open to anyone who may have felt bloating, flushed skin color, or discomfort after drinking "regular" beer.

The great determining factor, of course, is taste. On February 7, 2006, an appointed Tasting Panel released the results of the International Gluten Free Beer Festival. This is an emerging style among world markets, and care was given to evaluate beer based on overall satisfaction rather than assigning a quick first, second and third place. The general consensus: Thumbs Up!

Tasting Panel Judges:

Andrea Waterhouse – Campaign for Real Ale
Alun Waterhouse – Campaign for Real Ale
Nick Wheat – Campaign for Real Ale
Rob Kay – Coeliac, United Kingdom
John Boyle – Guest Tasting Participant
Mike Davidson – Guest Tasting Participant

Secretary to the Tasting Panel: Dr. Steve Ford

Honors were given to the following Award Winners:

Against the Grain – Fine Ale Club, United Kingdom – "The Realest of Real Ales"
Gluten Content: less than 13 ppm

Explorer – Greens, United Kingdom – "Depth of Character and Finesse in its range of Flavours"
Gluten Content: none

New Grist – Lakefront Brewery, Wisconsin, USA – "Most Promising New Option and Excellence in its Range of Flavours"
Gluten Content: none

Passover Honey Beer – Ramapo Valley Brewery, New York, USA – "Original Range of Flavours"
Gluten Content: none

O'Brien Premium Lager – O'Brien, Australia – "Best Choice in Honest Lager Beer"
Gluten Content: none

In addition to Gluten Free Beer produced in the UK, participating beer hailed from the United States of America, Canada, Finland and Australia:
Fine Ale Club: Against the Grain - UK
Greens: Discovery, Explorer, Herald, Pioneer, Trailblazer - UK
Hambleton's: GFA - UK
Heron: aka Green's Discovery - UK
Koff: Lager, Laytelainen Kevytolut - Finland
Laitlin: Kukko Pils III, Kukko Dark Lager - Finland
Lakefront: New Grist - USA
Les Bieres de la Nouvelle France: La Messegere - Canada
O'Brien - Premium Lager - Australia
Ramapo Valley Brewery: Passover Honey Beer - USA
Trails End:  Trails End Chestnut Beer - USA
Future additions are emerging from Italy, Germany and the Netherlands, with additional participants hopping aboard from Australia, the USA, and the UK. Bard's Tale will be back, hopeful prototypes from Trails End Chestnuts will be refined, and samples by Schlafly, Bi-Aglut, Silly Yak, Beer Up and BC's will be available for participation.

Brewers who wish to develop Gluten Free beer should be aware of the dietary limitations of the Coeliac(Celiac).
Unacceptable Ingredients for Gluten Free Beer
Unacceptable (toxic to the Celiac) ingredients include: barley, wheat, oats, rye, spelt, kamut, triticale, bran, bulgur, farro, farina, couscous, graham flour, orzo, semolina, yeast grown on any gluten base, caramel flavorings or coloring, fillers, modified food starch, hydrolized, hydrogenated or texturized vegetable protein, emulsifiers, brown rice syrup, mono or di-glycerides and gluten stabilizers. In addition, care must be taken to avoid air-borne contamination with any of the aforementioned toxic grains, because these can settle into the product.
 
Acceptable Ingredients for Gluten Free Beer
Acceptable ingredients for brewers of Gluten Free Beer: sorghum, buckwheat, chestnut chips, rice, maize, potatoes, sweet potatoes, teff, Indian ricegrass, millet, chips made from almonds or hazelnuts and dry yeast grown on molasses base.

For information on the International Gluten Free Beer Festival, participating beers, or taste panel results, go to www.glutenfreebeerfestival.com.

Cheers!
 
You Should Also Read:
Celiacs Guide to Gluten Free Beer
Gluten Free Beer and Party Food for Celiacs
Barley free - Gluten Free Beer for Celiacs from Lakefront Brewery


Editor's Picks Articles
Top Ten Articles
Previous Features
Site Map





Content copyright © 2022 by Carolyn Smagalski. All rights reserved.
This content was written by Carolyn Smagalski. If you wish to use this content in any manner, you need written permission. Contact Carolyn Smagalski for details.