Beerdrinker of the Year - A Woman Challenges the Big Boys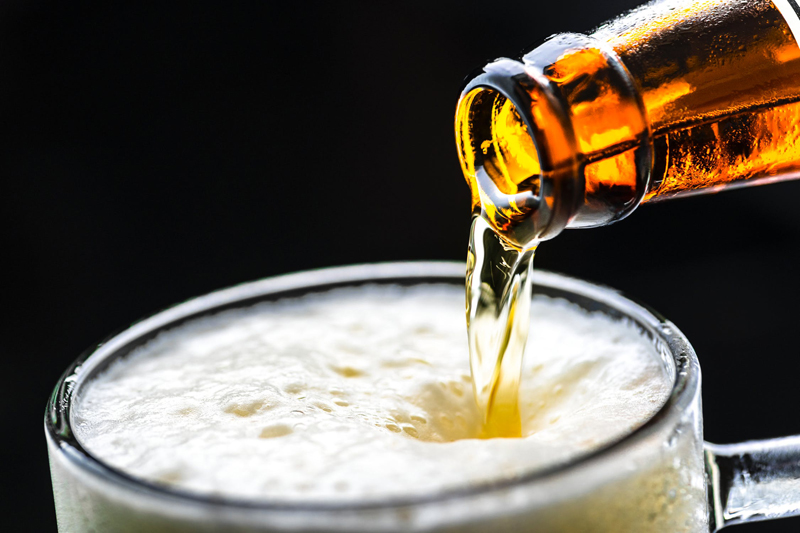 Adventure is like a magic amulet to some women. New experiences awaken their spirit and infuse them with immediate energy. They are the adrenaline junkies, ready for a challenge. Rather than vacationing in St Croix, they travel to Brugge, Belgium on an exciting beer trek. Rather than visiting the Basilica of SS. Peter and Paul in Philadelphia, they tarry to Monk's Café. A living room muted in shades of eggshell doesn't suit their style. They choose Flanders Red.

…and when it comes to a challenge, Beerdrinker of the Year is right down their alley.

Meet Diane Catanzaro of Norfolk, Virginia, one of three finalists who went head-to-head in a duel of wit and beer knowledge during a national competition for the crown as 2006 Beerdrinker of the Year. Finals were held on February 25, 2006 at the Wynkoop Brewing Company, Colorado's oldest brewpub, located in the historic J.S. Brown Mercantile Building in downtown Denver.

Although this competition is called "Beerdrinker of the Year," it is not about who can drink the most beer. With the exception of the Roman Empire, gluttony has never been an admirable standard in most societies. This challenge is about guts, comprehensive knowledge of beer history and brewing traditions, a quick wit, healthy taste for all styles of beer, dedication and infectious enthusiasm.

An illustrious panel of judges consisting of beer writers, beer experts and previous Beerdrinker of the Year title winners fired targeted questions at each Finalist. Judges were Bill Metzger, publisher of the Brewing News brewspapers; Chris Black, proprietor of Falling Rock Taphouse in Denver, Colorado; Don Russell, widely known by his pen name as "Joe Sixpack" of the Philadelphia Daily News and "Joe Sixpack's Happy Hour" radio show; three previous Beerdrinker of the Year award winners Ray McCoy (2003), John Marioni (2004), and Gary Steinel (2002); and the winner of The Brewing News "Be a Beerdrinker of the Year Judge" contest, Charlie Dathern of Buffalo, New York. All were dressed in traditional black robes and white "powdered" wigs, and bore an air of beer-like camaraderie. Former Beerdrinker of the Year Cornelia Corey (2001) fired a few sharp questions from the peanut gallery.

This was a close match, charged with twists and turns throughout each surly wrangling. Catanzaro served-up an estimable showing that kept Warren Monteiro of New York City and Tom Schmidlin of Seattle, Washington on high alert throughout the battle. With this extraordinary level of talent, it was anyone's guess who might reign supreme in the end. As self-proclaimed "Yeast Dork," Schmidlin nosed ahead in the final moments, but not without Diane Catanzaro nipping at his heels.

Catanzaro certainly is not lacking in any of the characteristics that portray a worthy title-holder. She is an avid extract homebrewer, Recognized Beer Judge, and Professor of Organizational and Industrial Psychology at Christopher Newport University in Newport News, Virginia. When expounding on her philosophy of beer drinking, she states, "Everything I've learned in life, I've learned through beer…[it is] a foundation for learning about history, economics, art, psychology, chemistry, math, philosophy, biology, marketing, and business…"


As a woman, she is not the stereotypical apparition of the big-bellied, beerdrinking Norm Petersen of Cheers fame. Her womanly profile exudes an enthusiasm for the golden brew that sparkles like a crystal chandelier in an elegant ballroom.

While fielding bulls-eye questions on beer from Cornelia Corey, Diane spoke about the shortage of women beerdrinker role models in America. She asserted her admiration for Carol Stout, recipient of the Brewers' Recognition Award at the 2005 Craft Brewers Conference, and of her desire to bring more women into the mainstream of beer.

During the "Beer Whisperings" segment – one in which each contender had the opportunity to hold a private conversation with a beer – Diane chose Duchesse de Bourgogne, a Flanders Red Ale from the Brouwerij Verhaeghe, Vichte, Belgium, named in honor of Mary of Burgundy, daughter of Charles the Bold and wife of Holy Roman Emperor Maximilian I.

Mary, Queen of Burgundy, was the wealthiest heiress of her time. Despite her high level of social prominence, the Duchesse became the "People's Princess" when, in conjunction with the States-General, she granted the Great Privilege, a charter returning autonomy and freedom to the provinces in the Netherlands. The Duchess suffered a premature death during a falcon hunt, crushed by her fallen horse, at the young age of 25.

Touched by Mary's inspiring life as a woman in a man's world, Catanzaro spoke dramatically to her "Duchesse," comparing the garnet ale to the fiery life of the real duchess. "…Your crimson glow speaks to me like the blood of the Flemish duchess who gave it your name." Then, with artful expression, she softly uttered, "I pledge my love forever."

Catanzaro's historical beer-whispering was balanced by her refreshing, whimsical wit during her closing statement. She broke into an original adaptation of Funkmaster IBU and D.J. Little Guy's hip-hop ensemble of Brewers' Bling Bling from the Check Your Gravity CD - a 2003 release by Pain Relievaz duo Sam Calagione and Bryan Selders of Dogfish Head Craft Brewery. Entertaining though her performance had been, Catanzaro fell just short of the points needed to snatch the crown.

...but this is part of the Neverending Story. Diane Catanzaro has an enthusiasm for beer that will not fade with time. Her extensive Beerdrinker Resume displays a depth of experience, knowledge and dedication that can endure a temporary setback, while infusing deeper commitment in the spirit of beer.

After all, anyone who considers having children so she can name them Abbey, Mead and Chimay is a notch above the rest.

Cheers!
 
You Should Also Read:
The Pleasures of Beer - A Woman's Passion
A Classic Beer Guide for Women
Top Woman Beer Rater in the USA - hotstuff


Editor's Picks Articles
Top Ten Articles
Previous Features
Site Map





Content copyright © 2022 by Carolyn Smagalski. All rights reserved.
This content was written by Carolyn Smagalski. If you wish to use this content in any manner, you need written permission. Contact Carolyn Smagalski for details.