Top Ten List - How to Use a Macro Lager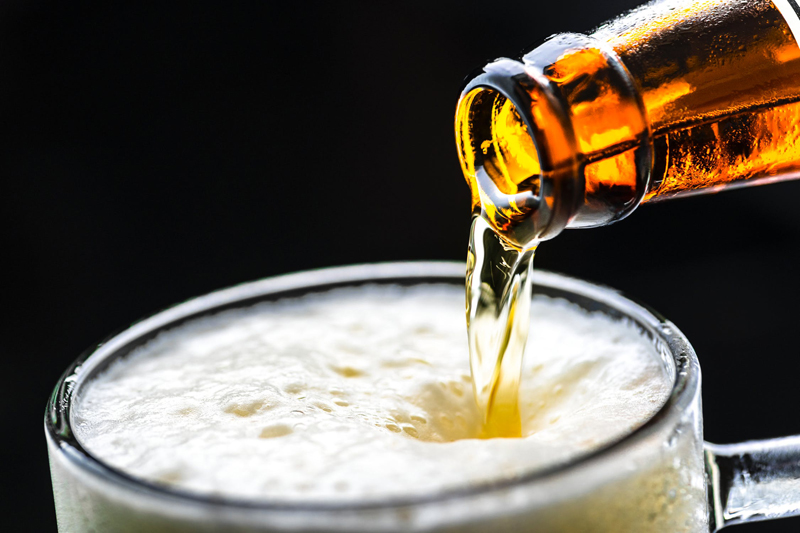 Craft beer enthusiasts are passionate people. Once they discover real beer, there is no going back to the flavorless macro-lagers of their youth. They begin to understand the quest of the famous Beer Hunter, Michael Jackson, in his ever-continuous search for balance and complexity in beer. They become like the Beer Fox, seeking to satisfy an insatiable hunger for the hop monster and to revel in the nuances that characterize each signature of craft beer. They may even begin brewing their own beer in the pursuit of sophisticated flavor.

So what does a craft beer enthusiast do when they discover a forgotten, half-used case of macro-brew in the back of their garage? As this author previously stated, "Once they discover real beer, there is no going back…"

With the help of microbrew professionals, homebrewers and craft brew enthusiasts across the globe, the following Top Ten List should set the stage for ever more imaginative ways to use a macro lager.

Top Ten Ways to Use Macro-Lager Beer

1. Thanks to the ever-creative imaginations of Sam Calagione of Dogfish Head Craft Brewery in Milton, Delaware, USA, and Jason and Todd Alström of web-based BeerAdvocate.com, one  of the best ways to use a macro-lager was demonstrated at the First Annual Dogfish Head Craft Brewery & BeerAdvocate.com Intergalactic Invitational Bocce Tournament on Saturday, September 17, 2005. With the assistance of a specially constructed macro-hurling catapult, thirty packs of cheap domestic lager beers were launched, Ewok-style, across the length of a football field into a giant six-foot toilet.

2. Exsalonce Salon & Day Spa in Chicago, Illinois, USA, offers men a beer pedicure. The hops and enzymes in the beer help to soften calluses.

3. Macro-lagers are great at picnics. Fill a wide shallow bowl with your most detestable macro, and put it at another table to keep the flies away from your food.

4. Serve it to a suitor you want to discourage.

5. A German Spa recommends using cheap macro-lager for bath therapy. Beer is rich in vitamins and has a toning effect on the skin.

6. Feed it to your pet skunk. It will give him fond memories of his mother and siblings, especially if he has been descented. He may even try to bathe in it.

7. Make Basic Beer Soap.
Ingredients:
4 oz. Castor oil
23 oz. Coconut oil
23 oz. Palm oil
4 oz. Shea butter
4 oz. Soybean oil
22 oz very flat macro lager (VERY flat!)
8.5 oz. Lye

Take care to cover yourself with protective goggles, gloves and protective apron. Follow the basic cold process soapmaking instructions, adding your choice of fragrance or essential oils at trace. Basic cold process soapmaking instructions can be accessed at: BellaOnline - Soapmaking  or Blue Aspen Originals

8. Have a boody (booty) race. Form teams – two teammates per team. Teammates stand back-to-back, close enough to hold an open can of macro-lager between their boodies (buttocks). Locking arms to take advantage of stability results in disqualification. Teams advance toward the finish line until one team wins. If the macro splatters on the ground…no problem! Just replace with another. Surprise Boody Prize: The team who drops the most cans gets awarded a fresh growler of award-winning American craft beer.

9. A 2003 article in Jane Magazine recommends using macro-lager as a hair rinse to promote shine and manageability.

10. Hold a can of macro-lager between your breasts in a photograph. No one will notice that cheap macro-lager!

Special thanks go out to all the helpful microbrewers, homebrewers and craft beer enthusiasts who have given their heartfelt recommendations in order to assist others in their best use of flavorless macro-lager beer.

Cheers!
 
You Should Also Read:
Politically Incorrect Beer Titles - Over-Doing It
Tavern Limericks & Beer
Beer Slang - A Beer Fox Guide


Related Articles
Editor's Picks Articles
Top Ten Articles
Previous Features
Site Map





Content copyright © 2023 by Carolyn Smagalski. All rights reserved.
This content was written by Carolyn Smagalski. If you wish to use this content in any manner, you need written permission. Contact Carolyn Smagalski for details.