Politically Incorrect Beer Titles - Over-Doing It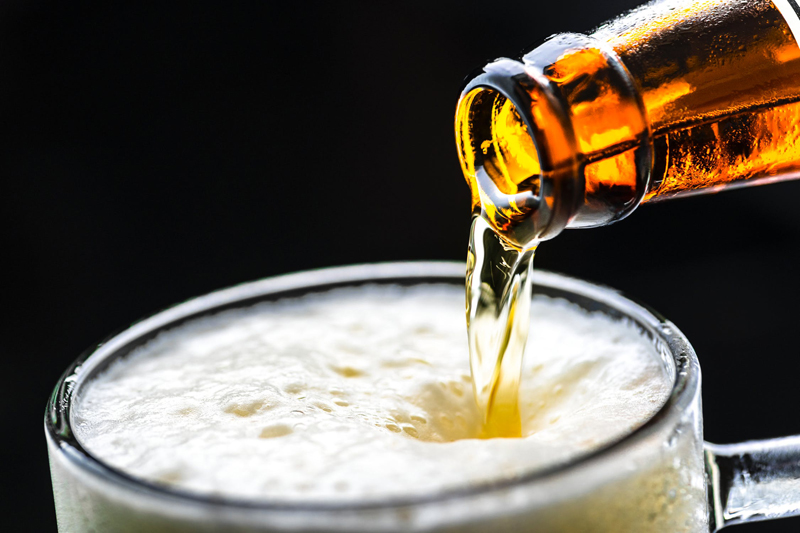 The saga continues!
With a lighthearted look at the politically incorrect black sheep beer titles, your hibernicious mood just may be getting lighter.  Have another luscious brew!
The creative flow that comes from the imagination of master brewers, blended with a sense of humor that confounds even the most seasoned comedienne, is cause for celebration in the world of beer. During times of boredom, we feel satisfaction in knowing that these zany artists & alchemists will wax immortal in their quest for ever-new and absurd beer titles, constantly adding to our list of politically incorrect brews.

For your pleasure –
Beer Fox Guide to Politically Incorrect Beer Titles – Over-Doing It

How about some politically incorrect beer drinking activity?

Half in the Bagpipe – Amherst Brewing Company, Amherst, Massachusetts, USA – Scotch Ale / Wee Heavy – Aye, Laddie, this coppery red boddie begs for attention, whilst a tight head of creamy froth forms above, awaiting disturbance by the Loch Ness in your mouth. Richly caramel malts assert themselves. A smooth mouthfeel disguises every nuance of alcohol, making this a dangerously delicious offering.

Temptation – Russian River Brewing Company, Santa Rosa, California, USA – American Wild Ale – An orange glow shines like eye-candy within your crystal goblet, covered with a fluffy cloud of stark-white cumulus. Seductive aromas of yeasty oak, soaked in white wine, emerge with unabashed desire, releasing an amorphous ripple of complexity from this enticing temptress. Salacious scents fill the surrounding air with nuances of funk, vanilla, earth, Brett-drenched blanket, and tart lambic. The complexity continues from the enticing nose to a symphony on the palate, dancing in multi-dimensional waves of earthiness, alcohol, barnyard and fruit. Superbly sinful!

Ye Olde Kilt Tilter – Middle Ages Brewing Company, Syracuse, New York, USA – Scotch Ale / Wee Heavy – As you pour this dense, burgundy tilter into your glass, a rocky head rises to greet the lady, then settles to a fine pattern of delicate lacing. Aromas are of caramel malts, burnt peat, smoky molasses and chocolate. A smooth, full mouthfeel adds to the delights of malt, toffee and nuttiness.

In Heat Wheat – Flying Dog Brewery, Denver, Colorado, USA – Hefe Weizen – Foggy amber sunshine is sealed off by a stiff, egg-white head of froth that eventually diminishes to a solid sheet atop the silken liquid. Citric aromas of lemon and lime tango with banana esters. Flavors are soft, mellow and grainy, with a touch of tartness in the finish.

Peeping Peater Scotch Ale – Port Townsend Brewing Company, Port Townsend, Washington, USA – Scotch Ale / Wee Heavy –A mahogany brown pour lights with crimson radiance, while a creamy head rises, then falls to a thin ring at the surface. Toasted aromas of homemade nut bread entwine with toffee, almonds, molasses and chocolate. A big brother scent of whiskey rises prominently to the foreground, calling for wild revelers to ride the bull to the finish.

Nickel Bag – Pizza Port & Pizza Port Brewing Company, Carlsbad, California, USA – American Double IPA – Pours copper-hued with a deep, valley-mist character, crowned with a voluptuous, voluminous, capacious head. The air fills with the fragrances of grapefruit, apricots, pine needles and lemon. Smooth in the mouth, this DIPA is highly drinkable and refreshing. A hop lovers treat.

Thumbsucker – Magic Hat Brewing Company, Burlington, Vermont, USA – Russian Imperial Stout – A burnt-brown body of walnut is capped with a creamy tan head, richly emitting aromas of bourbon and vanilla touched with wood and malt. Dark chocolate and wood give way to the feel of alcoholic bourbon on the tongue and within the back of the throat. Excellent!

And now - the consequences:

Whoop Pass IPA – Silver City Brewing, Silverdale, Washington, USA – American Double IPA – Clear, burnt-orange red brew is dressed in a chunky head of off-white foam. Aroma is sweet and spicy, with bright fruit juiciness and pine-cone hops. Grapefruit and pine demand attention on the palate, sliding with smooth elegance, yet finishing dry.

Kilt Lifter – Moylan's Brewery, Novato, California, USA –Scotch Ale / Wee Heavy – The coppery, garnet-chestnut hue of the pour glows with protein haze and tops itself with a thin, tan head that dissolves in ringlets on the surface. Fruits and roasted malts dominate, with hints of coffee. Well-balanced, smooth and powerful!

DUIPA – Hoptown Brewing Company, Pleasanton, California, USA – American Double IPA – The amber euphoric brew immediately fills the nose cavity with aromatics of tropical fruit, malt, grapefruit and pine, while the eyes are entertained by the creamy, eggshell head and chunks of lace that stick to the walls of the glass. Malts that make a quick entrance onto the palate are washed ashore by the high tide of pine and grapefruit hops flavors. Delightful!

Euphoria – Legacy Brewing Company, Reading, Pennsylvania, USA – Belgian Strong Pale Ale – A cloudy straw-hazed body is laminated with a thin, sticky white head and lacing that spreads like cirrus clouds across the crystalline surfaces of your glass. Peaches, bubblegum, candy sugar, coriander, spicy pepper and cloves merge with yeasty complexy, disguising the significant 8.7 % ABV in a highly quaffable base.

Damnation – Russian River Brewing Company, Santa Rosa, California, USA – Belgian Strong Pale Ale – Such beauty should not be squandered, but shared with the proponents of politically incorrect platitudes. A dense, tight, pillowy head graces the body of this golden-straw sinner, as aromatics of baked pear crisp, tropical fruit, pepper and spice linger with banana and baked wheat bread. Duvelesque!

Death and Taxes – Moonlight Brewing Company, Fulton, California, USA – Schwarzbier – Deeply roasted malt aroma rises upward from the opaque, ebony body, while sticky rings of lace drench the glass with shards of tan head. Dark, imported espresso flavors leap into the forefront, demanding attention. Roasted malts blend with more roasted malts, echoing a slight sweetness in the midst of a satisfying, back-of-the-throat bitterness.

That should wrap up your grizzly mood! If you are still roaring like a bear out of hibernation, taste a few more and go back to sleep!

Cheers!
 
You Should Also Read:
Politically Incorrect Beer Titles - Beer Fox Guide
Politically Incorrect Beer Titles - Black Sheep
Beer Fox Personality Profiles for Beer Enthusiasts


Related Articles
Editor's Picks Articles
Top Ten Articles
Previous Features
Site Map





Content copyright © 2022 by Carolyn Smagalski. All rights reserved.
This content was written by Carolyn Smagalski. If you wish to use this content in any manner, you need written permission. Contact Carolyn Smagalski for details.