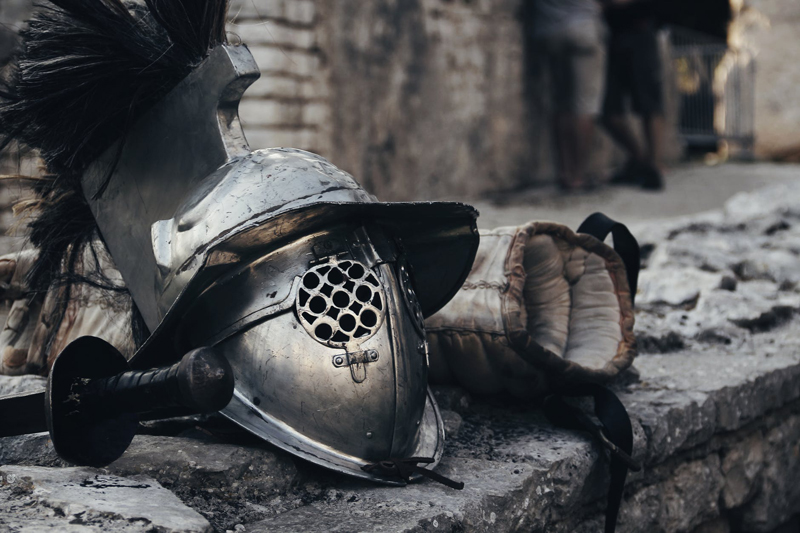 I love to play in LARPs, but I'm not what you would call inspired when it comes to creating LARP costumes. Heck, at Halloween I usually go as a graduating student because I still have my high school robes. I'm also too cheap to pay for expensive costumes.

I've played in LARPs without worrying about costumes. This works fine at conventions, and at casual local LARPs. But by just putting a little effort into it, you'll enjoy the LARP a lot more.

Shoes

Shoes are one aspect of costuming that I typically don't worry about. Most LARPs have you on your feet and moving quite a bit. Especially any of the weekend ones that are held outside. Don't punish your feet with uncomfortable period footwear, or you'll be miserable by the end of the game.

I wear comfortable running shoes. Appropriate, because I spend a lot of time in weekend LARPs running for my life!

Suits

There are many genres for which a suit is the perfect costume. A modern suit works fine for the early twentieth century, for example. I played in a Call of Cthulhu LARP set in the 1930s, and wore just the suit jacket along with some nondescript pants (we'd moved, and I couldn't locate the suit pants).

I fit in just fine with the other characters, even the ones who had gone all out on their costumes. What's more, I felt as if I was in costume, which made the entire experience a lot more fun than simply going in jeans and a t-shirt.

Vests

A vest makes a great accessory, and can cover up an inappropriate shirt. In medieval settings, a simple vest looks very much in period, especially when combined with a white shirt. A white dress shirt looks best with a vest, but a white t-shirt works, too.

For a fantasy setting a couple years ago, I wanted a light colored cotton vest. I hunted and hunted in local clothing stores, and found nothing. I finally found a shirt that was the right color and fit. I took it home, and ripped the seams at the shoulders to remove the sleeves. The ragged look I was left with fit my character, so I kept it. If I'd been going for something more upper-class, I'd have resewed those seams.

In a Wild West themed LARP, I used a colorful vest combined with a white dress shirt, and added simple dark armbands to become a saloon keeper. Everything was already in my closet, and the end result looked very good.

Pants

Simple black works very well in most any time period. I typically use light cotton pants if I'm going to be outside, since they breathe better. You can pick up a pair for $10 or so at most department stores, and since they're inexpensive you don't really care if anything happens to them.

Belts

This is one area where I do buy something authentic. Modern belts just don't give the same flavor, so I splurged at the Origins' dealers room one year and bought a medieval belt. When combined with a long dress shirt worn on the outside of your pants, the belt works very well to give the entire affair the impression of a tunic.

Pockets

Make sure that whatever you wear, you have large pockets, and preferably lots of them. LARPs often call for you to pick up and carry trinkets and treasure, and it's far more convenient to have pockets to carry them in than to try to juggle them in your hands.

Or, you can go more authentic and buy a pouch or purse that goes with the setting.

Water Skins

For fantasy themed LARPs, you can buy an authentic looking water skin at any outdoor store. This is an absolute must if you're in a lengthy outdoor LARP. Keeping hydrated is the best way to ensure you stay healthy and happy.


Overall, you should be able to create a reasonable looking LARP costume with what you already have in your closet, or perhaps buying just a few pieces. Certainly, you should be able to do it for under $100. Stay away from authentic costumes, since they'll run you a lot more, until you're sure you like the setting enough to invest the money to move up to the next level in costuming.

Most players appreciate any effort to create a costume, and will accept a reasonable costume as a symbol for the real thing. I've found that just a bit of costuming effort helps me to enjoy the game far more than before I did any costuming.




You Should Also Read:
LARP Convention Tips
What Is LARP Anyway?


Related Articles
Editor's Picks Articles
Top Ten Articles
Previous Features
Site Map



Follow @rpgbellaonline
Tweet





Content copyright © 2022 by Jay Shaffstall. All rights reserved.
This content was written by Jay Shaffstall. If you wish to use this content in any manner, you need written permission. Contact Leif Sutter for details.