Great Grains - Great Beers with Michael Jackson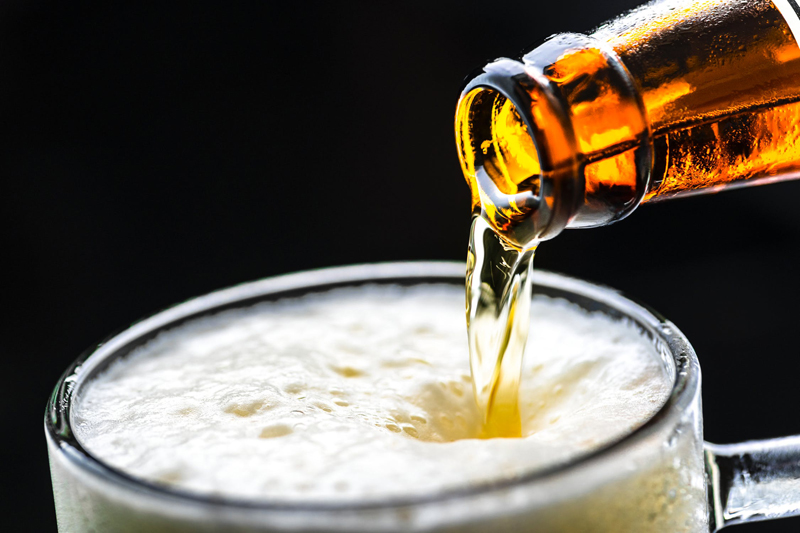 A Michael Jackson Presentation at the University of Pennsylvania Museum of Anthropology and Archaeology in Philadelphia is not only a chance to taste good beer with descriptions by the master; it is a view of civilization from the summit of the mountaintop – human evolution unfolded, as man discovered the "fruits of the earth" and how to use them.

This segment of Philadelphia's annual The Book and the Cook Event on March 18, 2006 showcased the theme, "Great Grains, Great Beers," a perspective that highlighted the versatility and ingenuity of man, as he moved from the hunter/gatherer state to one as domesticator of grains at the dawn of civilization. Beer, bread and writing all developed at this apex of discovery, with the precursors of today's barley and wheat being interpreted as prominent themes in early drawings, carved tablets and cuneiform characters that spoke of the "blissful" drink of the gods.

As a vehicle for conversion into beverages, man determined that fruits had a short life span, spoiling easily and yielding low levels of nutrition. Grains, however, were able to be stored as a result of the malting and drying process. This process was initially discovered by preservation within hard loaves of bread that were crumbled into water, producing a beverage that took man into the euphoric state of the altered mind.

Grain, being the tangible base for brewing, had been cultivated in every corner of the earth, yielding varieties indigenous to the climate and soil of each region. Barley was found to be the most practicable, having a husk that served as a natural filter, whereas other grains – wheat, for instance – developed more porridge-like consistency, resulting in a drink that required extensive processing for palatability. Corn emerged as a common grain in the USA because the lighter flavor paralled the taste preferences of its people, and not because it was more cost efficient. Rice was common to the Far East. Rye typically grew where the soil was poor, with ethnic origins similar to kvass. Buckwheat varied in popularity throughout North America, with a higher level of acceptability in the Canadian regions.

The Tastings Presented by Michael Jackson


During the Great Grains, Great Beers tasting, eight beer styles illustrated the variety and versatility of grains common to brewing throughout the world. These were presented by Michael Jackson in rationally palatable order, beginning with lighter flavored beers and gradually moving into styles having more intense boldness and complexity of flavor.

Chester County Lightning – Sly Fox Brewing Company, Phoenixville, PA, USA – Brewed with a grain base of flaked corn and corn syrup, Lightning displays clean, crisp, Riesling-like flavors with herbal notes. A clear, golden body shimmers beneath thin rings of white lace. Aromas of honey and fruit drift lazily into the air. The finish is marvelously clean and snappy.

Joseph Spelt Ale – Brasserie de Silenrieux, Cherfontaine-Silenrieux, Belgium – 5.4% ABV – Spelt is a highly flavorful grain, similar to wheat. Joseph glows hazy gold, like a frosty sunrise over snowy hills, with a Goliath-style head and lacing that clings in thick sheets to the sides of the glass. Aromas are of dessert apples, vanilla, oak, earth, orange and coriander. The palate echoes the light fruitiness of an apple dumpling, with hops dancing in light, frisky steps in the background.

Sara Buckwheat Ale - Brasserie de Silenrieux, Cherfontaine-Silenrieux, Belgium – 6% ABV – Buckwheat is a type of fruit that contributes solid grainy, grassy aromas and a light nuttiness to the profile. Rich reflections of burning copper blaze beneath light, spidery lacing. An up-front sweetness of malt begs to be combined with a corned beef sandwich or pastrami on rye. As a witbier, Sara Buckwheat is "satisfying," but not "satiating," due to a compelling urge to drink more of it as you revel in its seductive flavor.

Jewish Rye Beer – Triumph Brewing Company, New Hope, Pennsylvania, USA – A hazy glow of copper is edged in topaz light, while a creamy ring leaves telltale signs of its well-crafted origins. Rye, caraway and anise dominate the nose. Flavors are an exotic blend of fresh-bread sweetness in the malt, balanced by the spiciness of caraway that stimulates enduring interest throughout the finish.

Hitachino Nest Red Rice Ale – Kiuchi Brewery, Ibaraki-ken Naka-gun, Japan – 7% ABV – The merged characteristics of a pilsner derivative and red rice results in a light, clean body of brilliant rose with a fluffy white head of creaminess. Active effervescence assists to emit aromas of fresh plums, raisins, currants, cherries, saki and light malt sweetness. Hallertau hops are forthright in their spicy presence, imparting a pleasant bitterness on the back of the throat.

Chateau Jiahu – Dogfish Head Craft Brewery, Milton Delaware, USA – Dogfish Head's Sam Calagione and Master Brewer Mike Gerhart worked in conjunction with Dr. Patrick McGovern, an archeochemist for the University of Pennsylvania Museum - Applied Science Center for Archaeology, to develop this reproduction of ancient ale analyzed from the remains of the Neolithic village of Jiahu in the Northern Chinese province of Henan. Unearthed clay pottery, dating back 9,000 years, was a find of great anthropological significance when the results of sophisticated tests revealed compounds of hawthorn fruit, wild grapes, residual honey compounds and rice, allowing the re-creation of a beverage from antiquity. Jiahu glows like misty straw, with light, honey and apple flavors that develop from carefully selected grains and saki yeast.

Oatmeal Stout – Tröegs Brewery, Harrisburg, Pennsylvania, USA – 6.8% ABV – A body of intense walnut is edged in the luminescence of amber, decorated by a head that dissipates quickly. Grainy bread maltiness floats within coffee and cocoa notes on the nose. A complex variety of malts – pilsner and black, roasted and chocolate – combine with a small portion of oatmeal to yield flavors of hazelnut cappuccino cloaked with a silky mouthfeel, much like a crème brulèe or chocolate mousse.

Aventinus Weizenbock – Brauerei Private Weissbierbrauerei G. Schneider & Sohn GmbH, Kelheim, Germany – 8% ABV – Named after a Roman historian and also a Roman politician, these big, bold flavors hint at Salvatore Doppelbock. The dark, violet, caramel body sports a heaping, pasty, tan head, while aromas of chocolate, banana, cloves and toffee arise to surround your olfactory senses. Toffee-like smoothness greets your palate, while hints of alcohol, caramel apples, banana and clove titillate your senses, wonderfully balanced between light and dark styles of beer.

Michael Jackson's knowledge and world-class presentation of complexity within so many beer signatures whets the appetite of an entire class of beer enthusiasts, from the most inexperienced novitiate to the intense aficionado. His is a display that demands attention in an annual discovery into the science and art of beer creativity.

Top left photo: Michael Jackson speaking at the University of Pennsylvania Museum of Archaeology and Anthropology - Middle right photo: Beer authority Michael Jackson and Beer Fox Carolyn Smagalski at the University of Pennsylvania Museum

Cheers!

You Should Also Read:
Shangy's - The Beer Authority - A Utopia for Beer Lovers
Brewing Up Business - Dogfish Head Style
Beer Styles - Tribute to Jackson , Eckhardt Gatza & Papazian


Related Articles
Editor's Picks Articles
Top Ten Articles
Previous Features
Site Map





Content copyright © 2023 by Carolyn Smagalski. All rights reserved.
This content was written by Carolyn Smagalski. If you wish to use this content in any manner, you need written permission. Contact Carolyn Smagalski for details.