Shangy's The Beer Authority - Utopia for Beer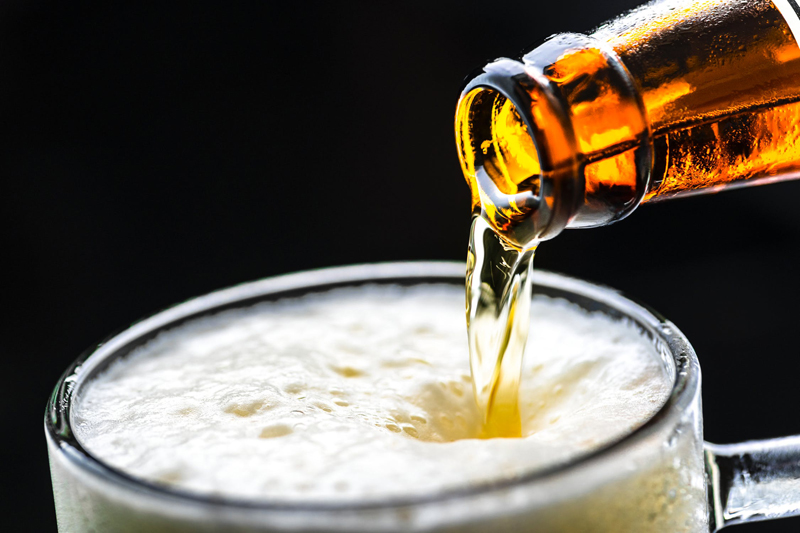 As a General Aviation Private Pilot, I always thought living in the Northeastern Corridor of the United States had its advantages. With its dense population and high concentration of major cities, there are an abundance of airports, both large and small, concentrated in close proximity, intermingled with varied landscapes and fascinating points-of-interest. This area is loosely defined to include New England, the New York City Region, Philadelphia Region and the Baltimore/Washington area. As a buzzing megalopolis, it is a magnet for ethnic diversity and includes four of the five wealthiest states in the Union.

For the beer enthusiast, this area is Beer Paradise. Its history reflects the roots of European brewing, particularly the German influence. By 1810, ninety of the 140 breweries in the United States were well-established icons of Pennsylvania and New York. Between 1850 and 1880, a twelve-block-square of Brooklyn became known as "Brewers Row," where eleven breweries produced their own specialties of weissbier, ales and lagers.

With such heritage and diversity, this Northeast section boasts a high concentration of breweries, brewpubs, beer clubs and homebrew associations, as well as access to beer from all over the world. Nestled in the Lehigh Valley of Pennsylvania, just 100 miles west of New York City and 50 plus miles north of Philadelphia, is a utopia for beer lovers, Shangy's: The Beer Authority.

Not surprisingly, Shangy means "happy." With over 3,000 brands of beer under roof from all over the world, enthusiasm for beer is a priority to Nima Hadian, Vice President and co-owner of this beer super-store. Established in 1979 by his highly-respected father and mother, Hadian follows through with attention-to-detail and a commitment-to-perfection that makes the beer experience pleasurable for his clientele, both men and women.

At the entrance, electric doors open wide to welcome you into this impeccably clean sanctuary, highlighted with a combination of natural and artificial lighting. You are welcomed by a beer-educated employee or by Hadian himself, who offer their assistance with your selection or direction. Cases of beer are step-stacked with the precision of a marching band, allowing access to all sections through wide aisles.

This well-organized layout takes you through a tour of the world. In the Belgian section, you will find the sweet and sour dew of Duchesse de Bourgogne, the world's finest Flanders Red Ale; Deus Champagne Ale, a bottle conditioned Belgian Tripel that is shipped to France for casking, then bottled in a champagne bottle with cork and crown; magnum bottles of LaChouffe, Liefman's Goudenband and Scaldis Noel; jeraboams of Duvel, Corsendonk, and Paulaner Salvatore; and distribution of beer from all seven Trappist monasteries of the world: Rochefort, Orval, Westmalle, Westvleteren, Chimay, Achel and LaTrappe, (La Trappe received approval for a return of their authentic seal by the International Trappist Association in September, 2005).

The German Tour takes you into the world of Schneider Aventinus, a blend of the rich, malty flavors of doppelbock merged with the soft, banana-and-clove notes of Schneider Weiss; Schlenkerla Marzen Rauch from Bamburg; Hirschbrau Neuschwanstein, brewed in the famous Neuschwanstein Castle, and presented in a ceramic bottle with swing-top; Kulmbacher EKU28, Monchshof Schwarz, and barrels of Weihenstephan Hefe Weisse and Optimator Doppelbock.

Great Britain opens you to Fuller's London Pride, with perfectly balanced flavors of light, silken malt, crisp hops and honeylike yeast; Old Speckled Hen, accented with malt, dry yeast strains, and a long finish; Wychwood Hobgoblin Extra Ale and LeCoq Extra Double Imperial Stout.

You will find imports from Scotland, the Czech Republic, France, Russia, Holland, Japan, Poland, Africa, Israel, Austria, Thailand, South America, Sweden, Finland, India, Lithuania and the Ukraine, along with fine Canadian beer from Unibroue, Le Cheval Blanc and McAuslan Brewing Company.

For enthusiasts of world-class microbreweries of the United States, Shangy's presents selections brewed throughout the country. California is well-represented by such micro-brewers as Sierra Nevada Brewing Company of Chico, Anderson Valley from Boonville, North Coast Brewing in Fort Bragg, and Lost Coast Brewing in Eureka. Rogue Ales of Newport, Oregon has a well-stocked selection, along with Avery of Boulder, Colorado; Old Dominion Brewing in Ashburn, Virginia; New Holland of Holland, Michigan; Brewery Ommegang of Cooperstown, New York; Three Floyds of Munster, Indiana; Otter Creek of Middlebury, Vermont; Hair of the Dog of Portland, Oregon; Bell's Brewery of Kalamazoo, Michigan, and more…

For the macro lover, they have that too.

In addition to the main showroom, Shangy's has a refrigerated section, as well as a huge, darkened, refrigerated warehouse where cases, specialty bottles, and barrels are cold-stored.

For appropriate presentation of your fine selections, Shangy's offers a section of specialty glassware, beer-theme lamps and lighting fixtures and other beer paraphernalia. You will delight in your choice of fine cigars, nuts and snack foods that embellish the flavors of the world's greatest beer.

Shangy's is both a retailer and a wholesaler, with additional brands being infused into the Shangy listing on a constant basis. In just a few months, Hadian added seventy new brands to his cache, exhibiting a commitment to excitement that is an intrinsic part of the beer industry. Says Hadian, "Our expertise in the gourmet beer market has enabled our company to secure the distribution rights for the rarest, most award wining beers found in the world today." He continues, "Great beer is not a trend. Great beer is a way of life."

Shangy's is located at 40 E. Main Street, Emmaus, Pennsylvania 18049, USA, off Exit 58 of Interstate 78, with easy access and ample parking. Phone: 610-967-1701 or Fax: 610-967-6913. Internet access to Shangy's is not currently available.

Cheers!
 
You may wish to add a bit of class when serving beer. This classic set is a great starting point. You may also wish to seek out Stemmed Pilsners or Wheat Beer Glasses before expanding to Oversized Wine Glasses, Champagne Flutes or Digestive Glasses.
Spiegelau Barrel Beer Classics Lager Glass, Set of 6 in Barrel Gift Tube
You Should Also Read:
Bethlehem Brew Works - Rude Elf and Lambic Delights
Cigars and Beer - Beer Fox Pairings
Politically Incorrect Beer Titles - A Beer Fox Guide


Related Articles
Editor's Picks Articles
Top Ten Articles
Previous Features
Site Map





Content copyright © 2023 by Carolyn Smagalski. All rights reserved.
This content was written by Carolyn Smagalski. If you wish to use this content in any manner, you need written permission. Contact Carolyn Smagalski for details.