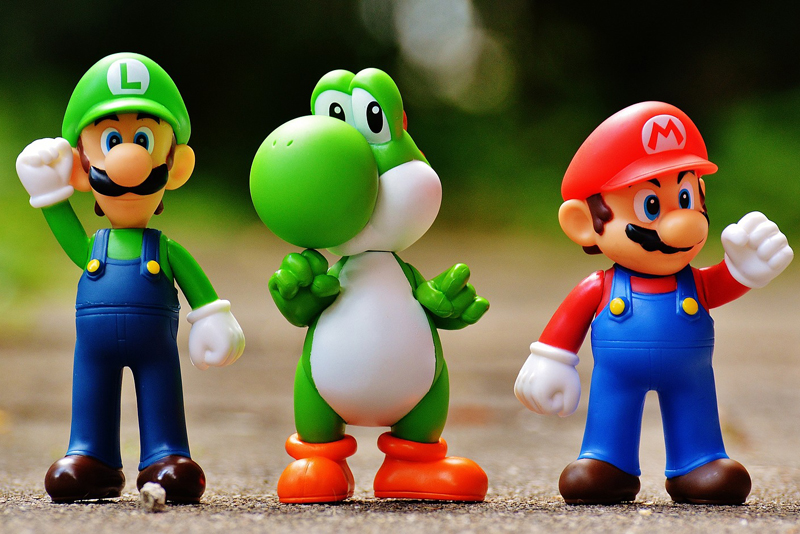 Kororinpa Marble Mania is in essence Super Monkey Ball without the monkeys. Taking its cue from the classic Labyrinth game, you guide the maze in 3D and the marble acts with basic physics responses.
First, the premise. You have a series of themed maps that involve three dimensions of track. As you twist and turn the Wii remote, the track moves to match. As you give a tilt to the board, the marble rolls down the tilt. This is of course the basics - but soon there are ramps, sliding doors, sliding platforms, rotating pieces and other tricky objects involved in your path.
There are of course crystals to collect - what would a game be without collecting crystals! There is also a bonus green item on each level which is rather tricky to achieve, but unlocks new items. This gives you incentive to go back and re-play levels repeatedly.
Each level has its own theme. There are nature themes with leafy objects, a sugar-high theme with candies and cookies, an industrial theme with concrete, a cardboardy paper-Mario style theme, and so on. There are also background theme songs to unlock, and a variety of balls. Some make cute little noises, like the pink pig or the mrowling cat.
My first reaction was - do we really need another Super Monkey Ball game? Super Monkey Ball has a ton of great mini-games, great levels, and all around fun. Kororinpa is lacking a lot of that. All you have is mazes. The multi-player is just map racing.
It is challenging in a brain-train sort of way to figure out the solution to each puzzle, thinking in three dimensions. So from that point of view, I suppose you can consider this "Monkey Ball 1A" - not really better than Monkey Ball, but it gives you a new set of puzzles to figure out. Again, though, it lacks a lot of the features that Monkey Ball has, so I would start with the Monkey Ball series, and then move on to this one once you've figured all the Monkey Ball puzzles out.
The only real complaint I have about the core game is that the game treats the balls too delicately. There were many times where we were done with the first half of a map, and did a 'leap' to get to the second half. We landed nicely, plainly on the map, and it made us die. These are marbles! They're not eggs! If they land on a surface, they don't explode in a million pieces :)
I do have to give kudos here to the Wii remote. When I remember back to playing these types of games on a regular remote, it was always a little challenging to get the board tilt just right with the stick or buttons. With the Wii remote, it is very simple and obvious. You tilt the remote - the board tilts. No thought, no translation - it simply does what you do.
Recommended!
Buy Kororinpa Marble Mania from Amazon.com


Related Articles
Editor's Picks Articles
Top Ten Articles
Previous Features
Site Map





Content copyright © 2022 by Lisa Shea. All rights reserved.
This content was written by Lisa Shea. If you wish to use this content in any manner, you need written permission. Contact Lisa Shea for details.