Gluten Free Beer - Bards Tale Returns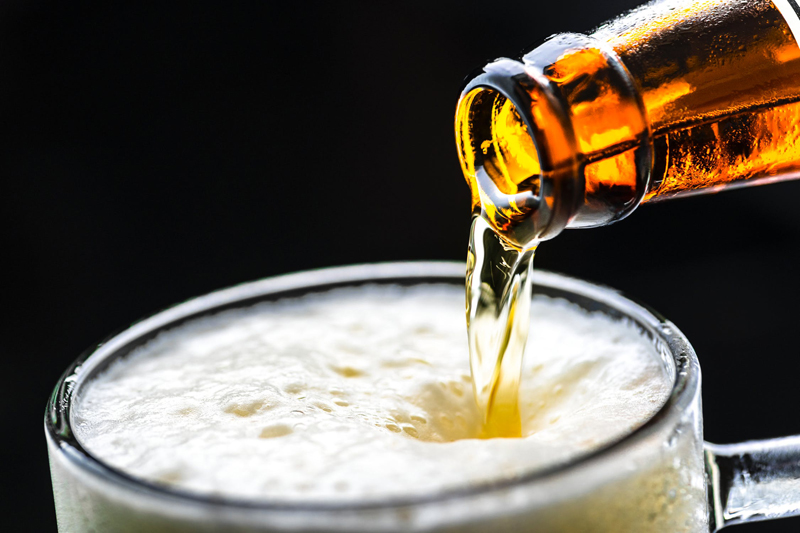 What is it like to be Harry Potter, living on the edge between muggles and magic? Here he is, shielded from his background, an intangible, strange evil that caused his parents' demise. How does he face self-acceptance, human weakness and that "evil something"?

The life of Harry Potter does not seem so different from that of a person with Celiac Disease, a condition that often goes undiagnosed for a considerable number of years. Studies indicate a death rate 3.8 times higher for those whose diagnosis was delayed for 10 years, the current average time span between the onset of symptoms and accurate diagnosis of the disease. Among those whose diagnosis was delayed for a year the death rate holds at 2.6 times higher than the average person. It is a bit like having the evil wizard, Lord Voldemort, lurking in the shadows, waiting for a chance to attack when your defenses are down.

So what can a Beer Lover with Celiac Disease drink?

Celiac Disease Basics

Celiac (Coeliac) Disease, also known as Gluten-sensitive Enteropathy, Gluten Intolerance and Celiac Sprue, is an intolerance for glutens found in the grain of barley, wheat, oats, rye, spelt, kamut, triticale and similar "toxic" substances. In those individuals with gluten-sensitivity, a group of genes called the HLA class II antigens becomes activated in an immune response to exposure with the gluten protein fractions in foods and beverages. These gluten-rich foods and beverages – items such as cereals, breads, pasta and beer - would normally nourish an individual. In the process of gluten-sensitive activation, these antigen-presenting molecules eventually launch destructive intestinal cells called T cells, causing tissue degeneration in the small intestines, followed by the malabsorption of vitamins, minerals, and nutrients.

In their comprehensive study "Celiac Disease: Epidemiology, Pathogenesis, Diagnosis, and Nutritional Management," Detlef Schuppan, MD, PhD, Melinda D. Dennis, MS, RD, LDN, and Ciaran P. Kelly, MD explain the pathological workings of the disease and cite the importance of identifying sources of cross contamination. Introducing gluten rich ingredients (as additives) into gluten-free food or beverages will cause contamination in gluten-free products, as can careless manufacturing processes. The study stresses the importance of maintaining a gluten-free environment in the production and processing of gluten-free foods and beverages, as well as maintaining a zero-tolerance diet.

The Development of Gluten Free Beer

Maintaining a gluten-free manufacturing environment is important for those developing Gluten-Free Beer, the newest emerging market on the fringe of the beer economy. Those with the stamina to enter the field must have:

· a clear understanding of the needs of Celiacs;
· an awareness of the substances that cause toxicity in the individual affected by Celiac Disease;
· resources necessary to assume production in a gluten-free environment;
· the ability to identify sources that could cause cross-contamination;
· a reliable source for research and development;
· a clear understanding of the "lifestyle" of the Celiac.

This is not a fad diet, but an actual lifestyle that must be maintained if the Celiac is to live a life free of serious health problems and premature death. The disease has currently been diagnosed in one of every 133 people in the United States. As more sophisticated testing develops, it is possible that more individuals with Celiac Disease will be identified. This could translate to 25 million cases in the United States alone, with 70.9 percent of those individuals being adults of drinking age. Only a handful of Gluten Free brewers worldwide – currently 16 – are working to satisfy the social beverage needs of these Celiacs.

Bards Tale Gluten Free Beer – High Quality – Full Flavor

Bards Tale is raising the bar for Gluten-Free brewers. Owners Kevin Seplowitz and Craig Belser, both diagnosed as Celiacs, have invested three-quarters of a million dollars and five years of research on developing the resources, understanding and technology to produce high quality malt-based Gluten-Free Beer. When production challenges showed their menacing heads, Seplowitz and Belser re-vamped the entire brewing and distribution operation and scheduled the re-release of Bards Tale Beer for the first week in May 2006.

Dragon's Gold will be the first in the series of new releases. A continental lager with a body of golden straw and tight, off-white head, Dragon's Gold has a 3.5-4.1% ABV, with medium bitterness at 35 IBUs. Flavors of nutty grain are touched with honey sweetness, then dressed in the herbal and spicy characteristics of Hallertau and Tettnanger hops.

The critical key to the whole process is that Bards Tale is brewed using two specific cultivars of sorghum, identified by research and development through a USA-based sorghum-breeding program that was made possible by a federal grant. Belser then created a dedicated malter that could steep, germinate and dry the sorghum at the proper malting temperatures. This also assures purity of product, without the concerns of cross-contamination.

The results are a beer that has a crisp, clean taste, without the tartness associated with African strains of sorghum. Sorghum used in Dragon's Gold is malted as Pale and Munich, then blended in the brewing process, imparting a dextrinous mouthfeel of silkiness that adds to the overall pleasures of drinkability.

Of primary consideration is that Dragon's Gold tastes like REAL beer! Bards Tale believes that every Celiac is a "brand leader." The lifestyle necessary to maintain zero tolerance often creates a gluten free environment for other members in the family of the Celiac. As a result, the family adapts to the food requirements of the Celiac and adjusts their own diet accordingly. It follows that Gluten-Free Beer would be the beer of choice at social events held by Celiacs and their families, if it can compete with the flavor of barley-based beers. Bards Tale insists that if their beer cannot be cross-marketed to the entire brewing market, they would not make it. Product refinement is important to their process, as well as the future development of other styles –Tavern Ale, Porter, and Stout.

Two contract brewers will dominate the Gluten-Free production of Bards Tale Beer. One, located in San Jose, California, USA, has the capability to produce 500 barrels at a time. The other brewer is on the East Coast, with production capabilities that exceed those of the West Coast counterpart. These facilities are state-of-the-art and innovative in nature, and are totally gluten free. Distribution is expected to roll out in eleven states, with sixteen more to be added in the near future, reaching National distribution within 12 to 14 months.

Next: Malting Sorghum for Bards Tale Gluten Free Beer
For more information, contact Bards Tale Beer at:

Cheers!
 
You Should Also Read:
Celiacs Guide to Gluten Free Beer
Barley Free - Gluten Free Beer for Celiacs from Lakefront Brewery
Is Nigerian Guinness Gluten Free ?


Related Articles
Editor's Picks Articles
Top Ten Articles
Previous Features
Site Map





Content copyright © 2022 by Carolyn Smagalski. All rights reserved.
This content was written by Carolyn Smagalski. If you wish to use this content in any manner, you need written permission. Contact Carolyn Smagalski for details.