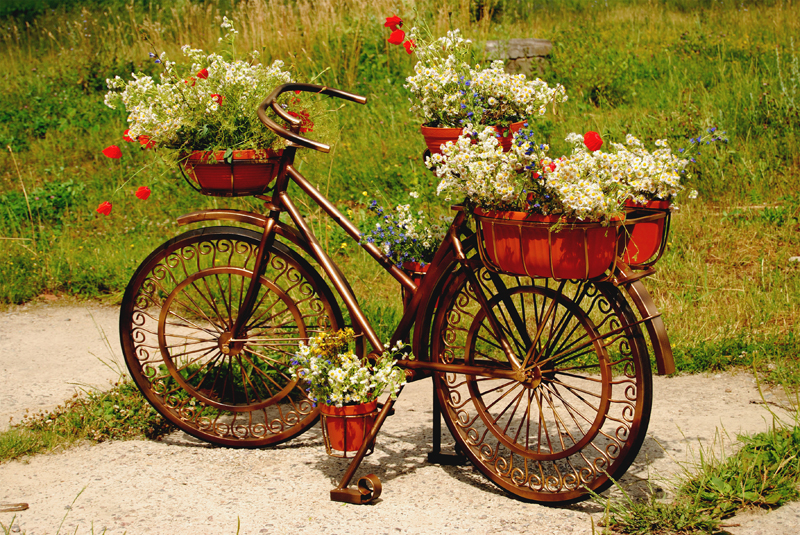 There are many general reasons for growing a container garden and we each have our own combination. One of the main ones is where a container cheers up a darker patch or a low light area in your space, home, office or balcony; and of course there could also be darker patches in your garden where because of tree roots or shade considerations, container grown plants are useful and space filling. Well now, add to that the function of cleaning the air and there is a list of plants to match specific needs and style. We highlight two this time around; thanks NASA.

There are many plants that actually thrive in low light and cleanse the air and some I have grown successfully. Anyone can; including the Aspidistra and the Dracaena (very popular in shopping centres and office foyers too) These are amongst the many plants that will survive well with minimal fuss, are happy in containers and low light conditions are welcome. The sensible gardener will just watch out for over watering, especially during cooler times. Root rot is the result and dead plants ain't pretty, bring bad cha into your space and anyway are depressing! How many dead plants have I produced in my gardening life? Plenty!

Back in the 1980's NASA scientists started investigating ways of providing clean air in enclosed spaces; and after much focused research they confirmed that 'house' plants improve air quality in a variety of ways. It's pretty amazing to think that you can actually grow fresh air. And knowing that house plants can do everything from aiding with depression and removing harmful VOCs (volatile organic compounds) from the air to alleviating seasonal allergies and ridding the air of other volatile substances like formaldehyde, benzene and ammonia means they're definitely worth the three minutes a week of watering that they require.

Many people are shocked to learn that the air inside their homes and offices can be anywhere from 3 to 10 times more polluted than the air outside in the street as it were-even in a big city or small suburb. And seemingly innocuous things like carpets, cleaning products, varnished furniture, wood polishes and nail polish remover give off vapours that contribute to some seriously polluted indoor air. Of course many people do their best to bring natural and chemical free items and furnishings into their homes, they use eco-friendly 'green' cleaning products, some have even sworn off nail polish-but many realise that it would be foolish not to recognise that plants can clean things up even more around the house.

Although any kind of plant is beneficial to the air we breathe, those NASA scientists actually pinpointed the most effective air-cleansing plants out there. So if you're in the market for some nice fresh air, try picking up these especially purifying varieties.

There are those you know well like the Spider plant; the Peace Lily; the Bamboo Palm and the Boston fern. Others just as popular include English Ivy, the Dracaena or corn plant, the Rubber plant, the Dwarf date palm, the Kentia Palm, an Aspidistra and the Schefflera. Most of these are readily available in the nurseries and most plant markets and very popular for other reasons too like low light, low watering and low maintenance. They're all super hardy plants, so you don't have to worry about having a black thumb with these guys. And you don't have to place a plant in every spare inch of your home says NASA, two or three per room is plenty. Placing them beside your bed, on your desk, or anywhere else you spend a lot of time (near the TV!) helps you fully reap their air-cleansing benefits.

When I first read about this research I was pleased to see that two of the plants on their list include those I have grown a lot of, so to end off this chatter, I add some specific notes on Aspidistra and Dracaena, two of my favourites for several reasons, mainly time-saving and low care ones for busy gardeners.

Growing ASPIDISTRA ... air cleansing and low light!
There are not many plants that are more tolerant of deep shade, dark corners and deer than this one. It is an old-fashioned, tough-leathery foliage indoor plant native to the Far East and now found all over the world. It grows around 2 feet (75cms) high most usually with an equal spread I guess.

It has also lost a lot of popularity as it is very slow growing, so not all the nurseries stock them. And when they flower, as they can do, well that is another coup, though flowering is not a given and as they flower at the bottom and almost from the soil you have to look for them! The flower has a deep purple throat and a beige outside; it almost looks as if it were made from porcelain or like it stepped out of a science fiction novel – there is something primeval about them.

I find the Aspidistra a plain Jane and more of a background plant and those dark green leaves a perfect foil for a colourful companion or two. I have grown orange and yellow Marigold, red Salvia and purple Allysum and Lobelia in a round container with the Aspidistra in the centre. Thing is, the smaller plants needed replacing more often as lighting needs are so different; so it's not really a long-term mix (more of a quick party mix for an instant pot garden).

They are very tough and are almost defiant in the way they can tolerate drought, no fuss and even a little neglect. And what did your granny probably call Aspidistra? Yep, the Cast Iron Plant (or iron plant) … and how strong is cast iron? So, with a little fair play, the right watering, the right dryish shade patch and this is a fine choice; it will serve you well.

In summary your Aspidistra 'eliator' tolerates low light and low temperatures without affecting the leaves or the plant in general, is a slow grower so have patience, withstands neglect and prefers low and no watering to over watering and wet feet (so make sure soil used is not clay-like and is free draining) … it will be reasonable and wait for you to come home from holiday without fuss.

Those Aspidistra that I have are in the garden (they have been growing there for many years) doing stoic service a dark strip where nothing else grows for me. I speak to them daily and tell them how grateful I am to have them fill this gap for me. And I am. These happen to be in the ground, but if I needed to I would just as quickly plant them in containers. And guess what. As plain as these plants are, if I moved house, I would take several with me above the other more colourful plants. Loyal friends that they are.

Growing DRACAENA fragrans 'Massangeanna' ... air cleansing and low light!
This particular variety of Dracaena is also one of the most popular of this large group of plants because it is so easy to grow and it looks so good … in fact good enough to grow as a focus plant and you will recognise it easily. No need to dress it up with any other frills and fancies. It will look as good in a light-coloured porcelain pot as in a dark pot with bark mulch or with stones. Its lines are elegant and architectural and it will make its statement in your space quietly but with good impact. A healthy Dracaena brings a tropical holiday look into your container garden, just use the right sized pot or it will look out of scale. Remember the third third third rule to suit the eye. Put it in place, live with it a while then remove it. Oh dear! You will see just how much you miss it and I bet you will put it back.

Like Aspidistra, Dracaenas have wide leaves that do accumulate dust and you would need to wipe the leaves regularly with a damp cloth to remove it. Dust just looks bad but also can retard the good growth of the plant besides making your place look shabby. The plant labours and may lose leaves because of the dust anyway and for the want for a bit of regular care this would be a pity.

They both need little care and almost thrive on neglect (!) clean draining soil, low watering - just leave them alone more than fuss. They like that.

Mealy bug and scale are the two sucking type pests that sometimes attack these plants but both are easily driven away by using natural garlic-based sprays with a touch of chillie or a store-bought systemic fungicide. Systemic fungicide? One that you add when watering the plant which is then drawn up via the roots which repels these kinds of pests. I never use systemic fungicides in any container that I grow vegetables or herbs in and only use them with singular non-edible display plants. That way I just do not forget and do not make mistakes with this. Notebook to the fore!

What do you want your container garden to do?



You Should Also Read:
Buying Container Plants
Herbs - an Introduction
Plants for Bathrooms


Related Articles
Editor's Picks Articles
Top Ten Articles
Previous Features
Site Map





Content copyright © 2023 by Lestie Mulholland. All rights reserved.
This content was written by Lestie Mulholland. If you wish to use this content in any manner, you need written permission. Contact Lestie Mulholland for details.