Product Review – Cat Spa by Living World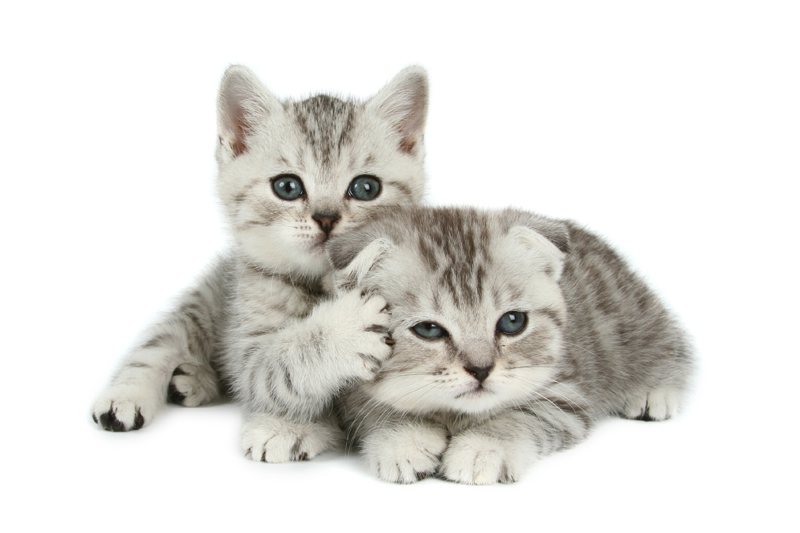 When I first saw the Cat Spa a couple years ago I immediately thought of our cat Sidney (who we lost a year ago to illness). Sidney loved to be brushed and anytime we brushed any of our other cats, Sidney was right there waiting. He would wait patiently for his turn.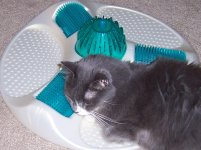 In fact, we could put the brush down on the floor, bristles up, and Sidney would rub his face against it contently purring and grooming himself.
So when I saw the Cat Spa with its three body stroke groomers, ripple massager and gum stimulator, I just knew Sidney would love it. And I was pretty sure our other cats would too. I didn't buy it at first sight, though, and then when I went back looking for it they didn't have it. Luckily, a few months later it was back in stock.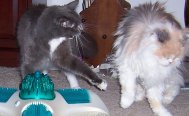 Sure enough when we brought it home Sidney was the first to check it out. He was actually quite protective of the Cat Spa for the first few days we had it. When any of our other cats approached the Cat Spa, Sidney (who seemed to have decided it was his and his alone) would chase them away from it. After a few days, however, he did learn to share his beloved Cat Spa.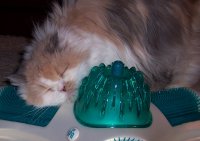 There is a well beneath the gum stimulator and space underneath the body stroke groomers for catnip to be placed. A bag of catnip is even included with the Cat Spa. The flat surfaces of the spa feature accu-pressure pads. Living World claims that cats love to feel the pressure points underneath their paws. Our cats, however, seem to spend more time using the body stroke groomers, ripple massager and gum stimulator. Since the novelty of the Cat Spa has worn off, we've found that our cats pay more attention to it when it is freshly "cat-nipped."
Our new generation of cats love the Cat Spa just as much as our "fab five" did.

Since the novelty has worn off, our cats don't seem to use the Cat Spa as much as they once did. But we still witness them enjoying the pleasures of going to the Cat Spa… especially when we refresh the catnip. And for those joyous moments, the Cat Spa is well worth the money we spent on the product.
This article is especially dedicated to our Sidney (August 1992-July 2005), and also to Jordan (May 1994-November 2005), Jewel (December 1988-January 2006), Velvet (April 1992-January 2006), and Serena (September 1994-June 2007). They are dearly missed everyday.
Photos from top to bottom: Sidney, Sidney & Jewel, Jewel,
Collage - Sidney & Jordan, Velvet, Serena & Jordan
These photos were taken before we adopted our new generation (Handsome Cory, Higgins, Sophie Creamsicle and Jaidyn Gingerbread).

You Should Also Read:
Meet Your Editor's Cats
Update on Your Editor's Cats


Related Articles
Editor's Picks Articles
Top Ten Articles
Previous Features
Site Map





Content copyright © 2022 by Melissa Knoblett-Aman. All rights reserved.
This content was written by Melissa Knoblett-Aman. If you wish to use this content in any manner, you need written permission. Contact Melissa Knoblett-Aman for details.