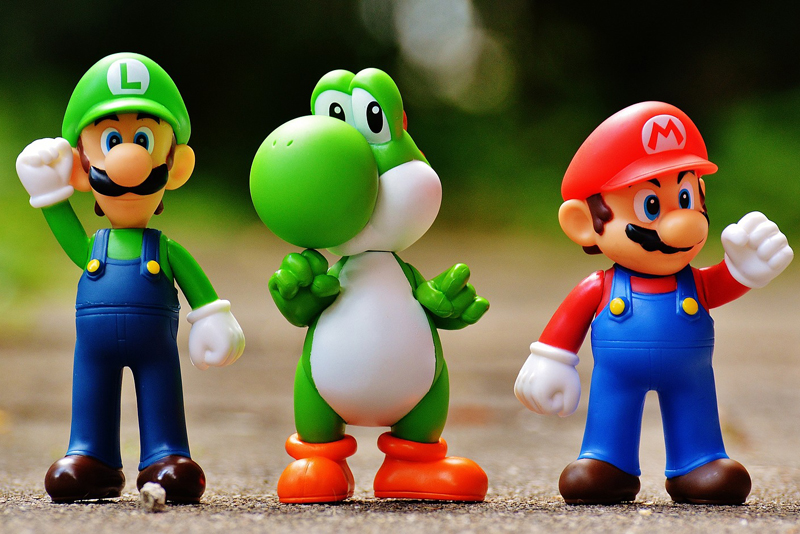 Puzzle games exercise your mind without splattering blood all over the screen. Pikmin is a great game that emphasizes cooperation over gore!
The concept and plot of Pikmin are fun and child-suitable. A space explorer, Olimar, has crash-landed on a strange planet. He only has thirty days of "air" to fix his spaceship. To add to the complications, Olimar is missing thirty parts for his spaceship. Luckily, he doesn't have to find them alone. He has up to 100 little flower-like Pikmin to help him out!
The Pikmin are cute and cuddly, and different Pikmin have different skills. Some know how to swim. Some are resistant to fire. Each one alone isn't very strong, so sometimes you need multiple of them to do an activity. The game becomes a logic puzzle - how do you get to a spaceship part if it's guarded by a series of obstacles? It's very rewarding when you figure each puzzle out.
The time limit is both good and bad. On the good side, it keeps the game challenging and means that the overall game is relatively short to play. On the down side, if you have trouble with something, or if a younger child is playing, it can get very frustrating. So the game might be far too short for you compared to something like Final Fantasy X that you play for months. If you hit a challenge that baffles you, the game might be impossible because of the time limit.
Still, practice makes perfect, and most players will be sure to enjoy this one's puzzles as a fun challenge!
The game is suitable for all ages, and is all about puzzle solving and friendly cooperation. Well recommended.
We purchased Pikmin Game Cube with our own funds for the purpose of this review.
Buy Pikmin on Amazon.com


Related Articles
Editor's Picks Articles
Top Ten Articles
Previous Features
Site Map





Content copyright © 2023 by James Shea. All rights reserved.
This content was written by James Shea. If you wish to use this content in any manner, you need written permission. Contact Lisa Shea for details.