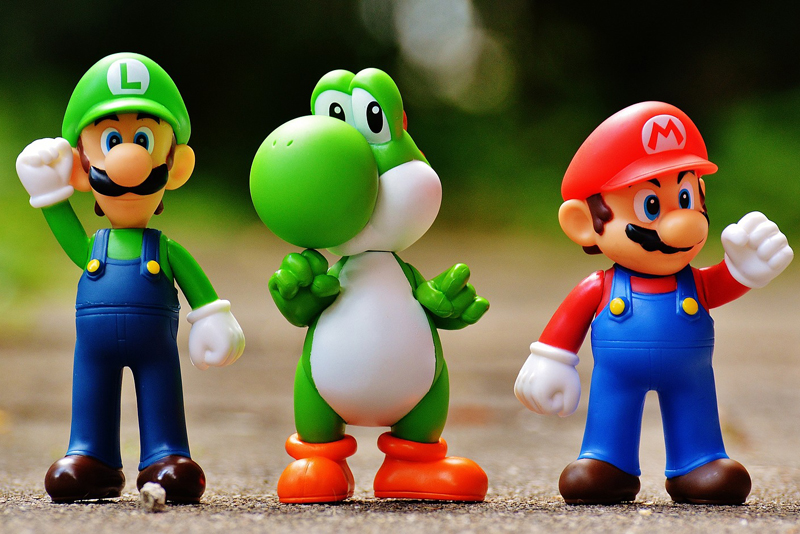 If you're looking for multiplayer fun for your GameCube, the Mario Party series is a sure winner. Between the board game and minigames, there's something for everyone!
The basic premise on this one is that you're on a cruise ship. This of course is a great family fun idea in itself :) You get to play board games to unlock minigames, and then you can replay those minigames as much as you wish. There's a lot of incentive to keep replaying - you get points to win in-game prizes, soundtracks, and much more.
If you've never tried the Mario Party series before, think of it as an animated board game. You "roll dice" and hop along the path, aiming for whatever your current objective is. Along the way you trigger special events and minigames. All of your favorite characters are involved - Mario, Peach, Luigi and more. I'd really like to see more female characters, as I get a little tired of Peach.
With Version 7, you get a free microphone included in the game. This lets you have fun games involving voice. We didn't have any problem with the game understanding us; it was much better than other mic-enabled games we'd tried. You can play with up to 8 people at a time, but I appreciated that the 1 and 2 player games were great, since it's rare that I have 7 people in the house that all want to play this.
There's a good selection of mini-game options. Some are memory testers, some are key-tapping challenges and some are random luck, to help out not-so-skilled players. With the handicap settings, even youngsters (or oldsters) can play along with the more experienced gamers.
Each of the Mario Party games has its own environment, game set and therefore fans. If you like this series, I really recommend renting all of them, to see which specifically appeal to you and your gaming style. It's not that 8 is necessarily better than 7 - they are all like perhaps the Nancy Drew book series, where they are the same theme and different people have different favorites.
This one, for example, would be PERFECT for homes with several kids (or kids with several friends).
Highly recommended!
Buy Mario Party 7 from Amazon.com


Related Articles
Editor's Picks Articles
Top Ten Articles
Previous Features
Site Map





Content copyright © 2022 by James Shea. All rights reserved.
This content was written by James Shea. If you wish to use this content in any manner, you need written permission. Contact Lisa Shea for details.