Beer Fox - Craft Brew Awards 12/4/04 to 5/30/05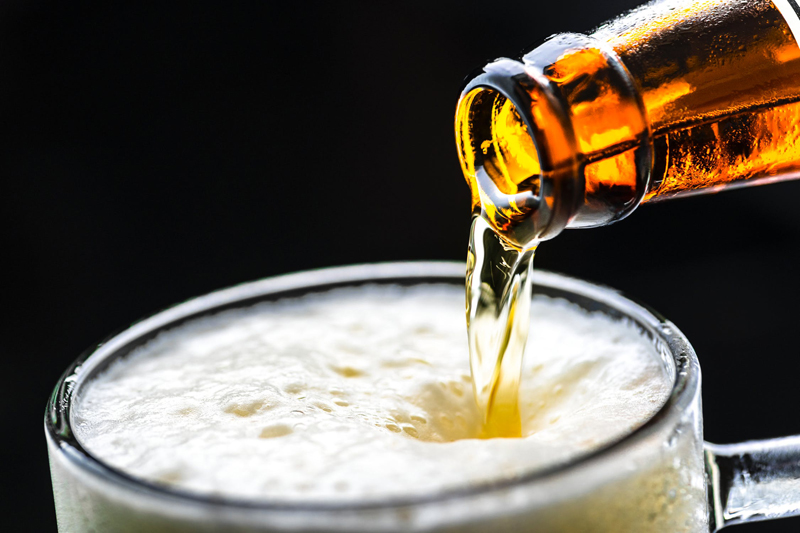 December 4, 2004 to May 30, 2005
Throughout the past 30 years, craft brewing in the United States and abroad has expanded to encompass styles of great variety and sophistication to the delight of a growing body of beer connoisseurs, both men and women. To honor the creativity and technical expertise of so many world-class brewers, the Beer Fox selects the Craft Brew of the Week, and has listed each distinguished beer in the Beer & Brewing Newsletter at BellaOnline since December, 2004. As an easy reference tool, the Craft Brew of the Week Awards are listed by date, extending over each six month period. 
Note:  These are in their original context, and have not been updated to reflect any changes that might have occurred. (for example: retired beers, new brewery locations)

Beer Fox - Craft Brew of the Week Awards
December 04, 2004 to May 30, 2005

Craft Brew of the Week Award 12/09/2004:

Christmas Ale - Great Lakes Brewing Company, Cincinnati, Ohio, USA
Style: Specialty Seasonal Ale
If you are looking for a taste of the Holidays, this sparkling copper ale with fluffy snowbank-style head steals the show. The seductive aroma of cinnamon and ginger lures you into its complex style. Traces of honey drift over a caramel malt base, with toffee and biscuit tonality. A lush mouthfeel of creamy smoothness ends in a long finish of clean ginger and pine. The perfect winter warmer for cozying by the fireplace!

Craft Brew of the Week Award 12/16/2004:

La Fin du Monde - Unibroue, Inc., Chambly, Quebec, Canada
Style: Tripel Belgian Ale
This complex brew pours an incredible dark yellow-orange, and has a hazy, opaque, sunset-at-the-shore hue. It's huge head fades to about 1/2" after a few minutes. This is a triple fermented golden ale with 9% ABV.
Smooth and slightly citrus flavor, with coriander and spice tones. It has a noble hop tonality, with a full mouthfeel and an impressive carbonation that feels very much like champagne.

Craft Brew of the Week Award 12/23/2004:

Heart of Darkness, Magic Hat Brewing Company, South Burlington, Vermont, USA
Style: Oatmeal Stout
Described as "liquid silk," this robust Stout has undercurrents of bittersweet chocolate, and a smooth round palate. Perfect for hibernating on a cold winter evening in your mountain retreat!

Craft Brew of the Week Award 12/30/2004:

Oaked Arrogant Bastard Ale 2004 - Stone Brewing Co., San Marcos, California, USA
Style: American Strong Ale
7.2% alc. vol. - Available in 3 litre bottles.
Massive flavor with depth and complexity. This brew owns the stage and commands the room, like a well-seasoned star!

Craft Brew of the Week Award 01/07/2005:

Rare Vos, Brewery Ommegang, Cooperstown, New York, USA
Style: Belgian Pale Ale
Coppery amber color and rich creamy head and delicate lacing. Spicy flavors of orange blossoms and caramel malt. Bottle conditioned. Beautiful champagne-corked styling!

Craft Brew of the Week Award 01/15/2005:

Midas Touch Gold Elixir - Dogfish Head Craft Brewery, Milton, Delaware, USA
Style: Ancient Ale
This Ancient Ale sparkles like golden sunlight. The presence of raisins, honey and saffron excite the palate in this light bodied, ancient ale.

Craft Brew of the Week Award 01/22/2005:

Yeti Imperial Stout - Great Divide Brewing Company, Denver, Colorado, USA
Style: American Double Stout
A blend of 7 different malts, creating booming flavors of coffee, espresso and chocolate cake with bitter middle and intense, chocolate liqueur-like finish and a grand slam of hop bitterness. Intense! For stout-lovers and hop-heads alike!

Craft Brew of the Week Award 01/29/2005:

McAuslan Apricot Wheat Ale - McAuslan Brewing, Montreal, Quebec, Canada
Style: Fruit/Vegetable Beer
Dark golden apricot color with big white head. A nose of fresh apricots and wheat with a bit of maltiness. The palate is fruity up front with middle of biscuit and light bitterness on the back of the palate. The finish is light and dry.

Craft Brew of the Week Award 02/05/2005:

Redhook ESB, Portsmouth Brewery and Cataqua Public House, Portsmouth, New Hampshire, USA
Style: Extra Special Bitter
This is an Extra Special Bitters with a rich, copper color and a complex balance between hop bitterness and sweet toasted malt. A full-bodied brew with a smooth, round finish.

Craft Brew of the Week Award 02/13/2005:

Samuel Adams Boston Ale, Boston Beer Company, Boston, Massachusetts, USA
Style: American Pale Ale
An American Pale ale, with an orange-amber color and slight haze. The medium bodied fruit bitterness is perfectly balanced with malt graininess.
A superior session beer!

Craft Brew of the Week Award 02/20/2005:

Anchor Steam Beer, Anchor Brewing Company, San Francisco, California - USA
Style: Steam Beer
Steam Beer is the trademark of Anchor Brewing Company, a golden craft beer originally made under pioneering conditions without ice or refrigeration - a lager beer made under ale conditions. Kept at optimum freshness, this brew is protected from air, light and heat. Special care is taken to keep all Anchor Beers cold during shipping, at the wholesale level and at the retailer, to assure the greatest freshness to the consumer. Anchor Steam pours a light, clear copper, with an off-white head that lays delicate lacing within the glass. Sweet caramel malt flavors abound, touched with undertones of nuts and raisins. Refreshingly hoppy and drinkable!

Craft Brew of the Week Award 02/27/2005:

Sierra Nevada Harvest Ale, Sierra Nevada Brewing Company, Chico, California USA
Style: American Pale Ale
This American Pale ale is crystalline amber with a reddish sparkle and lovely off-white head that paints nice lacing down the sides of the glass. Hoppy, floral, piney and intense, with smooth balance. Highly drinkable!

Craft Brew of the Week Award 03/09/2005:

Saint Rogue Red, Rogue Ales, Newport, Oregon, USA
Style: American Amber/Red Ale
Ruby copper sparkling hue, with aromas of caramel, citrus, and melon, with earthy, forest undertones. Roasty malt flavor with touch of spruce and intense hoppy flavors. Smooth mouthfeel with a sharp, dry hop finish.

Craft Brew of the Week Award 03/13/2006:

Avery India Pale Ale - Avery Brewing Company, Boulder, Colorado, USA
Style: India Pale Ale
Light amber sparkling gem with full head and persistent lacing. Fruity, hoppy citrus character with rounded malt softness. 6% ABV. Awakens your palate with an explosion of hops.

Craft Brew of the Week Award 03/20/2005:

Transatlantique Kriek - New Belgium Brewing Co., Fort Collins, Colorado USA
Style: Lambic/Fruit
A cherry lambic of clear Garnet color with pink, rocky head. You will discover undertones of malt , enhanced by an up-front tartness of cherries and deluxe, creamy texture, blessed by a subtle, clean finish.
Craft Brew of the Week Award 03/31/2005:

Biere de Garde - Cambridge Brewing Company, Cambridge, Massachusetts, USA
Style: Biere de Garde
Complex biere de garde of hazy sunrise amber with a light wash of thin lacing. Earthy overtones are zapped with mild tartness and sweet biscuity malt. Finishes dry and crisp.

Craft Brew of the Week Award 04/09/2005:

Doggie Claws 2004 - Hair of the Dog Brewing Company, Portland, Oregon, USA
Style: American Barleywine
This dark ruby beauty with substantial beige head has complex floral and earthy hops characteristics with powerful alcohol punch. This is a true gem!

Craft Brew of the Week Award 04/17/2005:

Old Chub Scottish Style Ale - Oskar Blues Brewery, Lyons, Colorado, USA
Style: Scottish Ale/Wee Heavy
This robust, mahogany beauty pours a tight tawny head with finely webbed lacing. The finest craft beer you will ever find in a can, Old Chub has an espresso sweetness that is balanced by a biting, yet satisfying, bitterness that tones-down as it warms. A full mouth feel is enhanced by the 8% ABV and may catch you by surprise...so take it easy on this one!

Craft Brew of the Week Award 04/24/2005:

Thomas Hooker Liberator Dopplebock - Troutbrook Brewing Company, Hartford, Connecticut, USA
Style: Doppelbock
Opaque ebony-walnut is topped by a thin, tawny-tinged head with staying power. Malty cocoa aromas waft through the air, while the lingering presence of plums and nuts electrify your olfactory senses. The dark fruit drifts onto your palate, richly entwining into the caramel malts and chocolate notes, becoming more complex as it warms. Finishes dry, seducing you into dabbling in continued delight.

Craft Brew of the Week Award 05/07/2005:

Town Hall Maibock - Minneapolis Town Hall Brewery, Minneapolis Minnesota, USA
Style: Maibock/Helles Bock
Crystal clear, deep copper, touched with crimson! This beauty is topped with an ivory head that settles to wispy rings of delicate lace. Aroma is a seductive blend of bready malts and caramel dipped biscuit. A lightly toasted palate of Munich and Vienna malts is touched with the tantalizing spiciness of ever-so-light hops. Highly drinkable!

Craft Brew of the Week Award 05/14/2005:

Rapscallion Premier from Concord Brewery, Lowell, Massachusetts, USA
Style: American Blonde Ale
Golden copper-orange with gorgeous antique-white head. Up-front malt sweetness of caramel, toffee and butterscotch are balanced with citrus hoppiness and a complexity that parallels a Belgian Ale.

Craft Brew of the Week Award 05/30/2005:

Kuhnhenn Raspberry Eisbock, Kuhnhenn Brewing Company, Warren, Michigan, USA
Style: Eisbock
This beautiful walnut-mahogany brew with small thin head is packed with the aroma of fresh raspberries and  bitter chocolate. Slightly tart, this fine brew is touches with the sweetness of malt and warming alcohol.
Full, pleasant mouthfeel makes this ice-bock a highly drinkable beer.

More Beer Fox – Craft Brew of the Week Awards:

Beer Fox – Craft Brew of the Week Awards – June 25, 2005 to November 27, 2005

Beer Fox – Craft Brew of the Week Awards – December 4, 2005 to May 23, 2006

Beer Fox – Craft Brew of the Week Awards – June 02, 2006 to November, 2006

Beer Fox – Craft Brew of the Week Awards – December 20, 2006 to April 6, 2007

Beer Fox – Craft Brew of the Week Awards – June 5, 2007 to November 18, 2007
Beer Fox - Craft Brew Awards - December 30, 2007 to May 26, 2008

Cheers!
You Should Also Read:
Champagne Beer for Champagne Girls
Cigars and Beer - Beer Fox Pairings
Politically Incorrect Beer Titles - Over-Doing It


Related Articles
Editor's Picks Articles
Top Ten Articles
Previous Features
Site Map





Content copyright © 2023 by Carolyn Smagalski. All rights reserved.
This content was written by Carolyn Smagalski. If you wish to use this content in any manner, you need written permission. Contact Carolyn Smagalski for details.