Blue and Purple Container Choices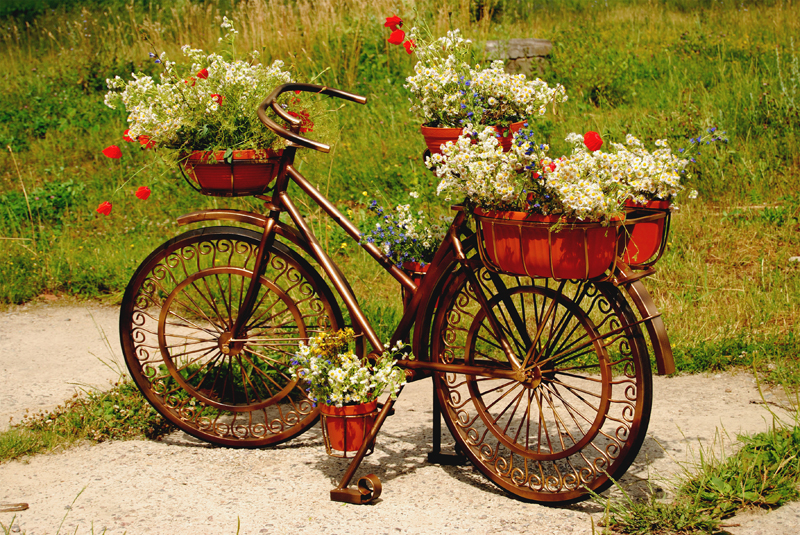 There are a wide variety of annuals available in colors of blue and purple which do very well in containers. I have chosen ten of my favorites because of their ease of growth, resistance to disease, and long bloom time: African Daisy, Purple Basil, Calibrachoa, Cosmos, Echicacea purpurea, Heliotrope, Lobelia, Ornamental Pepper, Petunia, and Verbena. Here are twelve ideas for mixing and matching these beautiful flowers in your container garden.
Hanging Baskets
1. A mix of trailing petunia and calibrachoa (mini-petunias) is especially beautiful. The flowers are similar in shape and blend very well in both similar and contrasting colors.
2. Combining two or more colors of calibrachoa in one container is also quite nice. As the plants grow, intertwine some of the branches to get a mixture of the colors, or keep them separate if you prefer. A mix of lavender, fuchsia, and deep purple is a great color combination.
3. Mix verbena with a complimentary color of calibrachoa – these do well together as both are heat tolerant (or heat loving) and require only moderate water.
Large Containers
1. Plant an ornamental pepper (for example, Black Pearl) slightly towards the back of center in a container 15" in diameter or larger. Plant three to six trailing lobelia with bright green foliage along the front and side edges of the container. If the container is large enough, plant three viola or pansy just behind the lobelia (remember that the pepper will grow wide and bushy)
2. Plant a group of three cosmos together at the back of the container, four to six inches apart (chose the same or complimentary colors). Plant two or three Petunia or African Daisy in front of the cosmos, to either side. Plant three Calibrachoa at the front and side edges of the container to trail down the sides.
Container Trio
Choose a flower mixture that blends well in color, size, shape and leaf texture. Have one or more of the same types in each container to connect the theme, or have two flowers from each container be carried through into the next size container – for example lobelia and viola in both the small and medium sized container, and pansies and cosmos in both the medium and large sized containers. Also, choose pansies that mirror the viola in shape and color to help connect the theme.
Large Container: Echinacea at back, African daisy or Cosmos in center, with Calibrachoa, trailing pansies or viola and/or lobelia spilling over the sides. Add some snapdragons in a contrasting color off to one side of center for interest, if desired. If the viola or pansies are two-toned, choosing a snapdragon in a matching color will be especially striking.
Medium Container: Cosmos at the back with matching pansies and viola in the middle. Add snapdragons in a contrasting color next the the cosmos, if desired. Finish with lobelia and/or training viola spilling over the sides.
Small Container: A mixture of matching pansies and viola with lobelia spilling over the side. If snapdragons were chosen for the medium and/or large containers, follow through with a short version of the same color in this small container.
Small Containers
Small containers look great lining a walkway or steps or in groups in larger areas. They can be planted with single plants so the arrangements are easily changed as certain flowers fade, or with groups of small plants for more interest.
1. Plant one pansy and two viola of matching or blending colors.
2. A single Heliotrope will do well in a small container as an annual, or even overwintered for two or more seasons. Trim back the branches in the fall if it will be kept for another season.
3. A single African Daisy can be grown in a small container if given adequate water and fertilizer and deadheaded regularly. Add a few lobelia trailing down the side if there is room.
4. A single cosmos will do well in a small container.
Note: White or colored Sweet Alyssum is a great contrast trailing over the side of any container.
You Should Also Read:
Container Flowers - Blue and Purple Annuals
Container Design Ideas - Red and Pink Annuals


Related Articles
Editor's Picks Articles
Top Ten Articles
Previous Features
Site Map





Content copyright © 2022 by Jessica Carson. All rights reserved.
This content was written by Jessica Carson. If you wish to use this content in any manner, you need written permission. Contact Lestie Mulholland for details.