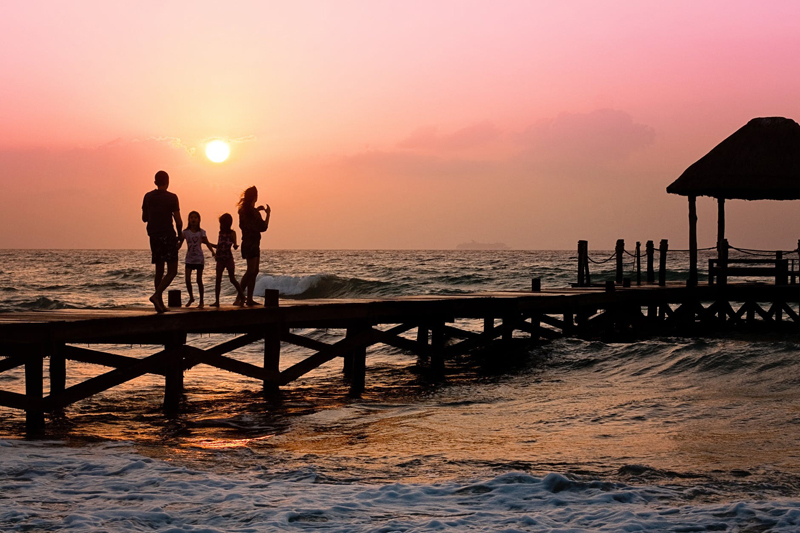 God sent Adam and Eve out of the Garden of Eden. Had they stayed, they would not have progressed, because they needed challenges, opposition in all things, to help them grow. In the same way, parents must be careful not to let their children grow up in a Garden of Eden of their own. If they never cry, never do without, never hear the words "don't" and "no", never struggle to achieve something that's too hard…they will never find the joy Heavenly Father planned for them. They will never be able to live the Gospel, because the gospel contains many don'ts and even more trials, all so we can experience the greatest joys imaginable.
It's so hard to let our children, especially when they're young, struggle. It would be nothing to do it for them, and spare them the pain, but doing so could spiritually destroy them. Consider the often told example of baby chicks: Sometimes when we see a baby chick struggling to escape its shell, we're tempted to break the shell and pull the little one out. It's easy for us. Why should the baby struggle? And yet, if we give in to temptation, we will kill the chick. That struggle to emerge is the chick's privilege, his opportunity to become strong enough to survive the hardships of life. Without it, his neck, head and feet won't sustain him.
I learned this lesson raising a child with a disability. A friend who had the same disability was very firm with me. If she fell as a baby, I could pick her up, but if I did, she'd never learn how to pick herself up. I could keep her away from outsiders because she was shy, but then she'd never have a social life. I could refuse to let her ride the bike doctors said she couldn't possibly ride, but she wanted to try, and I sat and watched and forced myself to hold back as she fell over and over, tears streaming, but determined to learn,and to learn without any more help than calls of encouragement. And because I was willing to let her suffer, she walked and talked and rode a bike, all things we were told she couldn't learn to do. Her very future depended on my willingness to be unselfish. Some people thought I was cruel, making a disabled child try to walk. I knew the only cruelty would be to be so selfish I refused to let her suffer—because the suffering hurt me beyond measure. So, I left her in the nursery when she cried because she had to learn that when parents leave, they come back, and that she can be safe out in the world when her parents have ensured safe conditions. Someday she had to leave my side and if God felt eighteen months was the right age, then I did, too. I let her push further than she thought she could or others thought I should. Someday, I wouldn't be there. Someday, she had to walk, even if she fell now. Someday she had to swim, even if today the effort was beyond her grasp. She had to do these things if it were at all possible, because God needed her to do them. If it turned out she couldn't, that would be fine, but she'd always know it wasn't because no one loved her enough to let her try. Even more importantly, she'd know she couldn't have done more than she did.
We can't keep our children locked up in the Garden of Eden forever. It's pure selfishness on our part to do so, even though it feels like unselfishness. It's selfishness because preventing them from struggling is easier, less painful to watch. If our children are to survive in the world, physically, emotionally, and spiritually, they must learn to do things that are hard, starting when they are quite young.
When do you feel the most pride in yourself? It's when you've done something you thought you couldn't do, something that was too hard, or too scary. Don't deny your children the same right to triumph over fear. Lovingly encourage and support, but don't do their life for them. It's okay if they're scared or unhappy sometimes. It really is. God lets us be scared and unhappy sometimes. He lets little children be afraid of the dark. He allows us the joy of rising above it all, and He is our model for good parenting.
Our children are likely to be the ones who endure the most difficult days leading up to the Second Coming. Are we raising children who can walk to Zion? Stand up to Satan? Resist the terrible adversities to come? When those trials happen, we may not be here to take away the burden. It's their right—their privilege—to handle it themselves.
It's our right and privilege to teach them they can.
Next week: How to find the balance between letting them struggle and helping them out.
For more information from our leaders:
Joe J. Christensen, "Greed, Selfishness, and Overindulgence," Ensign, May 1999, 9

Kids Are Worth It!: Giving Your Child the Gift of Inner Discipline


Related Articles
Editor's Picks Articles
Top Ten Articles
Previous Features
Site Map





Content copyright © 2022 by Terrie Lynn Bittner. All rights reserved.
This content was written by Terrie Lynn Bittner. If you wish to use this content in any manner, you need written permission. Contact Jamie Rose for details.