Commemorative Beer & The 25th Great American Beer Festival 2006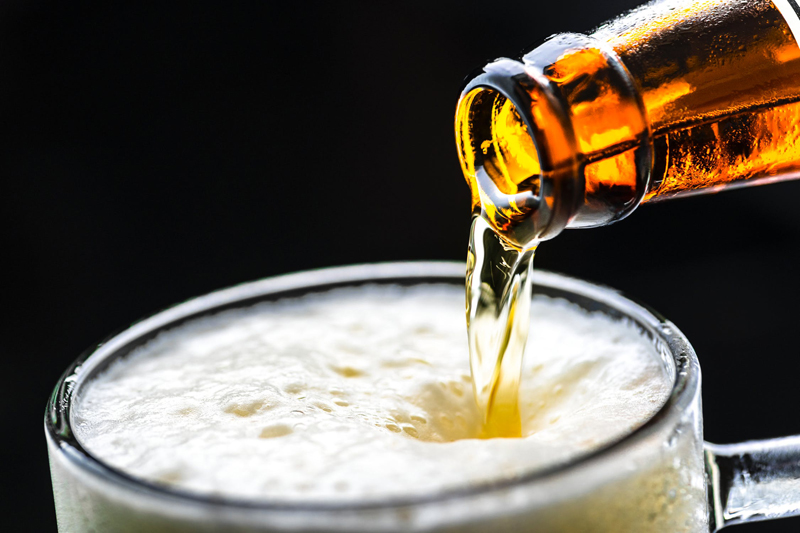 They were just a bunch of young guys, fervently passionate about beer. The Germans had Oktoberfest. The Brits had the Great British Beer Festival. In 1981, Charlie Papazian and Michael Jackson discussed their vision of a beer festival for the United States too - one that, someday, would be as successful as the Great British Beer Festival held in the United Kingdom. Papazian recalls Jackson saying, "We probably could or should, but what would we do for beer?"

A few years earlier, in February of 1979, President Carter had signed legislation legalizing homebrewing in the United States. This single act served to reshape the brewing landscape across America. College professors David Hummer and Stick Ware were about to become a part of this new landscape and the pleasures of creating beer based on traditional hand-crafted brewing methods blended with artistic style. In 1979, they submitted their application to open a small, commercial brewery. Surprisingly, they were approved and received the 43rd brewing license issued in the United States. This was the beginning of Boulder Beer, the first microbrewery in Colorado. They began creating magic within the walls of their farmhouse brewery – magic that did not go unnoticed in the brewing world.

About this time, Papazian was deeply immersed in the art of homebrewing. He had been brewing since 1970, and stood out as a key source of information for many fellow homebrewers across the country. Passionate about spreading information and resources throughout this expanding group of homebrew enthusiasts, Charlie Papazian and Charlie Matzen organized these brewers and founded the American Homebrewers Association in 1978.

Papazian could see a new wave of craft brewing on the horizon, despite the bland landscape that existed in mainstream American beer at the time. He set to work, and in 1982, launched the first Great American Beer Festival in which 20 brewers participated.  Only three or four microbrewers were represented. Boulder Beer was one of the original microbrewers at that first fest. Hummer and Stick (I'm not kidding!) caught the attention of Charlie Papazian, and agreed to brew a special high gravity ale for the first Great American Beer Festival.

The GABF has grown into one of the largest and most prestigious tasting competitions in the world, with over 100 professional beer judges evaluating 2,443 beers from 449 breweries representing nearly every state in the country.

Held at the Colorado Convention Center, 14th and Stout Streets in Denver, Colorado, the Great American Beer Festival holds the Guinness World Record for most beers tapped in one location. With 1,650 beers on tap, the 2006 festival presents the largest selection of American beer anywhere in the world.

The pleasures of food and beer have become a significant focus, and the 2006 Festival boasts presentations by Chef Jorge de la Torre, Dean of Culinary Education at Johnson and Wales University; Rick Martin, Executive Chef at Free State Brewing Company; and Garrett Oliver, brewmaster of Brooklyn Brewery and author of The Brewmaster's Table.

GABF 25th Year Beer


Twenty-five festivals later, Boulder Beer has created GABF 25th Year Beer, a special, commemorative beer celebrating the success of craft brewing in America. Applauded by Papazian as a select favorite, this new brew shines bronze within the glass, with off-white froth perching over its clear body. Floral, pine, and tropical fruit aromas drift serendipitously to your nose, with biscuit sweetness laying beneath, captivating your senses. Brewed with British Pale malts, GABF 25th has a high original gravity. Dry hopped in the fermenter with Saaz hops, this American Double IPA shows-off with assertive florals, spice and pepper. Flavors of sweet malt are balanced by hoppy bitterness, light crispness, medium body and a dry, citrus finish.

GABF 25th Year Beer is available in Colorado, Connecticut, Florida, Illinois, Massachusetts, New Jersey, New York, Ohio, Oregon, Pennsylvania, and Rhode Island.

Dale's Pale Ale Limited Edition


For breweriana fans and beer enthusiasts, Oskar Blues Brewery of Lyons, Colorado, presents Dale's Pale Ale in Limited Edition collectible cans, commemorating the 25th Great American Beer Festival. Dale's limited edition cans sport a bright red body, rather than the classic blue, with the GABF logo and festival information.

Oskar Blues created the first hand-canned craft beer in America. Dale's Pale Ale was the first, showing off a body of orange-amber beneath a chunk of creamy white. Aromas are of pine and orange-grapefruit, with sweet malt blending in. Flavor is bold, sliding over the lips - abundant fruitiness, assertive pine, doughy and complex. Worth the search!

Dale's Pale Ale Limited Edition is available in Arizona, Colorado, Georgia, Indiana, Massachusetts, New Jersey, New Mexico, New York, North Carolina, Pennsylvania, Virginia, Washington, and Wisconsin.

The 25th Great American Beer Festival runs from September 28th through September30th, 2006. For further information: https://www.beerrtown.org

Cheers!

 
You Should Also Read:
Beer Styles - Tribute to Jackson , Eckhardt , Gatza & Papazian
Oskar Blues - Leading Man of the Micro Can
Beer Tasting Tips - Training Your Taste Buds


Related Articles
Editor's Picks Articles
Top Ten Articles
Previous Features
Site Map





Content copyright © 2022 by Carolyn Smagalski. All rights reserved.
This content was written by Carolyn Smagalski. If you wish to use this content in any manner, you need written permission. Contact Carolyn Smagalski for details.