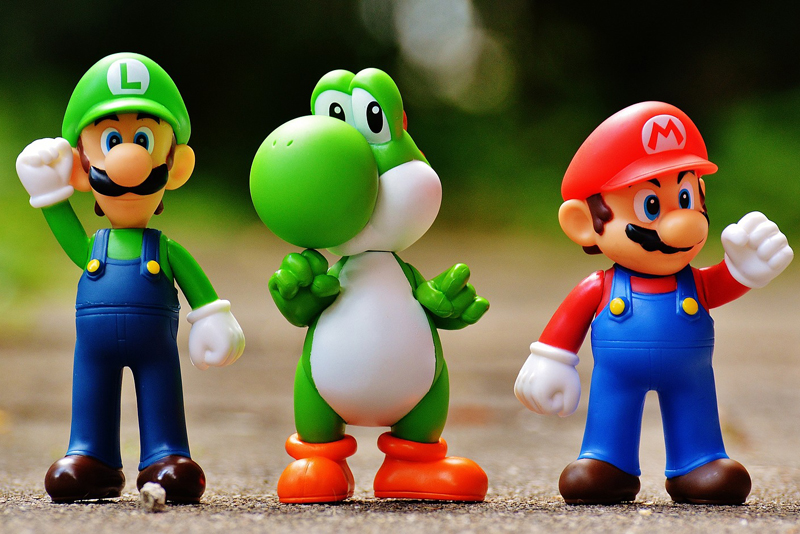 Super Paper Mario for the Wii brings a fantastic new dimension to the 2D fun of paper mario. You can now switch - on the fly - between a 2D and 3D view of your world.
This brings a whole new twist to the idea of puzzle solving. You run along your 2D path and think you've hit the end. But when you take a look at the 3D view, you might find a tunnel hidden behind a rock, or a whole new path pointing out at a 90 degree angle.
There's a fun storyline, full of cute dialogue, but really in games like this you aren't worrying about deep plots or soap opera style intricacies. You play to jump on mushrooms, hit blocks, and search for those secret locations.
The game is clearly pointed towards a young audience, but it's a credit to its design that even adults have a lot of fun hopping along towards the goals. For some reason you can't run here - which can be frustrating sometimes - but in general you get the same mario fun from previous games. You learn new skills as you go, can throw items, change characters, locate new helpers, and level up.
The game is nicely broken up into short segments, again perfect for its target audience. If a kid has only 1/2 hr of "video game" time available in a given day, they can still make progress and feel like they've achieved something. The puzzles are never so tricky that they drive you completely insane. A careful perusal of the spot you're in will usually provide the answer.
An adult might complain that because of this, if you actually have control of the TV and a full weekend of gaming laid out, you could easily beat the entire game before the weekend was up. While this is true, you can always go back through after that and challenge yourself to find even more points on each level.
And for those with youngsters around, it really is great fun to play together. The game is very 'friendly' - if you step in sludge or fall off a cliff, which most games would kill you for, here it usually is just a minor setback.
In a world of zombie games, kill-everyone games and horror games, it's nice to find something that you can play with all ages and have fun with. It doesn't require a ton of dexterity or a complex understanding of role playing setup. You just run, jump, and puzzle-solve.
Highly recommended!
Super Paper Mario Walkthrough
Buy Prince of Persia Rival Swords from Amazon.com


Related Articles
Editor's Picks Articles
Top Ten Articles
Previous Features
Site Map





Content copyright © 2022 by Lisa Shea. All rights reserved.
This content was written by Lisa Shea. If you wish to use this content in any manner, you need written permission. Contact Lisa Shea for details.