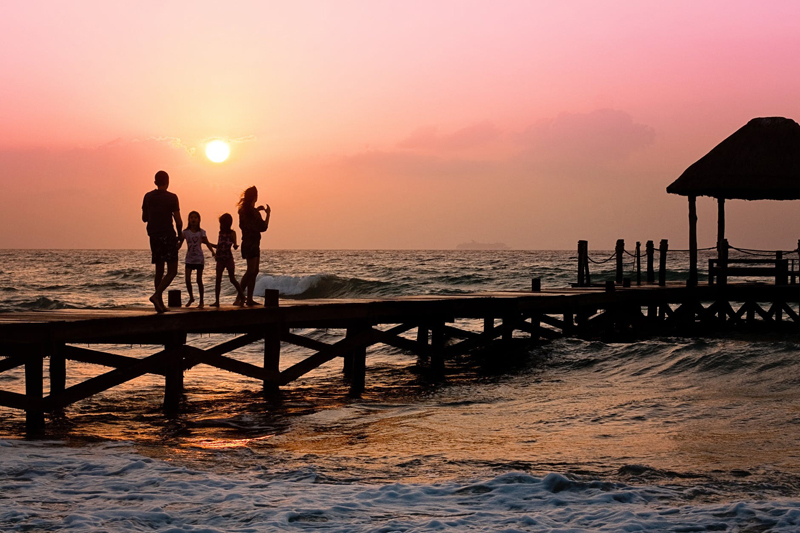 Mark some of these scriptures with hearts and then talk to your family about how much the Lord loves them.

CREATION:
He created the earth and the heavens for us. "For thus saith the Lord that created the heavens; God himself that formed the earth and made it; he hath established it, he created it not in vain, he formed it be inhabited." (Isa. 45:18)

MANKIND: "For behold, this is my work and my glory—to bring to pass the immortality and eternal life of man." All that He does, from the foundations of the earth to the wonders of the heavens, is to bring to pass our immortality and eternal life. We are His only thought. He created us in His own image, gave mankind dominion over His creations (Gen. 1:26-28), and crowned us a little lower than the angels (Psalms 8:4-5).

THE FALL: But man transgressed His laws and fell, giving Satan perfect fodder for all of his evils. Since the time of Adam and Even all men have sinned and come short of the glory of God (Rom. 3:23). And since we all know that no unclean thing can dwell in the presence of God (1 Nephi 10:21), we find ourselves at a loss…a tremendous loss.

Yet the Creator of All also created a plan to help conquer Satan's snares and return "home to that God who gave (us) life" (Alma 40:11).

THE PLAN: This plan of the Lord encircled every one and every thing. It required an infinite and eternal move, one that no man, nor devil, could counter at any time in all the endless bounds of eternity. Only one stood capable of filling this pivotal role: our Savior, Jesus Christ, the very son of God.

THE GIFT: Hence, with great love for us, God allowed His Son to come to earth to "preach good tidings unto the meek…bind up the brokenhearted, to proclaim liberty to the captives and the opening of the prison to them that our bound…to comfort all that mourn" (Isa. 61:1-3).

So Christ came to earth "as a tender plant," a babe destined to grow in mortality with 'no beauty that we should desire him…despised and rejected of men; a man of sorrows and acquainted with grief" (Isa. 53:2-3).

"And he shall go forth, suffering pains and afflictions and temptations of every kind...And he will take upon him death, that he may loose the bands of death which bind his people; and he will take upon him their infirmities, that his bowels may be filled with mercy, according to the flesh, that he may know according to the flesh how to succor his people according to their infirmities" (Alma 7:11-12).

What a burden to agree to bear! Yet Christ and His Father did it all for one reason: "the worth of souls is great in the sight of God." (D&C 18:10).

THE LIFE: So Christ showed us the only path leading back to God's presence. He taught us proper baptism, forgiveness, repentance and turning to God with full purpose of heart. He taught us to pray, serve others, love as He did, and bear all things with patience. He gave us apostles and prophets (Eph. 2:20; 4:11-14), showed us the power of the endless priesthood (Heb. 6:20; 7:1-19), and promised us the Holy Ghost before he died (John 14:16-26).

THE ATONEMENT: After the path had been marked, Christ entered the Garden and, through great, divine prayer, willingly atoned for our wanderings, sins, weakness and sorrows. He paid the price for us, "not to destroy the law…but to fulfill' it (Matt. 5:17).

By fulfilling the law, our Advocate "suffered these things for all, that they might not suffer if they would repent; But if they would not repent they must suffer even as I; Which suffering caused myself, even God, the greatest of all, to tremble because of pain, and to bleed at every pore, and to suffer both body and spirit—and would that I might drink the bitter cup, and shrink--" (D&C 19:16-18).

The divine Savior took upon Him all the eternal penalties, sufferings and consequences of our fallen state. Like a creditor who pays our debts, He agreed to carry the eternal burden. All He asks is that we follow the path He marked.

RESURRECTION: Then, because the last great enemy is death Christ volunteered to conquer even that foe. "Greater love hath no man than this, that a man lay down his life for his friends. Ye are my friends" (John 15:13-14).

He allowed himself to be scourged, beaten and crucified so he could become the first fruit of the resurrection and show us an eternal plan to heal the wounds of death. All who die will resurrect. Loved ones will be united, hearts will be healed.

WHY DID HE DO THIS: "For God so loved the world, that he gave his only begotten Son, that whoseoever believeth in him should not perish, but have everlasting life. For God sent not his Son into the world to condemn the world; but that the world through him might be saved." (John 3:16-17).

This salvation is for all, young and old, bond and free. God is no respecter of persons. He does not care when or where you live. All will gain the same chance to hear and accept of His perfect, eternal plan for all tongues will confess and all knees will bow. He loves us all.

"For I know the thoughts that I think toward you, saith the Lord, thoughts of peace, and not of evil, to give you an expected end. Then shall ye call upon me, and ye shall go and pray unto me, and I will hearken unto you. And ye shall seek me, and find me, when ye shall search for me with all your heart" (Jer. 29:11-13).

THE PROMISE: "Who shall separate us from the love of Christ? Shall tribulation, or distress, or persecution, or famine, or nakedness, or peril, or sword: For I am persuaded, that neither death, nor life, nor angels, nor principalities, nor powers, nor things present, nor things to come, Nor height, nor depth, nor any other creatures, shall be able to separate us from the love of God which is in Christ Jesus our Lord" (Rom 8:35, 38-39).

All we need to do is accept and follow His plan. What a wonderful and eternal gift of love! As Nephi said, "Rejoice, O my heart and cry unto the Lord and say: O Lord, I will praise thee forever; yea, my soul will rejoice in thee, my God and the rock of my salvation" (2 Nephi 4:30).






Related Articles
Editor's Picks Articles
Top Ten Articles
Previous Features
Site Map





Content copyright © 2019 by T. Lynn Adams. All rights reserved.
This content was written by T. Lynn Adams. If you wish to use this content in any manner, you need written permission. Contact Jamie Rose for details.