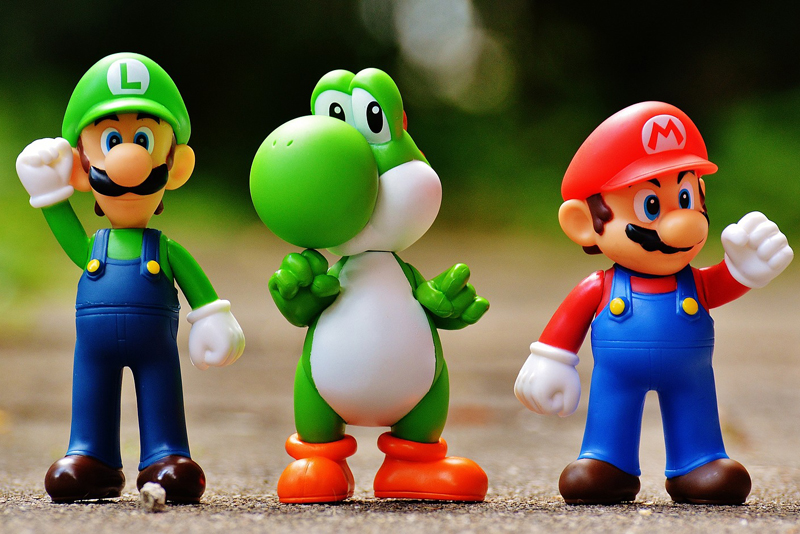 Chibi-Robo is a fun collecting game originally put out for the GameCube. It works equally well for the Wii. This is appropriate for all ages and quite fun!
The basic premise here is that you're a cute, shiny little robot (called Chibi for short) who wanders around a person's home exploring. You clean up stains with your toothbrush. You gather up spare change. When your little battery runs out, you find a nearby outlet and plug back in.
The game has a lot of fun upgrades you can do. With the money you gather you can buy items in the shop. You start out with only a little batter power, and with limited time, but you grow and expand those as you play the game. The available areas to explore widen as well.
You get cute outfits to wear, a variety of poses to go with them, and your world is populated with a variety of really cute things. This game came out at the very end of the GameCube cycle and it is impressively designed, given the limitations of the GameCube's system. You get vibrant colors, detailed walls and floors, and real personality in the various characters.
The sound fits the cartoon-like theme. There are little squeaks for footsteps, Charlie Brown like warbling for speaking (with subtitles to read) and odd little quirks and bangs as you do activities.
Gameplay is definitely suited for all ages. This is basically a puzzle solver and gathering game. You move around finding coins, pulling open drawers, figuring out how to glide or jump to new locations.
If there's an issue here, it's that sometimes the gentle prompts are a BIT repetitive. Yes, it's fine to go through an 8-step save process the first time we save - but to do it every time after that? OK, it's not really 8 steps but it feels like it sometimes.
Also, there are times you have to be in the EXACT right spot to do what you want to do. You want to pull open a drawer, but sometime your Chibi keeps climbing up on top of the drawer. You have to slide left and right to convince Chibi to do what you want.
Still, minor complaints in a game that's quite fun. Climb up cables, get bigger batteries and have fun exploring your world! Highly recommended.
NOTE: If you play this on your Wii, open the front panel on the top of your Wii. This is where you can plug your old-style GameCube controller in. I highly recommend getting a wireless one!
Buy Chibi-Robo From Amazon.com


Related Articles
Editor's Picks Articles
Top Ten Articles
Previous Features
Site Map





Content copyright © 2022 by Lisa Shea. All rights reserved.
This content was written by Lisa Shea. If you wish to use this content in any manner, you need written permission. Contact Lisa Shea for details.