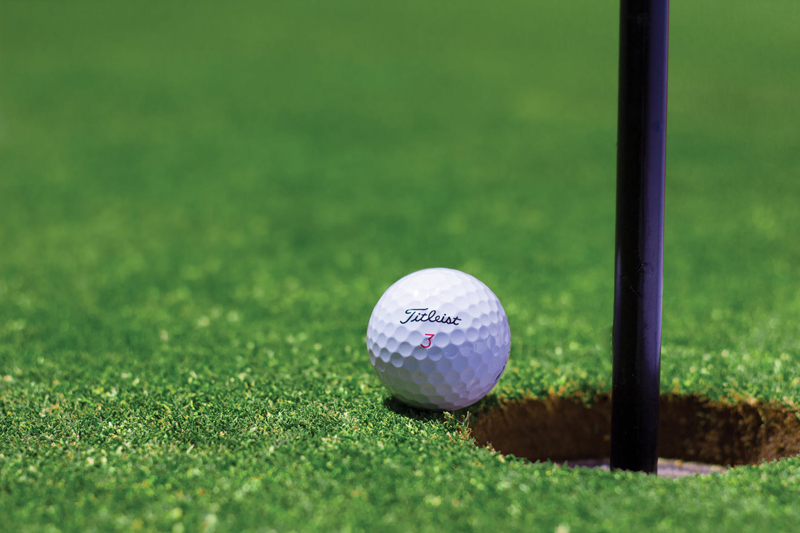 I have discovered another golf ball that I found suited to my game. This is a new revolutionary design called the
Precept Lady S III Pearl
that I prefer to play with. The pearl clear white golf ball sets apart from other golf balls as it is not that bright white but a pearlized look. It has that soft feel to it when you strike it with your driver but it handles well with irons too.
The advertising on this pearl ball says it has 330 aerodynamic dimples and is sold in three other colors of yellow, Light Blue or Pink. I do not like to play with colored golf balls as they are too hard to follow in flight and prefer the white. It also states in the ads that women who have a swing speed from 70-90 miles per hour are well suited to this ball. I know my swing speed goes from 80-90 MPH when I swing my Speed Stik so this ball is for me. It also states that there is increased lift and will go for long distances.
Now I can't say that every golf shot is perfect but it is closer with this ball than others I have used. Sometimes my swing gets too fast then the shot does not go as I want but that is no fault of the ball. Women at least those close to my age use a 2-piece Surlyn Cover ball with a soft core and a good resistant cover. That gives it that soft feel when you hit the ball let me tell you that is good when you may be hitting that ball close to 80-90 times on 18 holes. This minimizes the vibrations and the shock on players hands during impact. Any thing to make hitting that ball a pleasure is a great selling point.
This is the new version of a lady golf ball for 2006 they come in three balls to a pack or a box of a dozen. They sell for around $25.00 a box but you can get them at certain places for $19.95. After hunting around on the Web I found a place where they sell these balls for $14.95 a box so I ordered two boxes.
Since there are so many places on our golf course that we have to hit over water, so I try to save these balls and will tee off with some of the better balls that I find in my yard. I'm no dummy I am not going to feed our meandering streams and ponds with my good balls. I know that is not good thinking but when I pay that much for my golf balls I want to keep them at least for awhile and those free balls keep coming into my yard.
When the advertising says Super Soft, Super High, Super Long how can you resist these balls. With a pearlized clear cover and a white core you can recognize your ball from those of your partners. It is always important that you mark your ball so when more people play with similar balls you can identify your ball. I am finding more of our lady golfers are using the crystal balls but with the colored ones that is not a problem.
With so many lady golfers coming out with big headed drivers these balls feel so good when you hit it dead solid perfect. My clubs are Calloway Great Big Bertha II but these Precept Pearl balls made by Bridgestone Sports Company from Australia are working for me. I have tried the new Calloway pearl golf ball but did not like them. Every one has to find what fits their game and this
Precept Lady S III Pearl
is for me until some new discovery comes on the market.
You Should Also Read:
Precept Golf Balls


Related Articles
Editor's Picks Articles
Top Ten Articles
Previous Features
Site Map





Content copyright © 2023 by Letta Meinen. All rights reserved.
This content was written by Letta Meinen. If you wish to use this content in any manner, you need written permission. Contact Sandy Eggers for details.