Homer Brewing Company - A Cosmic Hamlet by the Sea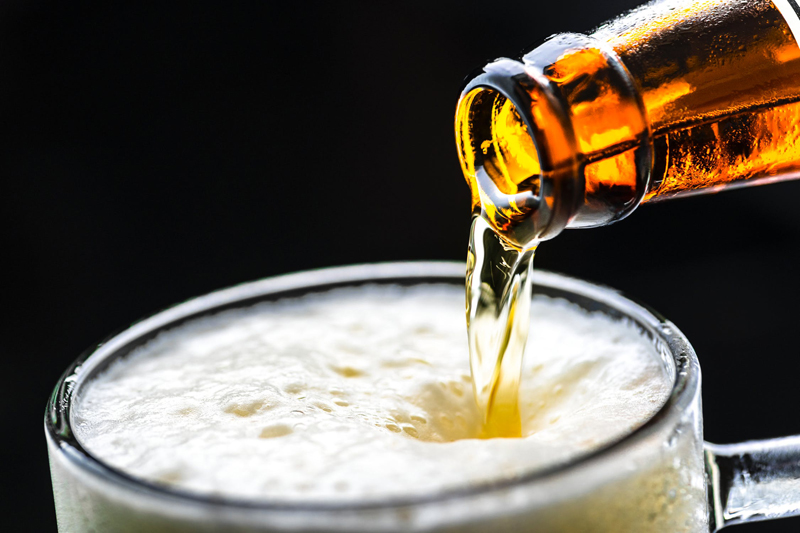 Little pockets of heaven exist throughout the world and it is our role, as explorers of the planet, to discover them. Alaska is peppered with these sparkling retreats - insulated in the winter by limited sunlight and bitter winds, yet opening like a storybook as the flowers awaken and the sun casts ethereal light across the mountains. Traveling along Kenai Peninsula, you are beckoned southward to the very tip – the Banana Belt of Alaska, Homer and Homer Spit, the "Cosmic Hamlet by the Sea."


Mother Nature has emptied her apron here. A panoramic view catches the most seasoned traveler off-guard. Four active volcanoes – Mt. Spurr, Mt. Redoubt, Mt. Illiamna, and St. Augustine – sit like a ring of fire among the Kenai Mountains to the west. Kachemak Bay merges with Cook Inlet, and seven glaciers cast their magnificent shadows in purple chiaroscuro across the landscape. Extreme tidal swings of as much as 30 feet are common. Bald Eagles soar across the sky. Moose, brown bear, and lynx forge their own path in this wild frontier. A boy from Texas could fall in love with a place like this. Stephen McCasland did.

Within the liberal art community of Homer, Alaska displays a menagerie of home grown businesses that explode with lively madness during the summer tourist season. Most businesses are mom-and-pop style, with a few unavoidable franchises claiming minor corners of the town. There is a winery (Bear Creek), a meadery (Ring of Fire), a coffee roaster (K-Bay Caffe & Roasting Co.) and a brewery. The brewery, Homer Brewing Company, is "the biggest business in town," according to McCasland.

Stephen McCasland and his partner Karen Berger, own and operate Homer Brewing. McCasland and brewer Todd Radmaker handle the craft-brewing side of the business, while Karen oversees the legal and paperwork side. They brew for clientele with sophisticated and educated palates and enjoy the creative freedom welcomed by such customers. Sales are usually in growlers or keggers – the ultimate in freshness. The patrons like it that way.

Homer Brewing Company initially brewed three beers that have remained the most popular of their portfolio of beers. All are non-filtered, non-pasteurized, and cask conditioned. All are open-fermented. Icons of St. Arnold and the Virgin of Guadeloupe hang above the entrance to the fermentation room and protect it from the wild revelry of unchecked yeast.

Although Old Inlet Pale Ale is the Flagship Beer of Homer Brewing Company, Red Knot Scottish Ale is the most popular. Malty sweet with a low hop profile, Red Knot is named for the colorful Red Knot Sandpiper that makes a yearly migration of nearly 10,000 miles from its Arctic breeding ground to Tierra del Fuego in southern South America. Homer celebrates the annual return of this shore bird on the first of May with a Shorebird Festival each year.

McCasland's personal favorite is Broken Birch Bitter, a Special/Best Bitter, dry hopped with Centennial Hops from the Pacific Northwest. The "broken birch" represents a tenacious birch tree in McCasland's back yard that keeps springing back to life each Spring, despite the breaks and stresses of the Alaskan winter.

Homer Brewing does bottle Celestiale, their ultra-special, seasonal Christmas Beer. This Belgian Dark Abbey has rich, jewel-like color and a significant eggshell head, with aromas of orange peel, cloves and allspice and a 12-14% ABV.

Oatmeal makes up 12% of the grain bill in Odyssey Oatmeal Stout. Flavorful chocolate-espresso richness makes this a perfect garnish over Ben and Jerry's Jerry Garcia ice cream, a combination that McCasland playfully calls "Cherry Garcia." Other styles that may rock your boat are China Poot Porter, Bock to the Future, Old Gnarly Barleywine, Quest Barleywine 2005, Royal Russian Imperial Stout, Summer Sadie Rye Ale, and Schooner India Pale Ale.

Homer lays itself open for a bit of artistic fun and freedom in the snowy season with the annual Winter Carnival, including a Mardi Gras Ball and the Krewe of Gambrinus, a parade in which a new king or queen is crowned each year. The parade comes complete with Mardi Gras beads and the bawdiness that goes along with the Louisiana tradition. Homer Brewing Company enters the 2007 parade with a brass band called the Bossy Pants and baton twirlers known as the Bossy Panties, collectively called the Ray-Jen Cajun (pronounced Ragin' Cajun) Band.

Homer Brewing is located at 1411 Lake Shore Drive, Homer, Alaska. Ask any of the locals. They will be delighted to point you in the right direction.

Cheers!
 
You Should Also Read:
Glacier Brewhouse & The Wall of Wood
Midnight Sun Brewing - Masters of World-Class Beer
The Great Alaska Beer & Barley Wine Festival - History Past & Present


Related Articles
Editor's Picks Articles
Top Ten Articles
Previous Features
Site Map





Content copyright © 2022 by Carolyn Smagalski. All rights reserved.
This content was written by Carolyn Smagalski. If you wish to use this content in any manner, you need written permission. Contact Carolyn Smagalski for details.