Extreme Beer - Elegant Dining with Michael Jackson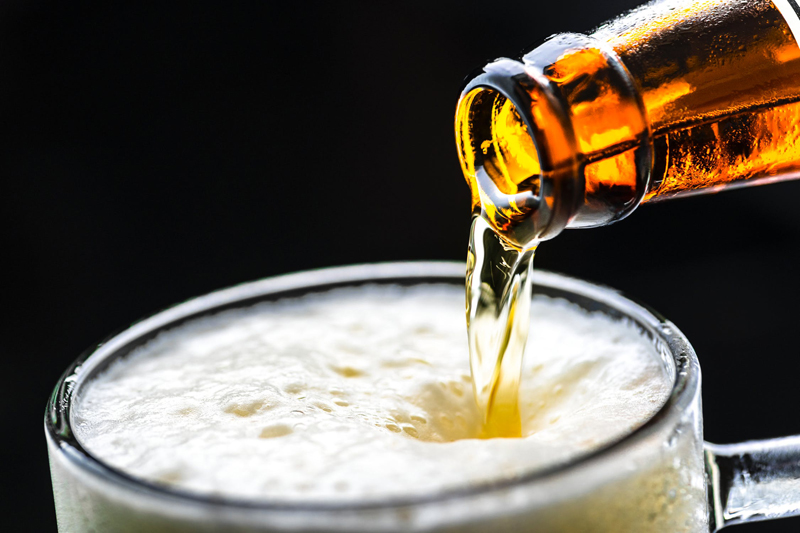 Some say, "He is like an aging rock star," but until you witness the passion his charisma evokes, such a concept is difficult to comprehend. To many, Michael Jackson – the original "Beer Hunter," Bard of Beer, Maven of Malt, Wizard of Whiskey - appears to be a learned college professor, with vibrant blue eyes peering over his spectacles, taking in every detail of his surroundings. An admiring fan introduces himself outside of Monk's Cafe, relating a tale about the Jackson event - that it was "sold-out" before he could get a ticket. So devastated he was, that his emotions overtook his macho exterior, and he broke down in tearful sobs.

Although Mr. Jackson possesses, in his repertoire, stories about young women requesting his signature on various parts of their bodies, it remains a total surprise when these ladies make the request before your eyes. These are the "extremes" in personality, the mirror image of a phenomenon happening in America – the phenomenon of "Extreme Beer." So intense is this topic, that Michael Jackson devoted his annual Spring weekend at the University of Pennsylvania Museum of Archaeology & Anthropology in Philadelphia to expounding on the subject.


Amongst columns etched with Egyptian hieroglyphics and an amber-lit statue of the sphinx, symbol of kingship in an ancient land, Jackson presented his annual beer dinner on Friday evening, March 9, 2007 in the Egyptian Gallery of the Penn Museum. Elegance reigned supreme with white tablecloths, accented by aquamarine cloth napkins, fine silver, china, and crystal glasses, filled with beer of the most extreme styles. The presentation of four reception beers seduced guests as an aperitif to whet their appetites for Jackson's reflective talk on the development of extreme beer.

Although the earliest documented use of the term "extreme beer" was by Jim Koch, a term that described Sam Adams Triple Bock in 1994, Anchor Brewing Company was the first to actually create an extreme beer. They released Old Foghorn Barley Wine in April of 1975, the most extreme beer in the USA at the time. In 1989, they fashioned a beer called Ninkasi Beer, patterned after a recipe interpreted from Sumerian artifacts.

Sam Calagione of Dogfish Head Craft Brewery was not far behind, focusing on "off-centered beer for off-centered people" and creating an environment within the beer-world that stimulated creativity of other extreme beers. Calagione consulted with Dr. Patrick McGovern, an archeochemist with the Penn Museum Applied Science Center for Archaeology, in the development of Midas Touch Golden Elixir and Chateau Jiahu – both based on the chemical analyses of archaeological findings throughout the world. His appetite for such extremes is what gives Dogfish Head Craft Brewery such a compelling reputation in the craft beer industry.

Calagione joined Jackson during the dinner presentation, adding a layer of enjoyable complexity to the event as they talked back-and-forth about the showcased beers and the merits each contributed stylistically.

Reception Beers:

George's Fault – Nodding Head Brewery & Restaurant, Philadelphia, Pennsylvania, USA
Developed from a recipe designed by George Hummel of Home Sweet Homebrew in Philadelphia, PA, George's Fault seized the Gold Medal at the recent Great American Beer Festival, knocking Midas Touch Golden Elixir into Silver place. The body of George's Fault is clear golden honey, with aromas of orange, organic sweet malt, light florals, and spiciness. Flavors are of light fruit and spice, with sweetness on the tongue. 9% ABV is well hidden.


Hoptimus Prime – Legacy Brewing Company, Reading, Pennsylvania, USA
Copper kettles appear burnished compared to the brilliant copper of this hoppy gem, crafted with nine different hops for a powerful seduction of the olfactory senses. Pepper heats the tongue, with a biscuity base supporting citrusy hops. 9% ABV.

Lost and Found – Port Brewing Company, San Marcos, California, USA
Port Brewing took over the old Stone Brewery outside of San Diego, where Tomme Arthur creates magic of classic Abbey style. This coppery red ruby reflects brown light from within. Aromas are of raisin bread – dark fruit and spice, with a light grain in the background. A firm, complex wash of malt, chocolate and clove remains on the palate in a long finish. 7 % ABV

Pils – Stoudt Brewing Company, Adamstown, Pennsylvania, USA
Carol and Eddie Stout celebrate their 20th Anniversary of brewing this year. Pils has a bright yellow appearance with fluffy white head of foam. An appealing spiciness is accompanied by florals and grassiness. Light caramel flavors join with the hops for a clean and crisp taste. 5.4% ABV.

Appetizer Course:

Featured was a salad of mixed greens, garnished with smoked salmon, hazelnut and apple matchsticks, interspersed with crumbled bleu cheese, and seasoned with a light vinaigrette. This course paired up with:

Collaboration, Not Litigation Ale – Blended at Avery Brewing Company, Denver, Colorado in collaboration with Russian River Brewing Company, Santa Rosa, California. Deep mahogany body is dressed with a fine dollop of tan at the surface. The nose is charged with figs, prunes, caramel, chocolate and peppery notes. The palate repeats the nose with tantalizing clarity. 9% ABV.

Red & White – Dogfish Head Craft Brewery, Milton, Delaware, USA
Gorgeous hues of rich, deep reds tempt the wine lover. The flavors of orange and coriander in a Belgian witbier merge with pinot noir juice; then, are racked after fermentation and aged in Pinot Noir barrels. The wood adds a layer of complexity between the distinctive characteristics of vanilla and oak.

Entrée:

The main feature showcased beef filet with a shallot demi glace, accompanied by saffron risotto and sautéed baby vegetables. Pairings were:

Sour Cherry Imperial Stout – Blue Point Brewing Company, Patchogue, New York, USA
Using direct fire brick brew kettles, Long Island's only microbrewery is located in the 1970's Penguin Ice Factory. Sour Cherry Imperial Stout lingers as a deep garnet, emitting notes of premium sour fruit, drenched with roasty, bitter chocolate and espresso.

St. Victorious – Victory Brewing Company, Downingtown, Pennsylvania, USA
Bill Covaleski and Ron Barchet champion a commitment to traditional brewing methods, while pushing the limits with quality ingredients and processes. "Victory Brewing is the quintessential, East Coast, spot-on-style brewery," says Calagione with admiration. This seasonal, strong double bock is malt-forward with caramelized flavors and glistens clear, brown-walnut within the glass. The 8.5% ABV adds a kick of pleasure.

Peppercorn Ale – Brasserie Artisanale Dieu du Ciel, Montreal, Quebec, Canada
Out of "God in the Sky" brewery in Montreal, Quebec, emerges a superb complement to beef filet. Mahogany in color, the nose and palate are treated to a plethora of dark fruits, figs and coffee, lit up with a hot peppercorn finish. Mr. Jackson reminds us, "If the baseline is innocuous, like a light lager, it defeats the purpose."

Dessert:

Featured with Espresso semifreddo with coffee

Cocoa Loco – Arcadia Brewing Cmpany, Battle Creek, Michigan, USA
This giant stout is made with cocoa nibs, lactose and black strap molasses, for rich flavors that carry themselves well with rich desserts and coffee. 8% ABV.

Fat Dog Stout – Stoudt Brewing Company, Adamstown, Pennsylvania, USA
When someone suggested to Carol and Eddie Stoudt, "Do a Stoudt stout," they had to assess what that really meant. This is a top-fermenting "yeast beast," with "the alcohol tolerance of adult wildebeest." Malt, toffee, imperial coffee service, and a smooth mouthfeel add to the seductiveness.

O'Callaghan's Irish Breakfast Stout – crafted by George Hummel of Home Sweet Homebrew, Philadelphia, Pennsylvania, USA
Rich and roasty, lean and dry, Jackson remarks that the ghost of Beamish and Guinness will surely be disturbed when they discover there was no need to include them in this spectacular line-up.

Cheers!
 
You Should Also Read:
Michael Jackson - Maven of Malt - Wins James Beard Award for Whiskey
Great Grains - Great Beers With Michael Jackson
Michael Jackson - Beer Hunter Extraordinaire - Presents Belgian Beer Dinner


Related Articles
Editor's Picks Articles
Top Ten Articles
Previous Features
Site Map





Content copyright © 2023 by Carolyn Smagalski. All rights reserved.
This content was written by Carolyn Smagalski. If you wish to use this content in any manner, you need written permission. Contact Carolyn Smagalski for details.