Organize Your Desk For Productivity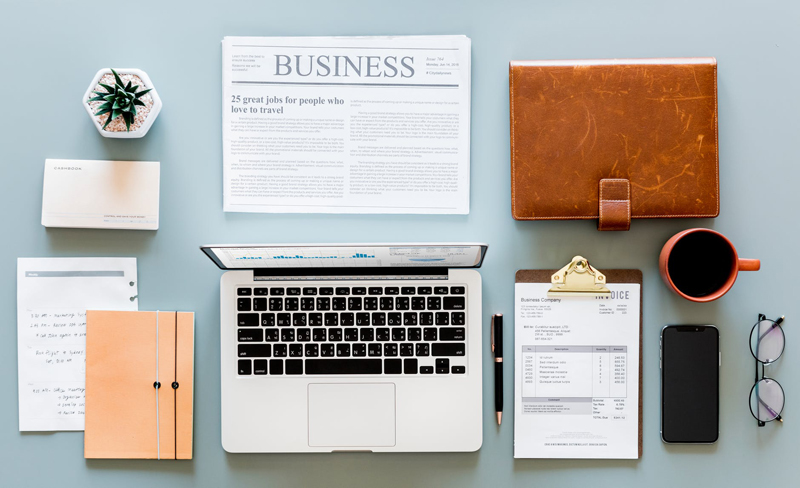 I spend an inordinate amount of time at my desk; much more than the average person. Once upon a time I loathed settling in for another day of writing and working. I had a cluttered desk and it was preventing me from focusing. As a matter of fact I would often move my laptop to the kitchen counter or coffee table to escape the chaos. Of course, I was never as productive as I knew I could be. Clearly this was case of the cobbler's kids having no shoes. After all, I am a professional organizer, I should be the last person who has organizational issues, right? Wrong. I did have issues.
I desperately needed to get my desk organized. I knew my cluttered desk was preventing me from being as productive as I wanted, so I decided to schedule a consultation with myself – professional organizer Kelly to worker bee Kelly, if you will.
It was a success – my professional self gave my worker self some excellent advice. These are the desk organizing tips I used:
Get rid of of the excess.
I am particular about the pens I use. The ink needs to flow smoothly and be smudge proof. I prefer to use a yellow highlighter. I am not a pencil girl. But when I evaluated my stash I realized I had an excess of writing implements. Most of that excess were things I would never use – and never use translates into clutter. Bottom line, your desk top is the for things you use daily, anything else needs to be cleared away.
Let practicality guide you.
Yes, I preach this, but I wasn't following it. I really like pretty things, so in some places I was letting aesthetics trump practicality. For example, I had a beautiful metal step file – it had lovely scroll work, but my files were always falling off because it was constructed to be beautiful rather than useful. I was constantly frustrated by it's lacking qualities, so I replaced it with a colorful acrylic step file that is also incredibly sturdy; it fits my needs to a tee.
Make it easy.
This is key to organizing anything. If you use something every day, it should be easier to access than something you use only a few times each week. This is common sense, but people often just go with the status quo. I feel prey this. I neglected to do something that I recommend to all my clients – assess your situation on a regular basis. The way I work has changed over time, but I hadn't moved the things I use daily to reflect my new reality. Rearranging things to suit my current needs was a game changer – I had flow once again. The goal is to expend as little effort as possible to lay your hands on what you need when you need it.
Nix cord chaos.
Don't use your desk as a charging station. All those cords create a kind of visual chaos that is distracting on multiple levels – undoing tangles and checking on charge status are just two of the distractions. Instead, dedicate a surface area away form your desk top as your permanent charging station.
Light it up.
The right lighting can make all the difference, don't underestimate the power it has. Personally, I don't like things too bright, but I also don't want to work in the dark. Finding a good balance is critical to my productivity. I use a simple goose neck lamp so I can focus the light right where I need it. It has a small footprint so it takes up very little desk space. Lighting can also make a difference to your health. For example, glare can cause eye strain and headaches. Sometimes all you need to do is change the bulb, a few watts either way can make all the difference.
Indulge your habits.
OK, I need to qualify this – indulge your good habits. In particular the ones that support your creative or information processing habits. For me that means keeping a stack of blank index cards next to my computer. I use them for everything. Doodling when I am on the phone, making lists, brainstorming ideas or taking notes as I research. I have a dear friend who must have her journal open and ready. I have a client who keeps a deck of cards on his desk. A few minutes of shuffling helps him process and clarify ideas. What do you need near at hand in order to feel complete?
<
Recommended Resource
Get your free
Clear Clutter and Learn How To Organize E-Course
. It takes you through the clutter clearing and organizing process in six simple steps!


Related Articles
Editor's Picks Articles
Top Ten Articles
Previous Features
Site Map





Content copyright © 2022 by Kelly Jayne McCann. All rights reserved.
This content was written by Kelly Jayne McCann. If you wish to use this content in any manner, you need written permission. Contact Kelly Jayne McCann for details.