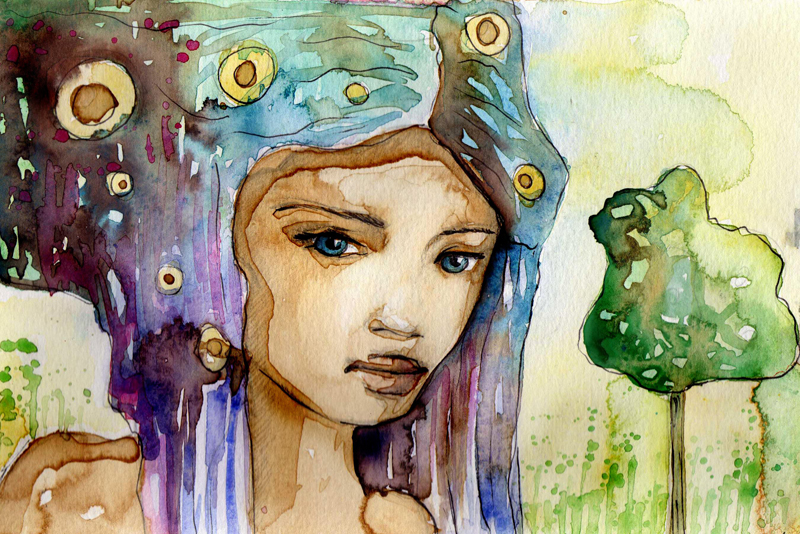 Your beautiful black skin is a living system of intertwining processes. Also referred to as dark skin, skin of color and ethnic skin, the more knowledgeable you are the better you'll be able to take care of your skin, naturally.
So, whether you want to postpone what is sure to happen, aging/maturing, lighten dark spots, cure acne or educate yourself about skin, you're off to a great start.
One of the most important things about having great looking skin is your quest for knowledge on how to get it, keep it and maintain it.
Achieving flawless skin is not instant. Just as nature takes its time in working its magic, so does your skin. Whatever challenge you're having with your skin didn't happen overnight, neither will its removal. Patience will play a big role in revealing your true beauty from within.
A good dermatologist or esthetician that's trained in holistic skin care can assist you in designing a black skin care regimen that will show you how to care for your skin from home. As valuable as the information is that they will give you, only you can take full control of your appearance and health.
A basic black skin care regimen consist of 3 steps. Cleanse, tone and moisturize. These steps should be done twice a day using natural skin care products made specifically for your beautiful black skin.
Twice a week you will exfoliate to remove dead skin cells and use a masque either for removing excess oil or to hydrate and moisturize your skin.
Common Skin Problems When Caring For Black Skin:
Acne
– professionally known as acne vulgaris is the most common skin disease. Skin that's challenged with acne is oily, shiny and blemished. You will typically find blackheads and whiteheads covering the surface.
If you don't take care of this condition the red and inflamed pimples can lead to larger pimples known as pustules and deeper lumps known as cysts or nodules.
According to the American Academy of Dermatology more than 80 percent of teenagers in this country are challenged with ache. But guess what? Acne is not just for adolescents. Adults are challenged with acne also. Adult acne tends to occur due to increased stress and hormonal changes. These hormonal changes can be due to menstrual cycles, pregnancy, and increased testosterone activity.
Dark Spots /Uneven Skin Tone
- This challenge is a major culprit amongst skin of color. The wrong products, too much sun and allergies not to mention hormonal changes can all contribute to skin discoloration. The dark spots appear when you pick or pop a pimple and use tweezers to pull hairs from your chin. When you pull the hair, you often times pull your skin. This brings trauma and causes dark spots to appear.
Nutrition and Beautiful Black Skin
The foods you eat play a major role in the beauty of your skin. After all, beauty begins in your colon. In addition to green foods, fruits and lots of water, herbal teas can enhance the beauty of your skin.
The more nutritious your meals and the better you take care of your skin, the greater the benefits your skin will reap.
Here's an herbal tea recipe for you to try:
Jean Argus of Jeans Greens has a tasty way of nourishing your skin from within and detoxing your liver at the same time. It's an old Mexican formula and is used daily to improve your skin.
4 tablespoons of dried oat straw
4 tablespoons dried figwort
2 tablespoons dried sarsaparilla
2 tablespoons dried burdock
1 ½ dried yellow dock
½ teaspoon dried licorice root.
1 teaspoon dried stevia - you can also use honey in place of stevia
Add 4-6 teaspoons of tea to 4 cups of water and immediately remove from heat. Cover and steep for 10-15 minutes. Strain and Cool.
By consuming 4-6 cups a day the tea will act as a natural cooler for your skin.
Your skin is your calling card. Make sure it grants you a proper introduction. Learn to love the beautiful black skin you're in.
That's it for this week, as always …
Dedicated to Your Beauty
Juliette's Website
https://www.nyrajuskincare.com


Related Articles
Editor's Picks Articles
Top Ten Articles
Previous Features
Site Map





Content copyright © 2023 by Juliette Samuel. All rights reserved.
This content was written by Juliette Samuel. If you wish to use this content in any manner, you need written permission. Contact Juliette Samuel for details.