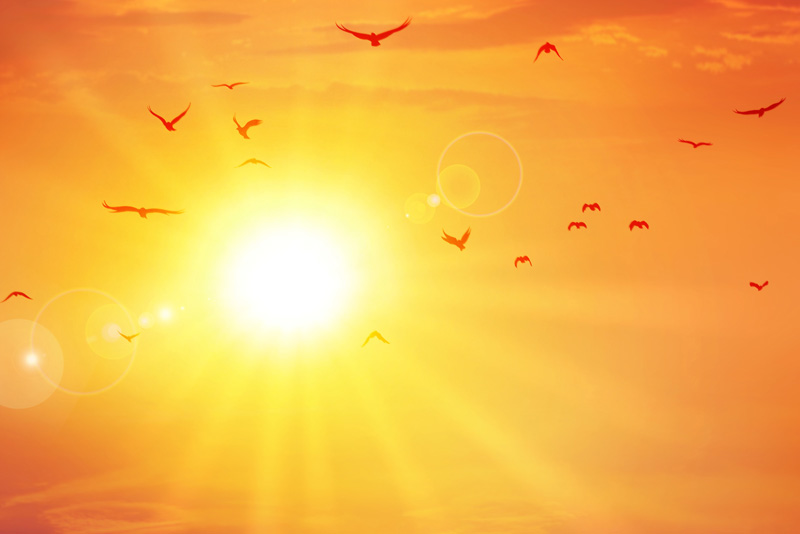 I was sleeping soundly when the telephone rang this morning. As if that wasn't enough of an aggravation, the call was from a relative with news that made me angry. As I made my way to the kitchen, to start a pot of coffee, I stubbed my toe and then I spilled coffee grounds. I was well on my way to having a classic bad day.
One incident triggered a spontaneous emotion, a natural response. A bigger problem grew when the response was nurtured by my mind dwelling on the anger. That one incident has the ability to infect anyone with whom I would come into contact, through my words and actions. This is the chain reaction that leads to sin. I think Satan loves these times.
We are warned in Ephesians 4:26, 27
"don't sin by letting anger gain control over you. Don't let the sun go down while you are still angry, for anger gives a mighty foothold to the Devil."
1 Peter 5:8 warns us to be careful and watch for the attacks of the devil who is our enemy. It compares him to a roaring lion on the prowl, looking for someone to devour. At these times, I remember that Satan is a defeated foe. Jesus defeated him on the cross and as followers of Jesus we have the means to resist his attacks.
Paul says in Philippians 4:8
"Fix your thoughts on what is true and honorable and right. Think about things that are pure and lovely and admirable. Think about things that are excellent and worthy of praise."
This suggests that I can control where my mind goes. I don't have to travel down that destructive path to sin. So, what are the things that are True, Honorable and Right, Pure, Lovely, Admirable, Excellent, and Worthy of Praise?


True means genuine and real. God's word is true. Love and grace are real.

Honorable means noble and morally attractive. Men and women who are strong in their faith are honorable.

Right means in accordance with what is good, proper or just. I can look for the good things happening in the world.

Pure means untainted with evil or guilt. Deeds done, not for selfish reasons, but solely for the glory of God, are pure.

Lovely means of great moral or spiritual beauty. I will look for the beautiful instead of the ugly things of the world.

Admirable means worthy of esteem or regard. I will look for and concentrate on those good things.

Excellent means possessing superior merit or remarkably good. As I look for the good things, I will find and praise God for the excellent.

Worthy of Praise means deserving of admiration or approval.
These are the things of God. They flow from God's word and from devotion to him.
Psalm 119:15,16 says
"I will study your commandments and reflect on your ways.
I will delight in your principles and not forget your word."
And Psalm 145:5 speaks of meditating on the true, honorable, right, pure, lovely, admirable, excellent, and praiseworthy things of God.
I will begin each day by reading a Bible passage to remind myself of the things of God. It may be as short as one passage or one verse.

I'll end each day by asking "What is the best thing that happened to me today?" Even if there was only one good thing, I will reflect on that thing, and talk about it with my family, no matter how insignificant it may seem.
This is my biblical 'attitude adjustment.' With this routine I will establish the habit of thinking about the godly and derail the chain reaction.
You Should Also Read:
Stress Relief
Great Power
In God We Trust


Related Articles
Editor's Picks Articles
Top Ten Articles
Previous Features
Site Map



Follow @LynneChapman
Tweet





Content copyright © 2022 by Lynne Chapman. All rights reserved.
This content was written by Lynne Chapman. If you wish to use this content in any manner, you need written permission. Contact Lynne Chapman for details.