Cooking With Beer at the Alaska Women's Show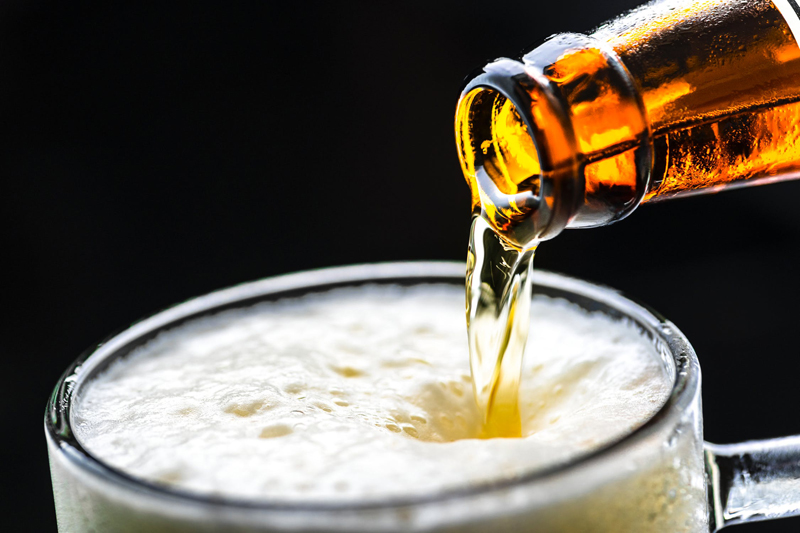 Alaskans have a dynamic presence that seizes adventure and keeps them open to the latest trends.  According to the U.S. Department of Transportation, the state of Alaska boasts the largest active pilot population in the country, out-distancing high population states like Pennsylvania and New York ten times over.  The people of Alaska are dazzled by nature at every turn, and enjoy extremes in weather and daylight, particularly the persistent Midnight Sun throughout the summer season, a time when the focus turns to outdoor life, grilling, smoking and other new fads in the world of food.
Within this diversity, fine craft beer adds a facet of complexity to the cooking experience, not only through food pairings, but also in recipes themselves.  An Abbey Tripel can be an awakening ingredient in a cream sauce, while Smoked English Porter contributes robust raisin, burnished fruit and bitter chocolate to a stew or marinade.  The chef who understands such pleasures-of-the-palate enjoys accolades from those who sample these seductive intermingling of flavors in the dishes he creates
As hosts of the 14th Annual Alaska Women's Show at the Sullivan Arena, Steve Shepherd and Annie Chavez of Aurora Productions in Anchorage, Alaska are tuned-in to these trends in food styling.  Throughout the show from April 20-22, 2007, the spotlight focused on cooking with beer.Nine one-hour segments – fully 65% of the cooking demos in the Lowe's Kitchen Display – exposed event participants to the nuances within flavorful craft beer, how these characteristics marry up in cooking and pairing, how to serve beer with style, and compressed tutorials on beer styles and history.
As the Beer Fox, I was honored to be flown in from Philadelphia, Pennsylvania, as the keynote presenter in seven events on the fully functional cooking stage, coupled with the most illustrious chefs and talented brewers from the Anchorage region.  The Roster of events read as follows:
"What's Smokin' in Alaska's Hot Beer Scene?
Mick Hug, Executive Chef at the Millennium Hotel in Anchorage, pairs up with Carolyn Smagalski, The Beer Fox from BellaOnline, in a saavy display featuring Alaskan Porter Smoked Salmon with toasted Crustini and Boursin Cheese.
"A Toast!  Beers to Your Health
Superfoods and craft beer hold secrets to superior health.  Brewer Ben Johnson of Midnight Sun Brewing Company pairs up with Carolyn Smagalski, The Beer Fox of BellaOnline, to show you how small additions to your diet can score big health benefits for a lifetime.
"Sweet Endings & Beer Finales
Jeff Lakomski, Executive Pastry Chef at Orso and Glacier Brewhouse, prepares his signature Carrot Cake with Brewhouse Stout.  In this segment on sweet beer finales, Carol Smagalski, The Beer Fox from BellaOnline, adds tips on creating zesty desserts that pair well with "sippers and digestifs."
"Splash, Season & Sizzle – Beer Marinades for the Grill
Beer Marinades are the latest craze in the gourmet food scene.  The Beer Fox from BellaOnline shows you how to wake up your palate with select craft beer, marinades, and grilling techniques for meat, seafood, and skewered dishes.
"Girls of the Bear Tooth – Women Taste Better than Men
Chef Melanie Harriman and the beer vixens from Bear Tooth Theatrepub & Grill highlight the hour with the Beer Fox from BellaOnline, Carolyn Smagalski.  Do women really "taste" better than men?  The "girls" reveal secrets about your sense of taste as they play with your tongue and show you the delights of Moroccan Chicken infused with Midtown Brown. 
"Beer Chic – Creating Dynamic Duos
Tim Farley, Executive Chef of Humpy's Great Alaskan Alehouse and Sub Zero in Anchorage, joins Carol Smagalski, The Beer Fox of BellaOnline, with secrets for a dynamic duo of palate pleasures.  You can even use flat beer to create delectable delights!  Chef Farley whisks you away with Humpy's Alehouse Halibut in Deep Fried Beer Batter."
The Alaska Women's Show was a clear demonstration that craft beer has come into its own as an accepted gourmet product in the cooking arena.  Not only has it enjoyed a surge of interest since the beginning of the Beer Renaissance in the USA, but it has also gained strength, as greater sophistication of palate develops within the U.S.  Food is an event, and people are trading up for greater experience in gustatory sensation.
Cheers!
Photos - from top: The Alaska Women's Show in the Sullivan Arena, Anchorage, Alaska; Beer Fox Carolyn Smagalski and Steve Shepherd of Aurora Productions; Lowe's Cooking Stage with Aurora Productions stage crew, Mary Helms of The Alaska Club, Lowe's stage crew, and Beer Fox Carolyn Smagalski.
You Should Also Read:
Beer Cookery - Chef Mick Hug's Smoked Porter Brine for Fish and Meat Smoking
Beer Cookery - Chef Mick Hug's Oatmeal Stout and Cheddar Soup
Superfoods and Beer - Midnight Sun Coffee Porter


Related Articles
Editor's Picks Articles
Top Ten Articles
Previous Features
Site Map





Content copyright © 2019 by Carolyn Smagalski. All rights reserved.
This content was written by Carolyn Smagalski. If you wish to use this content in any manner, you need written permission. Contact Carolyn Smagalski for details.