Superfoods and Beer - Midnight Sun Coffee Porter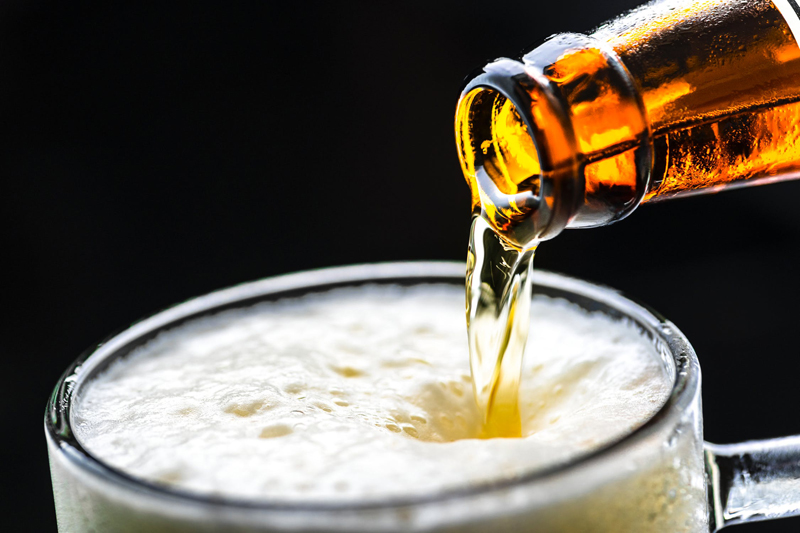 It may seem impossible that someone from Chicago, one of the most illustrious culinary areas in the contiguous United States, would earn a degree in Culinary Arts, work as a Sous Chef for Bayport Cookery – the top rated restaurant in Minnesota, according to the Zagat Survey – and leave it all behind because of a little Christmas gift – one that amounted to no more than a beer kit in a one gallon milk jug. 
Passion starts that way.
With the assistance of his good friend, Ben Johnson brewed his first one-gallon batch of beer.  Encouraged by its success, the two motivated friends gathered "real" brewing equipment, and managed to brew a five-gallon batch of golden, liquid bread.  One batch a week…then two…then three.  Eventually, Johnson knew that he needed to work as a brewer, but the industry required a degree in Brewing Science.  Door after door slammed in his face.
His wife exercised her own passions and, with clear goals in mind, joined the Coast Guard.  Her decision took them to Alaska where they fell in love with the wild beauty of the landscape and the adventurous spirit of its people.  Midnight Sun Brewing Company in Anchorage, Alaska, quickly recognized the wide range of culinary competence in Ben Johnson and immediately hired him, under the direction of Brew Master Gabe Fletcher.  They remain open to creativity that is the hallmark of great brewers.
In April, 2007, Ben Johnson partnered with this Beer Fox at the Alaska Women's Show in the Sullivan Arena in Anchorage to present a cooking demonstration called "A Toast:  Beers to Your Health."  The focus centered on SuperFoods, beer and health, and demonstrated how small additions to your diet can score big health benefits for a lifetime. 
SuperFoods are the darlings of the nutritional circle, filled with such beneficial giants as antioxidants, monosaturated fats, and phytonutrients.  These provide protection against cancers and heart disease, aid in bone formation, lower rates of diabetes, protect against stroke, and provide vitamins and minerals essential to good health.  Among this list of SuperFoods are:
Apples – fiber and antioxidants, including flavonoids and polyphenols.
Avocados – Monosaturated fatty acids that appear to lower LDL (bad) cholesterol and raise HDL (good) cholesterol levels.
Beans – fiber, lean protein, B vitamins, potassium, and antioxidants.
Blueberries – Multiple antioxidants, fiber, folic acid and vitamins C and E.  Tip:  Use frozen blueberries – they are picked at ideal ripening time and fast-frozen to preserve the beneficial nutrients.  Fresh berries may endure long periods of transport and shelf-sitting during which nutrients diminish and fruit can grow molds.
Dark Chocolate – flavonoids that lower blood pressure and prevent clogged arteries.  Look for dark chocolate with high levels of cocoa solids.
Kiwi Fruit – Vitamin C, potassium, and flavonoid antioxidants.
Oats – Fiber, protein, potassium, magnesium and phytonutrients.  These lower cholesterol and help stabilize blood sugar. 
Spinach – Lutein for your eyes, carotenoids, antioxidants, betaine, and Vitamins B, C and E.
Sweet potatoes – Vitamin C, antioxidants, fiber.
Tofu – fiber, lean protein, B vitamins, potassium, and flavonoids.
Walnuts – Omega-3 Fatty acids, micronutrients.
Yogurt – Calcium, protein, probiotics and beneficial bacteria that aid digestion, help metabolize food and tone your system.  
The Beer Fox believes that beer should be included in this list of SuperFoods.  The benefits of moderate beer consumption are well established.  Thousands of people worldwide have participated in studies that indicate that moderate beer consumption is good for your health.
Please note:  Evidence reveals that heavy alcohol consumption contributes to the formation of visceral fat around the small intestines and liver. The advanced drinker does not display this excess layer of fat. Continuous extreme alcohol consumption is linked to cirrhosis of the liver and to breast cancer.  The key is moderation!  
Beer is made through a traditional process of blending sugars from malted grains, like barley or wheat, with hop flowers and water.  The skill of the Brewmaster brings out the flavor, aroma, color, mouthfeel, and foam characteristics through the formulation of recipes and fermentation of sugars.  Careful aging completes the picture.

Aromas may be of citrus, flowers, or herbs - also may smell caramel, toffee, sweet biscuits, cocoa, coffee, honey, chocolate chip cookies.

Yeasts may add aromas of clove, banana, exotic spices, apples, strawberry, dark fruits. 

Craft beer is usually not pasteurized.

It may be unfiltered – true craft beer drinkers like this.

In the USA, the fermentation process determines the category of the beer:
Lagers use bottom fermenting yeast (Saccharomyces carlsbergensis) that work most efficiently at lower temperatures – e.g. Standard Lager; Helles; Dortmunder; Vienna Lager, Oktoberfest; Pilsner, Munich Dunkel; Schwarzbier, Maibock; Bock; Doppelbock; Eisbock; Rauchbier;
Ales use top fermenting yeast (Saccharomyoces cerevisiae) that work most efficiently at higher temperatures – e.g. Cream Ale; Blonde Ale; Kolsch; Altbier; American Wheat or Rye Beer; English Pale Ale; ESB; Scottish Ale; Irish Red Ale; APA; English Brown Ale; Porter (usually); Dry Stout; Oatmeal Stout; Russian Imperial Stout; IPA, German Wheat Beer; Belgian Wit; Old Ale; Barleywine (Usually); 
Wild Fermentation is a third category that uses the microbiota of the Brussels region or cultures of yeast known as Brettanomyces, Lactobacillus and Pediococcus (to mimic these organisms) for fermentation – e.g. Biere de Garde; Saison (usually); Berliner Weisse (combined with ale yeast); Flanders Red Ale; Flanders Brown Ale (Oud Bruin); Lambic; Gueuze; Fruit Lambic; Belgian Strong Ale(Blonde, Dubbel, Tripel, Golden Strong, Golden Dark)
Note:  beers such as Christmas Winter Warmers; Spiced/Vegetable Beer; Fruit Beer; Other Smoked Beer; Wood Aged Beer; and Specialty Beer may fall under any category.  
Benefits:
Made from wholesome ingredients:  malt, hops, yeast and water – have natural components that contribute to a healthy, balanced diet.

Is 93% water – an enjoyable means of taking in this essential substance.

High in potassium and low in sodium – the correct balance for low blood pressure.

Alcohol appears to increase metabolic rate significantly, causing more calories to be burned rather than storing them in the body as fat. 

One study showed consumption of sugar to decrease as the consumption of alcohol increases.

Significantly increases the HDL cholesterol – the good cholesterol – in the body (Study of Hendriks et al, TNO Nutrition and Food Research Institute and Weber et al at SUNY Downstate College of Medicine and 2003 Israeli study)

Yeast is pure Vitamin B, so beer is an excellent source of B vitamins – niacin, riboflavin, pyridoxine (B6) and folate.
B6 in beer gives beer drinkers additional protection against cardiovascular diseases (compared to drinkers of wine or spirits) – it prevents the build-up in the body of a chemical called homocysteine, a chemical linked to increased risk of heart attack. 
Folate has been shown to be protective against cardiovascular disease (1998 study Rimm, Willett and Hu, et al in the Journal of the American Medical Association) and some cancers (1999 study by Zhang, Hunter, Hankinson et al in the Journal of the American Medical Association).
Source of antioxidants (flavonoids)
Antioxidants in hops have the potential to fight cancers of the gastrointestinal tract (1996 study by Kuo, SM and a 1999 study by Tatsuta, Iishi, et al in the Intl Journal of Cancer) 
Antioxidants in hops have the potential to fight breast cancer (1999 study by Miranda, Stevens & Helmrich in Food & Chemical Toxicology and 1999 study by Shen, Xue, and Weber in Anticancer Research)
Antioxidants in hops have the potential to fight thyroid cancer(1999 study by Yin, Giuliano and Van Herle in Thyroid). 
Natural hop compounds have been shown to be cardioprotective (1999 study by Dubey, Gillespie, Imthurn, et al in Hypertension and 1997 study by Brandi in Calcified Tissue International)
Hops have moderate sedative and somnorific effects
Hops have positive hormonal effects
Hops contain compounds that prevent the removal of calcium from the bones and are preventative against osteoporosis (Tobe, Muraki and Kitamura et al in Bioscience, Biotechnology, and Biochemistry [BBB] and 1997 study by Anderson and Garner in Nutrition Research
Low in calcium and rich in magnesium – may help to protect against gallstones and kidney stone formation.

Beer drinkers are protected from the organism, Helicobacter pylor, which is known to cause stomach ulcers and may be a risk to stomach cancer.

A source of soluble fiber (derived from the cell wall of malted barley).  Aids healthy bowel function, slows down the digestion and absorption of food and reduces cholesterol levels.

Beneficial ingredient in beer pedicures - the hops and enzymes in the beer help to soften calluses. It is rich in vitamins and has a toning effect on the skin. It is also used in German spa bath therapy for this reason.  In the February 2003 Issue of Jane Magazine, beer was a recommended hair rinse for promoting shine and manageability.

Beer belly?  Studies show that women who drink beer tend to weigh less than their non-beer drinking counterparts (study by S. Mannisto, K. Uusitalo, E. Roos et.al. that appeared in the European Journal of Clinical Nutrition - subject base was 27,215 middle-aged men and women - The study concluded that over consumption of food and a sedentary lifestyle with significantly low activity levels caused beer belly, not beer.

Those who consume beer in moderation enjoy better health and a longer life than those who abuse alcohol or those who totally abstain from drinking it.

Dictionary of Popular Food/Nutrition Misbeliefs by German food chemist Udo Pollmer - indicates that soaking red or white meats in beer, before grilling, reduces the formation of cancer-causing HCA's (heterocyclic amines).  HCA's are formed through a reaction between amino acids and creatine in muscle meats when they are cooked at high temperatures.
Recommended SuperFood Recipes:
Seared Firm Tofu, marinated in Midnight Sun Arctic Rhino Coffee Porter Marinade
Sweet Potatoes, lightly mashed and tossed with toasted herbed walnuts
Wilted Spinach, tossed in a hot pan
Pan Sauce with blueberries, spooned over seared tofu
Cheers!
You Should Also Read:
Organic Brewers & Celtic Tradition - Crannog Ales
Midnight Sun - Masters of World Class Beer
Beer for Sophisticated Restaurateurs


Related Articles
Editor's Picks Articles
Top Ten Articles
Previous Features
Site Map





Content copyright © 2022 by Carolyn Smagalski. All rights reserved.
This content was written by Carolyn Smagalski. If you wish to use this content in any manner, you need written permission. Contact Carolyn Smagalski for details.