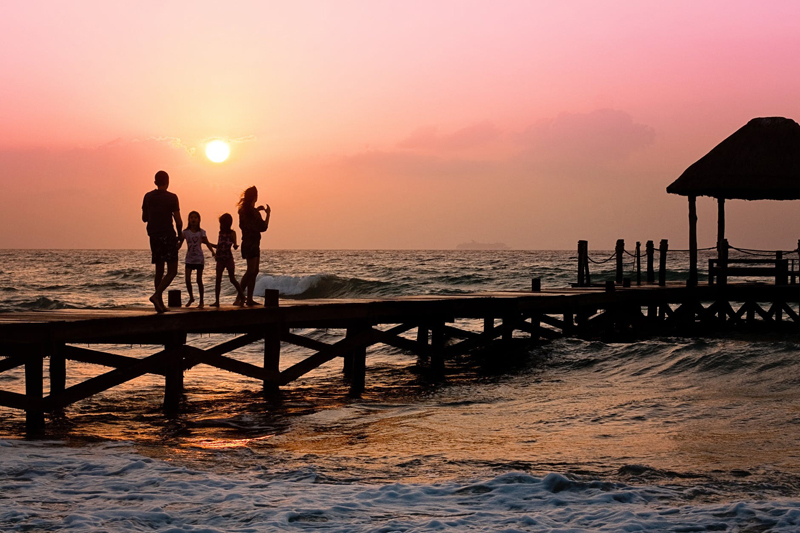 It's summertime!

For students, that means time to sleep in, stay up late, play on the computer, not worry about homework and--if they can laze their way around it--not worry about housework, either. Translation? Summertime can mean total chaos or, at best, small upheaval in a family's daily routine.

In order to keep you from counting the days until the first day of school, here are seven ideas to keep the summer flowing smoothly.

1. MAINTAIN DAILY FAMILY PRAYERS AND SCRIPTURE STUDY. This is a must for retaining the spirit during the hectic days of summer. If your family has been gathering in the mornings, it's okay to reshuffle the schedule. You don't want your children to hate it because they wake up to your schedule all summer long. Try holding prayers or scripture study around the evening meal or before bedtime. It may take several shuffles to find a summer schedule that works, but keep trying. Don't forget your teenagers, either. Their summer work schedules may not accommodate your time. Be prepared to hold separate prayers and study time with them. Do not let them miss out. They need spiritual support at this time of their life more than any other.

2. HOLD WEEKLY PLANNING SESSIONS. Create a simple calendar for the coming week and include everyone's schedule. Do this on Sunday evening or during FHE. List family gatherings, birthday parties or sleep-over invitations. Record your teenager's work schedule and if they will need a ride. Are there any church activities or meetings? Is anyone going or coming Visiting Teaching or Home Teaching? What time? Record who has talks or lessons to prepare and give on Sunday. You don't need to get fancy with your week-at-a-glance calendar. A simple piece of white or colored paper with seven large squares labeled for each weekday is perfect. Hang it where everyone will see.

3. LET THEM DO CHORES. Remember, because they will be home more there will be a greater need for them to do chores, not less. Don't feel guilty. They will also feel better about themselves. You can assign chores or let them choose some each day, which ever works best for your family.

4. ESTABLISH DEADLINES AND CONSEQUENCES. Establish a completion time for their chores and keep it consistent. The earlier the better, for everyone. For example, tell the children their chores must be finished each day by 10 a.m. Remind them that once it is done they don't have to worry about it for the rest of the day. Race them with your own chores, make it a game. Incase they choose to not complete their chores on time, have a consequence--something that will catch their attention such as being unable to play with friends, watch television or get on the computer for the rest of the day. Do not make the mistake of saying they are punished just until their chore is finished. That will cause them to drag their feet until they feel like working. Although there are times for waiving consequences, we must teach our children the importance of working when they don't feel like it, meeting deadlines and realizing there are problems in life when they intentionally choose not to work.

5. LIMIT ELECTRONIC TIME. No parent wants their child spending all day in front of the television or computer. But how do you limit their time, especially if you're gone? Allow each child to pick their own specific time for using the computer, gaming system, television, etc.; then write it down and display it. A schedule sets clear on/off times, prevents arguments and overuse and teaches promptness. If Tommy misses his scheduled time, he can't make it up. If he's late, he still has to get off at the scheduled time. Soon he will learn the importance of being on time. Without a schedule, it's also easy for Tommy to wander in at some vague time and not pay attention to when he got on. It may cause arguments over how much time Tommy is using. Best of all, written schedules work when you're gone. Why? Because everyone can see the time.

6. ENCOURAGE SCRIPTURE READING. Start your own scripture reading program this summer. Gear it toward seminary, if you'd like, or their favorite stories. Did you know you can read the entire Book of Mormon in a single summer if you just read six pages a day? Offer your children a fun reward if they complete their summer reading program. It may be a pizza party, a day trip, or something else. Get them excited and work together toward the goal.

7. START A SUMMER TRADITION. This may be a trip to the library every Tuesday morning, a picnic with playtime at the park each Thursday, a family basketball game every Friday evening or taking treats each week to someone in the ward. By starting fun traditions each summer, your children will be less likely to proclaim boredom. They will have something to look forward to, enjoy their families and serve others.

With a little extra planning, summer can be a fun time of togetherness and growing.



Related Articles
Editor's Picks Articles
Top Ten Articles
Previous Features
Site Map





Content copyright © 2022 by T. Lynn Adams. All rights reserved.
This content was written by T. Lynn Adams. If you wish to use this content in any manner, you need written permission. Contact Jamie Rose for details.