Beer & Food and ... Massage Oil ?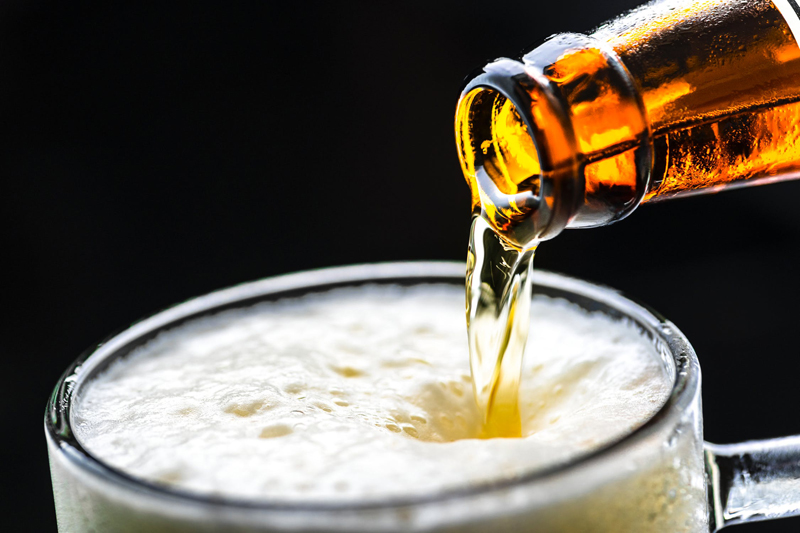 When women think of Valentine's Day and romance, their minds often conjure up pictures of roses and champagne, or diamonds and chocolate. The real meaning of enduring love, however, may be found in something as simple as a beer made memorable – an everlasting moment with the person you love, the one who remains in your heart and in your dreams. Create a superb beer and food combination, add warming massage oil, and let the romance begin!

Consider the first recorded love-fest toast, in 450 A.D., between British King Vortigen and Rowena, daughter of the Saxon leader, Hengist. On the eve of their wedding, during a celebration with the Saxons, Rowena raised her cup of ale and proclaimed "Louerd King, waes hael," (Lord King, be of health) to which he replied "Drink hael!" Love sparks flew between the two star-struck admirers. They met that night in a passionate rendezvous and were joined in marriage the next day. The history books left out the intimate details about the organic massage oils they used, so let your imagination run wild.

Then there was the inaugural celebration of Oktoberfest. This first festival was in October 1810, and commemorated the marriage of Crown Prince Ludwig to Princess Therese von Sachsen-Hildburghausen. Traditional food and drink were prepared for the royal festivities, followed by horse races at "Theresienweisen," the meadow named in honor of Therese. This became an annual affair and eventually included musicians, specialty pub fare, and an Oktoberfest Parade. The festival has become more beer-centric with the passing of time; however, it began as a celebration of love. The part they left out of the books? You guessed it! Massage oils!

Love and beer continue into modern times with marital vows spoken between those who had already proclaimed their love for beer, and are moved to enhance this mutual love with wedded bliss. On April 1, 2006, Ray McCoy and Cornelia Corey, two past Beerdrinker of the Year crown-holders, exchanged vows in a beer-ful wedding ceremony that included Bride's Ale and a Unity Keg, tapped by the bride and groom at the climax of the ceremony - a symbol of their shared enthusiasm as "Beer Lovers." The press releases said nothing about massage oils. Hmmm...

A Dozen Roses to Light Your Love

Impress your loved one. A dozen roses, perhaps? Pair them with a light snack and the naughtiest massage oils. Not only will your lover blush at the thought, but you will also experience the joy of an international ride through a renaissance of beer.

Red Rose Amber – Lancaster Brewing Company, Lancaster, Pennsylvania, USA – American Amber / Red Ale
A coppery-bronze blaze of fire emanates from the glass, while a creamy, tight head of foam rests on the surface. Aromas of sweet caramel merge with a fruit-and-nut profile. As it spills over the lips, sweet biscuity malts come to the fore, along with caramel, nuttiness, and a berry-like presence. Mouthfeel is smooth and medium-bodied.
Beer-Food Pairings: Lemon Herbed Chicken; Mushroom Cheese Steak
Massage Oil: Therepro Sweet Almond Oil – Concentrated almond oil with vitamins A, B1, B2, B6, and E.

Wild Rose Wraspberry – Wild Rose Brewery, Ltd, Calgary, Alberta, Canada – Fruit/Vegetable Beer
As a fruit/vegetable style beer, Wild Rose Wraspberry appears a hoary pink - a misty sunrise over a mountain lake, with a substantial white head that diminishes to a patchy ring with spotty lacing. The nose fills with fresh raspberries and a background of malt. On the tongue, tart raspberry, bready malt and candi sugar dance in swirls of light effervescence. A quenching profile accompanies the delightful flavors.
Beer-Food Pairings: Shrimp & Smoked Salmon Salad; Glazed Pork Chops
Massage Oil: Kur European Massage Tonic Oil for Stress – Grapeseed, almond, coconut and jojoba oils with canary grass and a blend of lavender, chamomile, geranium, wild marjoram, cedarwood, and frankincense.

Yellow Rose Pale Ale – Yellow Rose Brewing Company, San Antonio, Texas, USA – American Pale Ale
Coppery amber settles into the glass beneath a substantial white head of scattered lace. Aromas of sweet malt and citrus greet the olfactory senses. Delicate, light malt mingle with shadows of citrus in this pleasant, mellow beer.
Beer-Food Pairings: Broccoli Quiche, Seared Ahi Tuna
Massage Oil: Therapro Jojoba Oil – Parallels the body's natural oils and leaves the skin supple and smooth.

St-Nicolas Rosé – Cidrerie St. Nicolas, St. Nicolas, Quebec, Canada – Specialty Cider / Perry
Translucent honey is tinged throughout with crimson lights. Light, feathery raspberry aromas touch the nose, and echo in the gentle apple flavors that linger delicately on the palate.
Beer-Food Pairings: Whiskied BBQ ribs, Spiked Winter Tart with Vanilla Ice Cream
Massage Oil: Kur European Massage Tonic Oil for Completeness – Grapeseed, almond, and coconut oils with sage branches and a blend of mandarin, sage, rose geranium, palmarosa, nutmeg, rosewood, cedarwood, patchouli, cardamom, and vetiver.

Wild Rose Brown – Wild Rose Brewery, Ltd., Calgary, Quebec, Canada – English Brown Ale
This brown ale displays as walnut umber with dense crimson reflections flickering along the edges. A foamy taupe head rises in the pour, but quickly recedes as a veil over the top. Bittersweet chocolate, caramel and coffee greet the nose and echo on the palate, along with nutty malts and a hint of spice. Mouthfeel is of medium body, with silkiness on the tongue. Finishes with a lingering smokiness.
Beer-Food Pairings: Hearty Beef Stew, American Style Hamburger
Massage Oil: Weleda Arnica Massage Oil – Arnica extract and organic birch leaf extract for toning and warming.

Red Rose Amber Ale – Baird Brewing Company / Fishmarket Taproom – Shizuoka-ken Namazu-shi, Japan – American Amber / Red Ale
Hazy, mahogany body displays a creamy tan head with occasional iridescent bubbles that rise to the surface. Dark caramel, berry and citrus permeate the air. On the palate, flavors of sweet caramel malt and berries are tempered by a bitter, hoppy bite. A long, bitter finish lingers in the back of the throat.
Beer-Food Pairings: Short Ribs with Polynesian Teriyaki Sauce, Alderwood Grilled chicken
Massage Oil: Therapro Ultra Glide Oil – Silky, gliding qualities without greasy residue.

Rose Gold Summer Ale – Red Squirrel Brewery, Hertford, England, UK – English Pale Ale
This bright and golden gem greets the eye with a tight eggshell head that settles to a wedding ring of white. Caramalt and wheat aromas greet the nose, accompanied by citrus. Flavors are of bread and grass, and are well-balanced by the presence of Goldings hops.
Beer-Food Pairings: Shrimp-Corn Bisque, Lemon Meringue Pie
Massage Oil: Therapro Swedish Effluerage Massage Oil – Grapeseed, jojoba, almond, and coconut oils with Vitamin E; unscented and glides easily on the skin.

Cantillon Rosé de Gambrinus – Brasserie Cantillon, Brussels (Anderlecht), Belgium – Fruit Lambic
A voluminous, persistent white head tops the pale pink, hazy, grapefruit body. Aromas are of tart grapefruit, red wine and barnyard. The tart zing of fruit – lemon and grapefruit – mixes with the sweetness of raspberries and cherries to deliver delightful sin to the tongue. Finish is short and quenching, and leaves you begging for more.
Beer-Food Pairings: Bleu Cheese Salad, Decadent Chocolate Mousse
Massage Oil: Bon Vital Naturale Massage Oil – A nut-free blend of jojoba, safflower, grapeseed, apricot and peach kernel oils, enriched with sea algae, Japanese green tea and hops extracts.

Wittekerke Rosé – Brouwerij Bavik, Harelbeke-Bavikhove, Belgium – Fruit/Vegetable Beer
The hazy, peach-painted body with overtones of pink supports a light pink head. Raspberry teases the nose. Raspberry syrup asserts itself, with malt lingering behind a muffled curtain. This works well as a light and easy drinker for those who are not attracted by beers with rich malts or bitter, hoppy flavors.
Beer-Food Pairings: Caesar Salad, Belgian Chocolates
Massage Oil: Massage FX Oil – Soothing almond oil with vitamin E; provides smoothing with maximum friction.

Wild Rose - Wild Rose Brewery, Ltd, Calgary, Alberta, Canada – Belgian Strong Pale Ale
Honey yellow body emits aromas of breadiness and light coriander. Spiciness mixes with fresh bread malt and pepper.
Beer-Food Pairings: Smoked Turkey, Blackened Ling Cod
Massage Oil: Emu Oil – Refined Australian oil with Omega 3, Omega 6 and Omega 9 fatty acids; anti-aging and anti-inflammatory.

Geuze Cuvee J&J (Jessie En Joost) Roos (Rose) – Drie Fonteinen, Beersel, Belgium – Gueuze
Murky peach pours from this delightful wedding bottle (hers), embellished with the voluptuous figure of a woman. A classic ring of lace surrounds the perimeter of the crystal. Extraordinary aromas are of wood and horse blanket, lemon citrus and Brett. Additional flavors of oak and vanilla add to the tart, dry, citric palate for complexity that makes this a superb drinker.
Beer-Food Pairings: King Crab, French Apple Pie
Massage Oil: Kur European Massage Tonic Oil for Mood – Almond, grapeseed, and coconut oils with a blend of citrus, eucalyptus, thyme, and cinnamon.

Rose Milk – Lancaster Brewing Company, Lancaster, Pennsylvania, USA – Black & Tan
A blend of Red Rose Ale and Milk Stout appears as mahogany brown with a light tan head, accompanied by delicate webs of lace. Caramel, toffee, light fruit, and roasted nuts linger in the air, along with a floral character. On the palate, brown sugar, caramel and nuts meet cocoa and light fruit. A floral hop presence balances the sweetness.
Beer-Food Pairings: Oysters, Caramel-Drizzled Cheesecake
Massage Oil: Bindi Balancing Oil – Pure oils, rare herbs, and plant and flower essences for all skin types.

If a dozen roses seems too flamboyant to you, opt for the romance of a single rose and a long, loving and luxurious massage.

Cheers!

You Should Also Read:
Beer Fox Valentine's Day Beer Selections
Delicate Pairings of Beer and Cheese
Champagne Beer for Champagne Girls


Related Articles
Editor's Picks Articles
Top Ten Articles
Previous Features
Site Map





Content copyright © 2023 by Carolyn Smagalski. All rights reserved.
This content was written by Carolyn Smagalski. If you wish to use this content in any manner, you need written permission. Contact Carolyn Smagalski for details.