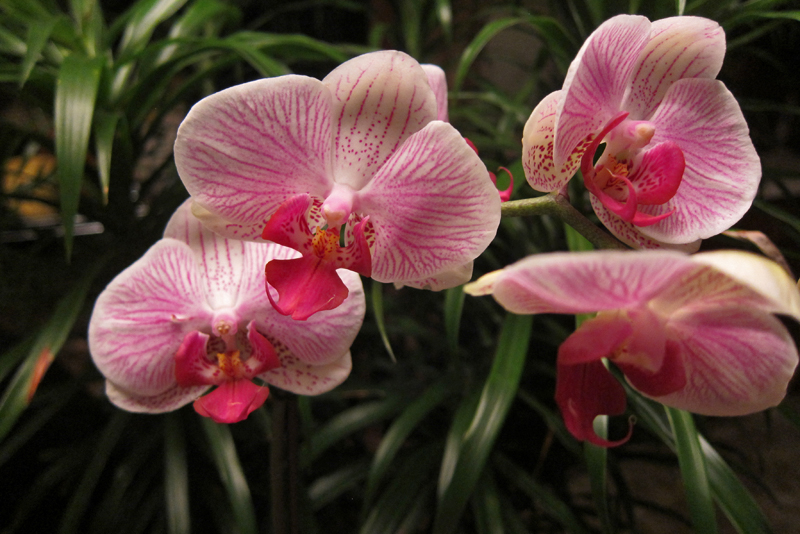 The big issues in having a greenhouse, depending upon where you live, are heating and cooling. Here in the south, summertime is either when you take all your plants outside so they don't cook, or you spend most of the time trying to keep the structure cool enough so that your plants don't die. It is amazing how fast a greenhouse structure can heat up once the sun hits it if nothing is done. Conversely, in the northern areas keeping the greenhouse warm enough in the winter is a major undertaking.

Cooling is generally done by providing shade in the form of shade cloth or paint, air circulation to remove hot air, and some sort of cooling, generally from misting. If your greenhouse receives full sun at any time of the day, you will need shade cloth to reduce the amount of sun. Most orchids will burn if in full sun in the middle of the day. Shade cloth can be purchased at most hardware stores in many different percentages of density from 30% on up. Many are designed to reflect heat at the same time that they provide shade. The best use is to mount the cloth approximately 12 inches or 30 centimeters above the top of your structure. If this is not practicable, then mounting on the top of the roof will still provide the shade, but not as good cooling properties. For glass houses there is a paint that can be put directly on the glass that will reflect heat and provide shade and then washed off for the winter months.

Misting systems come in many different varieties. Evaporative coolers provide air cooled by pushing outside air through some kind of wet pad. They provide both humidity and cooling by absorbing the heat and can provide a differential of 15 to 30 degrees Fahrenheit. Misting systems can do the same by simply releasing small drops of water through nozzles. The air is cooled as the water passes through. These misting systems can be attached directly to a water source and set on a timer much like an automatic watering system for a lawn. They are relatively inexpensive and every effective – but the drawback is that you have to be very careful that there is enough air circulation so that no water stays on your plants to encourage fungus growth.

Most experts will tell you that the best way to remove hot air from your greenhouse is to install exhaust fans at the highest point of the structure. Hot air rises, so pulling the air out at that point will force cooler air in at the bottom. This is accomplished with vents at the bottom where cooler air is pulled in and the fans at the top which push air out. Solar driven wind turbines are one of the newest items being marketed for this purpose. They mount on the roof of the greenhouse and are controlled by thermostat.

You Should Also Read:
Greenhouses - Humidity and Air Circulation
Greenhouses - Light Requirements
Hobby Greenhouses for Orchids


Related Articles
Editor's Picks Articles
Top Ten Articles
Previous Features
Site Map





Content copyright © 2018 by Susan Taylor. All rights reserved.
This content was written by Susan Taylor. If you wish to use this content in any manner, you need written permission. Contact Anu Dharmani for details.