A Surprise Seventh Hole-in-one!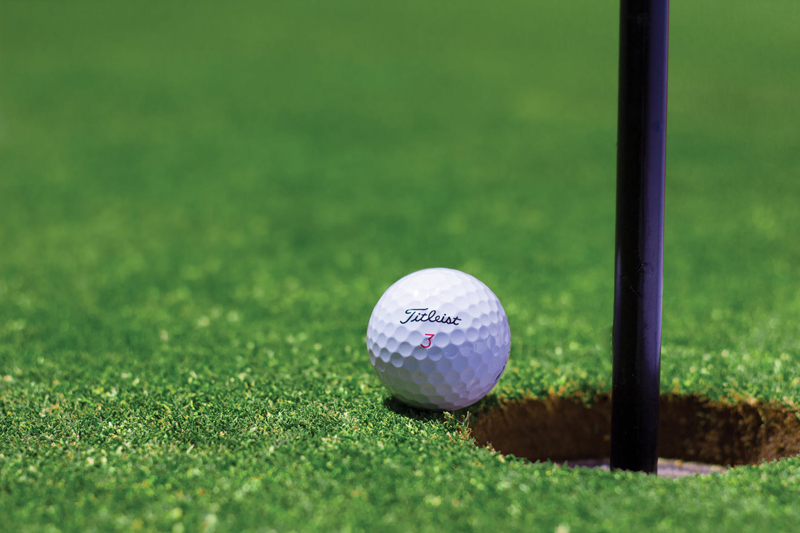 I have always expected another Hole-in-one to happen one day. Since my sixth one was in 2003 I just assumed someday the seventh would be there. It did come on 8/15/07 but quite unexpected and a surprise. It was on our Ladies Day play where we were playing a Stableford system game using team play. Our team was Sharon, Jane, Bev and me. Sharon was keeping score for the team so I was only thinking of my own game. I played the first two holes in par, bogey so coming to hole #3 is a par three which is a 110 yards over a small creek with the green up on the bank with two sand traps on either side. I just wanted a good shot to get on the green.
We have this system for teeing off as the carts are lined up on the cart path by the tee box. This is a way to speed up play the cart in front tees off first and so on. My cart was last in line so I teed off after the other three had hit. Sharon and Bev were in the water Jane was long over the green all I wanted to do was get on the green. I used my new Callaway #7 hybrid Heavenwood and it felt good as I came through the ball and I saw it hit on the front of the green so I picked up my tee and went to my cart. Thinking my ball will be on the back edge of the green.
When Jane and I approached the green only her ball was in sight we started looking for my ball in the rough behind the green. Then Sharon and Bev came up and started to help. We checked the long grass as our rough gets very long and the balls are hard to see. We even checked in the out of bounds yard behind the green but could not find it. I was ready to go back to hit another shot as it was a lost ball.
Sharon was going to take out the flag so they could continue to putt. As I was by my cart ready to go back she called, what ball were you using. I said a Precept Crystal and she said it was in the hole. We all could not believe it as it dawned on us it was a hole-in-one. It was a shock as it came as such a surprise that it hardly registered. My partners were upset that they did not watch as had never seen a hole-in-one played or had one of their own. It just never dawned on me to look in the cup. On other times I played that hole my #7 Heavenwood had always gone to the back of the green.
They were all congratulating me and Jane asked if that was my first. I said it was my seventh and they could not believe it. I did mention that on my sixth I had played 36 holes that day and the hole-in-one came on the 35th hole played. We continued on with the game and on the next hole Sharon went ahead to check with Peggy our Ladies Day Play Captain as to what the points would be for a Hole-in-one. It was decided it would be five points so that helped our score.
When we finished I wanted to buy drinks for everyone to celebrate the hole-in-one and I had a Shiner Bock Beer a favorite in Texas as it was a memorable day. Earlier that day I had received an email from my Son Russ that he had an unofficial hole-in-one as it was on an alternate shot. I had to call him when I returned home about his unofficial hole-in-one to relate my official one and my seventh. He was surprised too and told me that I should notify the family. I did send out a mass email to everybody and am now getting email messages and telephone calls of congratulation. They are wondering when I will shoot my age as I am getting close to breaking 90 but 82 is a long way away from making that kind of score. There is always hope but it is a great game that you can enjoy for the rest of your life.
My ebook "Golf is Forever" is now available. Check out this web site to find what it is about and how to order a copy.
https://www.bellaonline.com/ebooks/ebook137
You Should Also Read:
gol editor


Related Articles
Editor's Picks Articles
Top Ten Articles
Previous Features
Site Map





Content copyright © 2022 by Letta Meinen. All rights reserved.
This content was written by Letta Meinen. If you wish to use this content in any manner, you need written permission. Contact Sandy Eggers for details.