Hurricane Preparedness for Your Orchids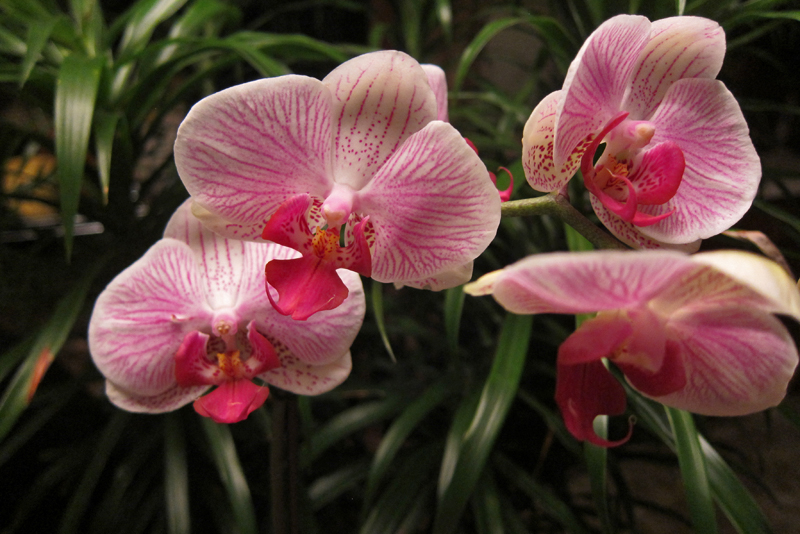 As another hurricane approaches the Gulf of Mexico I thought it would be appropriate to detail some of the things that you need to do if you believe you will be impacted by storms.

Before you do anything else for your plants (and this is true for all your potted plants) be sure to water thoroughly. Soak as many as possible so that the media retains water and will provide your plants with moisture for a longer than normal time. For the best protection you can provide them, plan to take all your plants indoors. Your house will be much more likely to survive the winds than any kind of greenhouse structure. I have an extra bedroom where I spread out plastic outdoor chair covers to hold my plants. I like these because they fold up on the sides and provide a mini-cocoon which contains humidity.

If you have time, spray all plants with some kind of bug spray before you bring them inside. They will be in much more crowded conditions inside than when they were outside and any bugs will be able to move from plant to plant easily. Use saucers of water between plants to increase humidity. Small plants in tiny pots can be placed in these saucers so they will not dry out.

The next issue will be space. If you have space inside for all of them, then you are very lucky. If not, then you're going to have to do some kind of triage on which will be saved and which will not. The first ones to bring inside are your favorites – those that bloom well for you and whose flowers you love. Next those that bloom for you, or any that are particularly valuable to you. As you run out of room, you will have to start making decisions. All of us who have been growing for any length of time will have some plants that are not doing well; some plants that are on the verge of dying; some plants that are not dying, but are just sitting there taking up space. Those are the ones that you need to sacrifice if space is an issue.

Anything that is left outside should be placed on the ground in a structure – your greenhouse, a shed, or a garage. Even though they might get water, either sea water or rain water, they will still be better off than if they were up in the air and blown down. Then not only will they be wet, but damaged too.

Fill up your water barrels with water from your hose. They will be heavy enough not to blow away. In some areas after a storm is over the water supply is unreliable. This way you will have water available for your plants and to use in your toilets.

You Should Also Read:
Orchid Growing Tips #14
Identifying and Treating Rots on Orchids
What to do when you go on vacation?


Related Articles
Editor's Picks Articles
Top Ten Articles
Previous Features
Site Map





Content copyright © 2023 by Susan Taylor. All rights reserved.
This content was written by Susan Taylor. If you wish to use this content in any manner, you need written permission. Contact Anu Dharmani for details.