Gluten Free Sprecher Shakparo - Fire Brewed & African Style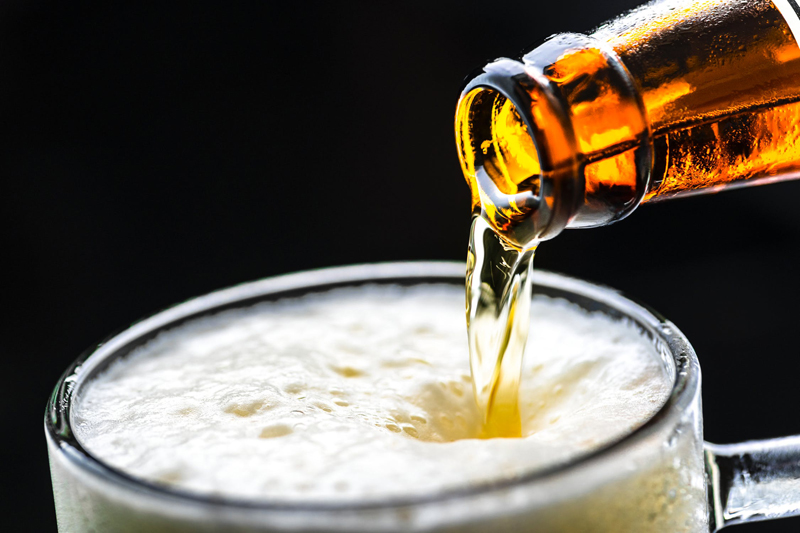 Brewers march to a different drum. They are among the most creative people in the world, but seldom receive the recognition associated with artists and musicians. What happens when their drum echoes the beat of the traditional djembe or other African instruments of percussion? The brewer pauses to hear more clearly when the door opens to this unexplored challenge. Traditions call from a different culture. He accepts the dare. He springs forward. Who knows where it will lead?

The African World Festival has been promoting the culture and heritage of people of African descent for twenty-five years. It is held in early August, at the Henry Maier Festival Grounds in Milwaukee, Wisconsin, USA, on the shores of Lake Michigan. The air is peppered with rhythm & blues, jazz, gospel and neosoul music, while attendees dabble in African crafts and share in the delights of ethnic food.

For the 25th Anniversary celebration, Oshi Adelebu, President of the Board of Directors of African World Enterprises, announced that Sprecher Brewing Company of Glendale, Wisconsin was selected to develop the official World Festival Beer for the 25th African World Festival. Craig Burge, Head Brewer at Sprecher Brewing, seized the honor with a solid immersion into researching the history of beer in Africa - exploring beer styles, ingredients, and traditions.

What he found was a diverse landscape that governed the style of beer brewed from east to west. It was not enough to brew one style, so he created Shakparo (historically from Western Africa) and Mbege (historically from the East). According to Burge, he felt "like an adventurer in the new world." History, cultures, and processes were broadly dissimilar, and it sent a surge of excitement into his idea of traditional brewing.

He began with "Shakparo style" ale, using sorghum, millet and barley malt in his preliminary batches. Challenged by those who called for authenticity, he moved to the purity of virgin sorghum and millet. This has a secondary benefit – that of satisfying the needs of the Celiac community with a beer that was free of barley or wheat – yes, a "gluten free beer" in the style of African brewing.  Of course, in the USA, the words "gluten free" cannot be used for Celiac Safe beer, so it is labeled "Brewed without Wheat or Barley."

A Historic Look at Shakparo

Traditionally, Shakparo is brewed by Idasha women in Idashaland, Dassa-Zoume in the savannahs of Republic of Benin, West Africa. Brewing the finest Shakparo ensures matrilinear power, a skill taught from mother to daughter - a rite of passage into adulthood in preparation for marriage. Not only does it hold a nutritional and sanitary role within the culture, but it also strengthens economic and social status. It is brewed using sorghum, the second most important cereal grain [after maize] in Africa. Although wild fermentation is employed, the yeast may be viewed as "loosely cultured" by continuous propagation within the familial calabash or clay pot.

African Shakparo may be a brownish pink, cloudy and full of yeast particles. Aromas are fruity and sour, while flavors display a complex array of esters, touched with the organic graininess of sorghum, earth and a pleasant, acidic, tart profile. It is thirst quenching and full bodied.

The national drink of the African people, Shakparo remains a nutritional staple, similar to bread. It may be known by many names as it crosses into each cultural region throughout the African continent. It is of the same style as Shukutu in Benin and Togo; Tchakpalo in Benin, Burkina Faso, and Cote d'Ivoire; Dolo in Burkina Faso and Mali; Bantu or Kaffir in South Africa; Pombe in East Africa; Burukutu in Nigeria; Pito in Nigeria and Ghana; Bil-bil in Cameroon; Merisa in Soudan; Hemeket, Zythum or Zythos in Ancient Egypt; and Bouza in Egypt and Ethiopia.

In African towns and villages, you might find Shakparo "bottled" in milk cartons or in plastic bottles with a breathing-hole in the cap for the release of gases dispersed in the fermentation phase, a process that continues after bottling. Because wild yeast strains in Africa are typically interspersed with a zoo of microorganisms, shelf-life is typically only four to seven days.

Sprecher Shakparo Ale

Sprecher Brewing has cultivated a treasure-chest of quality beers with distinctive flavor profiles. In creating Shakparo and Mbege, Burge says, "We are just broadening what we excel at." His beers are "fire brewed" during the boil, enhancing caramelization, which adds flavor and color to the product. "All that flavor!" exclaims Burge.

Shakparo requires a base of 96% sorghum, with pellets of de-husked yellow millet added to the brew kettle. Although this process takes a long time, millet adds a creamier texture that would not be possible with pure sorghum extract. Burge uses Goldings hops and a Weiss yeast culture, certified to be free of gluten, that is grown on pure sorghum.

In brewing, the first phase in the life cycle of yeast is the lag phase, a time of reproduction and build-up of food reserves, in preparation for the work of fermentation. This phase typically takes 12 hours with traditional barley, but is increased by 30-40% in sorghum/millet brewing.  Burge notes that experience is necessary in the handling of sorghum. The longer you heat it, the darker it gets.

Brewmaster Burge is zealous in super-cleaning his brewing system before crafting either of his new Barley and Wheat-free beers. He uses a hot caustic rinse and acid sanitizing on all brew kettles, lines, and other equipment. He notes that it is particularly important to be vigilant of cleanliness on the bottling line, one area that may be easily overlooked by gluten free brewers because it is not a part of the "brewing process."

Sprecher Shakparo – Tasting Notes


The label on Sprecher Shakparo hints of the exotic, with silhouettes of a giraffe, lion, and elephant on the African plains. A reminder, "brewed without wheat or barley," announces that it is Celiac-safe, while "Fire Brewed African Style" invites the beer aficionado to experience the flavors of this global phenomenon at 5.7% ABV.

On the pour, Shakparo haze roils around in the glass like a tornado, a darker cloud within a burnished teak sunset. The upper edges are lit with straw, while a thick head of small and large bubbles crowns the surface. This swath of cream settles to a ¼-inch blanket of froth, then dissipates to a veil and surface ring. Primary aromas are pleasantly malty, grassy, fruity and fresh. Grapes, honeydew melon, lemon, and a light spiciness fill the nose. Clove, perhaps? Crispness is felt on the lips, as the hazy liquid pours onto the tongue. The tart edge of sorghum is felt on the back edges of the tongue, while an earthy sorghum-malt graininess settles on the umami center section. Flavors of fruity melon, lemon, and a hint of chardonnay pleasure the mouth. I am transported to another place and time, listening to the night chirping of a myriad of creatures across a windy plain. Herbal bitterness awakens my senses and settles on the rear of the tongue. Finish is long and pleasant, with a refreshing, crisp edge.

The Saga Continues…


Sprecher Mbege - Exotic East African Beer
Cheers!
You Should Also Read:
Gluten Free Beer & Party Food for Celiacs
Celiacs Guide to Gluten Free Beer
Barley Free - Gluten Free Beer for Celiacs from Lakefront Brewery


Related Articles
Editor's Picks Articles
Top Ten Articles
Previous Features
Site Map





Content copyright © 2023 by Carolyn Smagalski. All rights reserved.
This content was written by Carolyn Smagalski. If you wish to use this content in any manner, you need written permission. Contact Carolyn Smagalski for details.