National Toast Memorializes Michael Jackson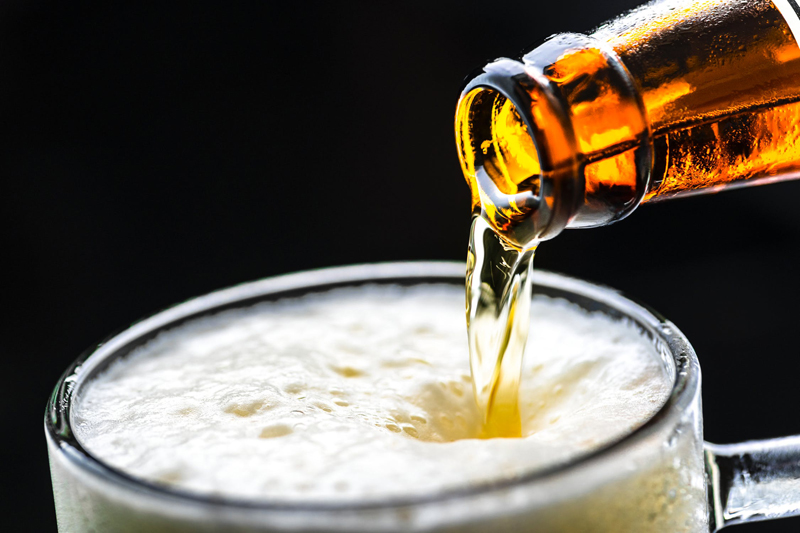 On Sunday, the 30th of September 2007, beer bars, brewpubs and restaurants across the North American continent merged their hearts and spirits in a collective toast to the memory of the world's leading authority on beer and whiskey, Michael Jackson, who passed away on August 30, one month earlier. The toast, originally proposed by Tom Peters of Monk's Café in Philadelphia, Pennsylvania, USA, had been coordinated across time-zones as a charismatic tribute to the illustrious Beer Hunter. Although Mr. Jackson died of a heart attack, he experienced declining health due to the debilitating effects of Parkinson's Disease over the years. With this knowledge as a catalyst, each establishment participating in the toast was given the flexibility to determine how they would raise donations and contributions for the National Parkinson Foundation. A memorial ceremony will be held during the Great American Beer Festival, October 11-13, 2007, in Jackson's honor, when a commemorative check is presented to the National Parkinson Foundation.

As soon as Tom Peters proposed the idea of a National Toast, enthusiastic supporters came out of the woodwork: Chris Black of Falling Rock Tap House in Denver, Colorado; Matt of Brouwer's Café in Seattle, Washington; Ray Deiter of dba in New York; The Toronado in San Francisco, California; Standard Tap and Johnny Brenda's in Philadelphia, Pennsylvania; Sam Calagione of Dogfish Head in Rehoboth Beach, Delaware; the Map Room and Lush Wine and Spirits in Chicago, Illinois; Café Amsterdam in Anchorage, Alaska, and scores of others.

Formalities for the toast were as different as beer styles in a homebrew competition. Some were peppered with raucous cheers and laughter. Others were somber and quiet. There was no question that, because Michael Jackson taught the world to understand beer, careful thought was given to "what" beer each participant would use for his grand toast to "the Master of Beer and Whisky."


My own impressions drifted to the days of laughter with Michael, Tom Peters, Fergus Carey and Curt Decker in Monk's Café – those days that were not so long ago. The deep walnut hues of monastery pews, robust colors of Breugel paintings, and rich weave of fabric-covered walls gave form and substance to the Belgian beers we so joyously celebrated there. Tom Peters chose Malheur Brut Reserve for the toast, Michael Jackson's own Commemorative Selection 2006 in his Rare Beer Club. As the clock approached the appointed hour, the crowd moved to the back room at Monk's for the National Toast, with Kevin Brooks of Old & Outta Shape Productions filming the event.


Tom Peters presented an elegant dialogue, which he called "But I Digress," leading up to the toast. His words were filled with the emotion of one who truly cared about Michael as a close and significant friend. Said Peters:

"No one could digress as eloquently as Michael Jackson. A short talk by Michael, on just about any subject, was surely going to meander around a maze of personal stories, thoughts and ideas, yet he always ended back on point…or should I say, back "on pint"?

"Michael was a person that lived in the moment, yet he possessed a real sense of the past. While he urged many brewers to keep traditions alive, he encouraged others to push the envelope & improvise new beer styles.

"He could as easily connect with a white-collar, wine drinking Harvard-educated man as with a blue collar, beer drinking, humble man.

"Michael was the original beer journalist. He was a man that loved beer, jazz, literature and rugby league. Some think he had an insatiable thirst for beer, but what he really had was an insatiable thirst for knowledge. He compiled extensive tasting notes from around the world…but many beer writers do that. What set Michael apart was his ability to communicate the family & social history of a beer and the terroir of its brewery on a very personal level.

"Michael taught us all how to speak about beer. He created the lexicon we all use today. He was a pioneer in the truest sense of the word. Michael's New World Guide to Beer is as insightful today as it was when first published thirty years ago. Without Michael, the good beer movement would not be where it is today.

"Michael seemed to have more of a spring in his step and twinkles in his eyes in the past year and a half. True love can do that for a person.

"If a good life is filled with digressions, then Michael Jackson surely lived an exemplary life. Michael…you will be missed! You were a dear friend to me and to the entire beer community.

"So, let this night be a celebration of Michael's life and may Michael's spirit live on in all of us.

"To Michael!"

You could have heard a pin drop at that moment. It was a moment of respect within the monastery of beer. Tom called for the silence to be broken, and this Beer Fox led those toasting in a light-hearted tune that Michael and I robustly sang to one another in those happy days:

"I'm a rambler, I'm a gambler, I'm a long way from home; and if you don't like it then leave me alone."
"I'll eat when I'm hungry, I'll drink when I'm dry; and if whisky don't kill me I'll live 'til I die."


We exchanged many Michael stories, and several friends paused to linger over the MJ photo album I had assembled since May of 2006. Lew Bryson wore a seersucker suit, in remembrance of Michael Jackson's first tutored beer tasting at the University of Pennsylvania Museum of Archaeology & Anthropology 18 years ago. The evening passed quickly. It was one of friendship, one of sadness, one of joy.

In the month between his death and the National Toast, Michael Jackson was celebrated in other countries as well. On August 29, 2007, the Brewers of Belgium came together in remembrance of the Beer Hunter in the Magdalena Church. Later that day, all the Brewers of Belgium honored Michael with a minute of silence in the Town Hall of Brussels. Theo Flissebaalje, Editor of PINT-news in Utrecht, the Netherlands, also honored Michael with a moment of silence at the start of Belgian Beer Weekend in Brussels, Belgium. In conjunction with the National Toast in America, the White Horse Pub on Parson's Green in London held a tribute to the Bard of Beer with an all-day event, including jazz and honorary toasts.

Photos are (from top to bottom): Tom Peters of Monk's Cafe; Fergus Carey, Carolyn Smagalski, Bernadette, and Tom Peters; Videographer Kevin Brooks; Lew and Cathy Bryson

Cheers!
 
You Should Also Read:
Michael Jackson - A Final Farewell in London
Extreme Beer - Elegant Dining with Michael Jackson
Michael Jackson Passes Away - World Beer & Whiskey Authority


Related Articles
Editor's Picks Articles
Top Ten Articles
Previous Features
Site Map





Content copyright © 2023 by Carolyn Smagalski. All rights reserved.
This content was written by Carolyn Smagalski. If you wish to use this content in any manner, you need written permission. Contact Carolyn Smagalski for details.