Nutrition at your Fingertips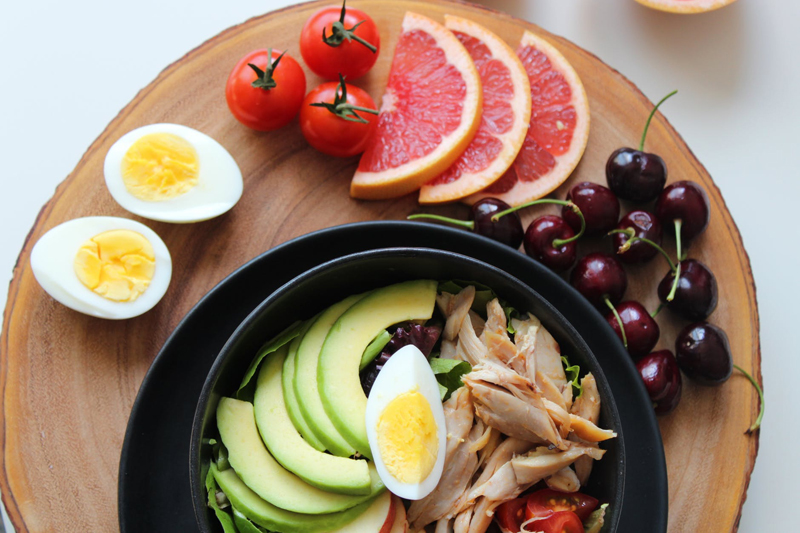 Nutrition at your Fingertips is a dense reference book full of a variety of details. Just what is a carb? What are fats and sugars? The book goes step by step through explaining the details, as if you were taking a serious course on nutrition.
Author Elisa Zied has many qualifications and clearly knows what she is writing about. The book is full of charts, statistics, and helpful background information. You learn about the differences between soluble and insoluble fiber. You learn that protein can't be stored in the body, so you have to ingest it every day for your body to use. There are BMI charts, exercise-vs-calorie charts, water drinking charts, and more. This is the sort of the book that you can read through - but you can also keep on a shelf to pull down for reference.
The book assumes that you might be doing the spot-research activity. When you go into a given area, let's say fiber, there are a number of "go to ..." types of links that say "go back to section x.y for information on carbs" and "go forward to section x.y for information on calories". It helps to direct you to other related information.
A key problem, though, is that this all feels like a website that someone tried to squish into a book. Are you really going to use 10 different "links" to manually flip through to other sections by section ID, when you aren't even given the page number? There are complex formulas in here, and BMI charts filled with numbers, but they aren't laid out to be easy to use. Most people would use a simply online calculator rather than doing complex math. The chart could at least offer shades of grey for the different areas rather than making you do manual sorting to figure out where you fall. It ends up being not very user friendly.
The ranges are sometimes not logical. One range is for under 3 miles a day. The next range is for over 5 miles a day. What happens to all the people in between?
Apparently eating bean sprouts is a "high risk" activity, as is eating refrigerated smoked salmon. I'd like to see a little more information on some of these claims.
It's also clear that the author is writing with a bias. You expect a book like this - a "nutritional tome", as it were - to be simply laid out with the basics. However, the author puts in bold HEART ATTACK!! warnings on eating fish, makes eating animal products sound absolutely necessary, and talks about how ketone bodies - a normal part of all fat burning processes - apparently MUST lead to the dangerous situation of ketosis. I think the author was confused, because ketosis simply means that your body is burning fat. The dangerous situation is called
ketoacidosis
which is COMPLETELY different and is a high sugar situation that has to do with diabetes.
So issues like this make me wonder about the rest of the content. In general I am not sure why I would never have access to internet BMI charts, internet calorie calculators that are far more effective, and online information that goes into more detail. That is, if I needed reference material on what my BMI was, it would be far faster for me to google it, plug in my values for a calculator, and get the answer, vs paging through the book and trying to use the not-great chart. I could easily look up ketosis vs ketoacidosis rather than receiving incomplete / incorrect information in this book and getting bold warnings about making sure I ate animal products and avoided fish.
So I'm torn. What if you hate the internet? What if you really love books? This book does have a lot of great information. But the charts are poorly laid out, and I found enough questions with the remaining material that while I feel this a good start, it would not be something I rely on.
That's the issue here. If I'm going to have a book on the shelf, it's because I need something when the internet is out that I can easily use and concretely rely on. I'm not sure either is true with this book. I'll give it 4/5 for having SO much information in it and for attempting to make a "web like experience" - but even with that statement, I myself will be sending it along to someone else to review. I won't keep it, because I wouldn't find it useful.
Buy Nutrition at your Fingertips from Amazon.com
Lisa Shea's Library of Low Carb Books


Related Articles
Editor's Picks Articles
Top Ten Articles
Previous Features
Site Map



Follow @LisaLowCarb
Tweet





Content copyright © 2022 by Lisa Shea. All rights reserved.
This content was written by Lisa Shea. If you wish to use this content in any manner, you need written permission. Contact Lisa Shea for details.