Games Within the Golf Game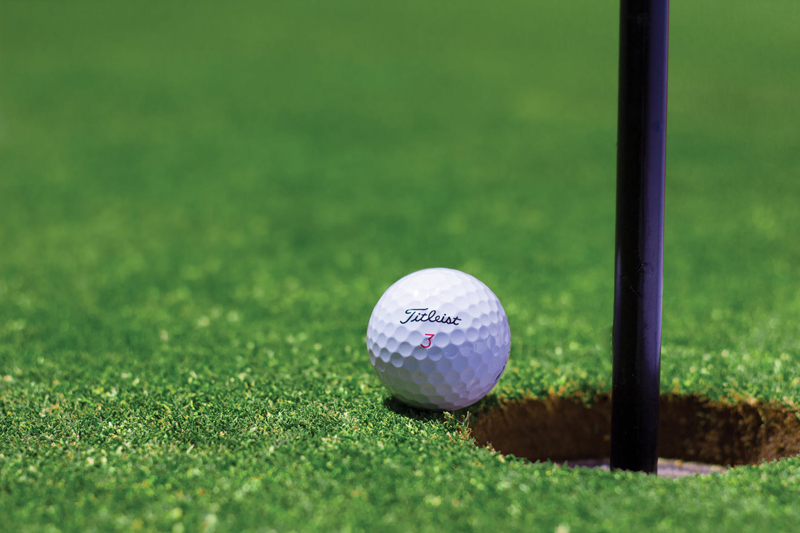 For all those ladies groups that are always looking for something different to play during their golf game, I will give you a list of ideas you may want to try. I have used several of these ideas on golfing days other than our regular LGA golf day. In our Mill Creek Golf Cluib I make two separate tee times on Monday and Friday and invite as many of our lady golfers who want to participate. Usually there is a 50 cent fee to become part of the game of the day and all ladies seem to like the idea of having something to play for. These are not difficult games so new and older golfers should have something to work for other than getting a good score that day. I will add more at a later time if you find this helpful.
GAME ONE
The following copy of the game may be given to the players before they tee off. I chose to just have them keep track of their putts and then after play they were given this slip and they had to figure out their total of points to find the winner of the day. This can be used as team winners as well.
PUTTING AROUND
Chip In collects - 5 points
One Putt gets - 3 points
Two Putts get - 1 point
3 Putts - Minus two points
Keep track of all points the winner is the player with the most points plus the most for each team.
GAME TWO
The following can be included with another game but if used by itself and with more foursomes the last team through brings in the markers. Those closest to the Pin must keep track of their putts on these par threes for if she three putts she will receive no money.
CLOSEST TO THE PIN ON ALL PAR THREES
All players pay her a dime. If she three putts all money is cancelled.
GAME THREE
These games will take some record keeping while you are playing your round of golf. One person can keep the master list as they fall on the card. It is not all that complicated if you follow the direction during each six holes played. The alternate plan may be a bit more difficult but once in the rhythm of the format it is not that difficult. Winners are determined who has the best accumulated scores of the team.
1-2-3
Record one best ball of the team on the first six holes.
Two best balls on the following six holes
Three best balls on the last six holes.
Best ball scores of the teams win.
Alternate plan
In rotation: record one best ball on first hole, followed by two best balls on second hole and three best balls on the third hole. Follow this rotation until 18 holes have been played. Total all best ball scores for the team final tally. Wining team is the lowest best ball score.
GAME FOUR
This game is another where you keep track of your putts during your golfing round. After play you will deduct the puts from your score on each hole and this will give you the Tee to Green score. You can declare winners when they take half their handicap from their final score.
TEE TO GREEN
Teams of two, three or four can play this game
Keep your total score on your card then below your score keep track of putts on each hole. After play subtract your putts from each score posted this will show your total shots from tee to green minus putts. Winner can be determined best score minus ½ her handicap if you are playing with a variety of different players.
GAME FIVE
The following game is one I will be using this Friday for our Halloween Party and using an Orange Ball for each foursome. This type of game makes for lots of fun with some tension when it is their turn to hit the orange ball. You just don't want to lose that ball but the game can be scored as to how far each team went before the ball was lost.
HALLOWEEN - ORANGE BALL EXPRESS
Teams of four will have one orange ball and will alternating hitting that ball on each hole. Decide who will go first then followed by rest of foursome. They will continue in this format until all 18 holes are played. All players' keep their own scores for the 18 holes but will make a special place on a card to record the score with the orange ball.
If the orange ball is lost you will forfeit your foursome's game. Alternate format will be if ball is lost you will "X" out the orange ball score. Player who lost that ball may continue her round taking the penalties for her own score. Foursome will continue to finish 18 holes. Scores for the orange ball will be whoever finishes the 18 holes with the best score or whichever team covers the most holes of play.
My ebook "Golf is Forever" is now available. Check out this web site to find what it is about and how to order a copy.
https://www.bellaonline.com/ebooks/ebook137
You Should Also Read:
Mill Creek Golf Club


Related Articles
Editor's Picks Articles
Top Ten Articles
Previous Features
Site Map





Content copyright © 2022 by Letta Meinen. All rights reserved.
This content was written by Letta Meinen. If you wish to use this content in any manner, you need written permission. Contact Sandy Eggers for details.