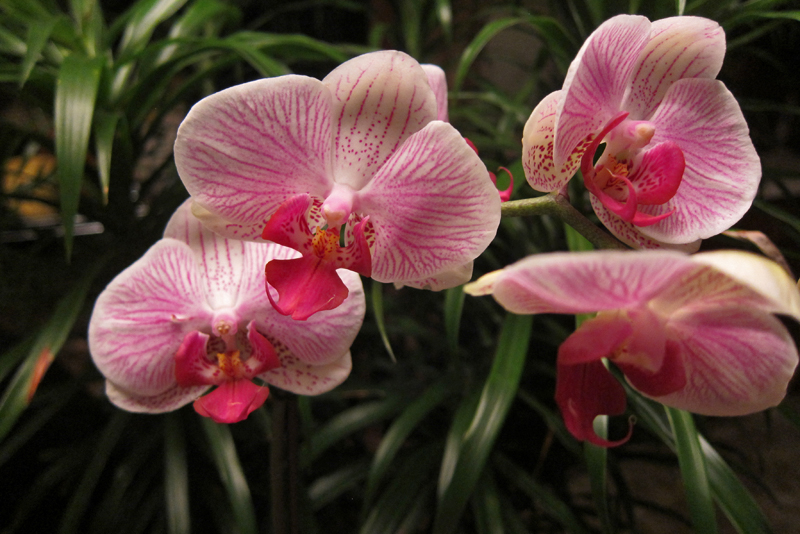 The one thing about heating a greenhouse that you must keep in mind is that where you live is the most important factor. It is imperative that you consult with those in your immediate area to determine what is necessary to keep your plants safe through a winter – no matter if you live in the south where we have the occasional frost or in Canada where your winter will be much longer and much colder. Each different area has a variety of factors which will determine what the best way to heat will be and the only way to learn those is by working with someone who has addressed the problems and figured it out so it works.

Orchids are grouped into three temperature categories:

Warm Growing Orchids are generally from true tropical areas where the night time temperatures rarely drop below 60-65 degrees Fahrenheit or 15-18 degrees Celsius. The daytime requirements are in the 80-90 degree Fahrenheit or 27-33 degree Celsius range.

Intermediate Growing Orchids come from slightly higher altitudes or slightly more temperate zones, they require nighttime temperatures in the 50-55 degree or 10-13 degrees Celsius. Daytime temperatures need to be in the range of 70-80 degrees Fahrenheit or 21-26 degrees Celsius.

Cool Growing Orchids are found at high altitudes in the mountains and in the true temperate zones. They need consistently cool temperatures at all times and can endure almost freezing nighttime temperatures during the winter months although 40-50 degrees Fahrenheit or 4-10 degrees Celsius is recommended. Daytime temperatures for this type of orchid should be kept below 55 degrees Fahrenheit or 13 degrees Celsius.

As you can tell from the above requirements, it is very important to keep your plants from freezing. And in zones where the temperatures are arctic, you will need backup systems and alarms in case the primary heating system goes down for some reason. Talk to any orchid grower and you will hear tales of plants lost during times of disaster as a result of freezes.

Visit local nurseries and talk with them about their heating requirements. Visit your local orchid society and ask to visit some of the local growers who can tell you what they're using. Find out who they used for the construction and installation of their heating systems. Discuss backup systems and the alarms that are being used. It is very important to incorporate plans for heating into your overall plan for building a greenhouse so that you are not caught with something that you cannot heat in the winter to the point of keeping all your plants safe.

You Should Also Read:
Greenhouses - Cooling
Greenhouses - Humidity and Air Circulation
Greenhouses - Light Requirements


Related Articles
Editor's Picks Articles
Top Ten Articles
Previous Features
Site Map





Content copyright © 2019 by Susan Taylor. All rights reserved.
This content was written by Susan Taylor. If you wish to use this content in any manner, you need written permission. Contact Anu Dharmani for details.